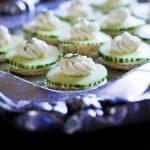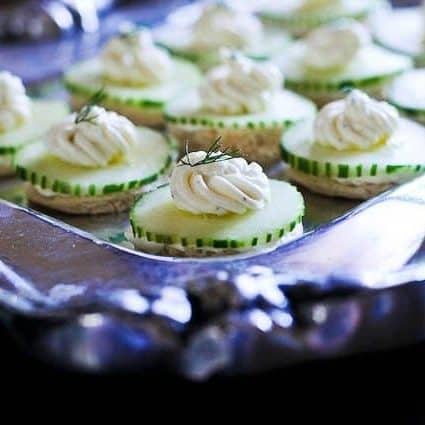 Print Recipe
Cucumber Tea Sandwiches
Cucumber tea sandwiches make a classic appetizer when entertaining or for showers, brunches and parties.
Use a fork to remove strips of peeling from the cucumber.

Slice cucumbers into thin round slices.

Set aside on paper towels to drain.

Cut bread into circle or simply remove crust and cut into four equal square pieces.

Cream together cream cheese and mayonnaise.

Add garlic powder, salt and dill.

Spread one side of bread with cream cheese mixture.

Top with cucumber slice.

If serving open faced, then decorate with a bit of cream cheese mixture and sprig of dill.

If serving closed, spread another piece of bread with spread and place on top of cucumber.