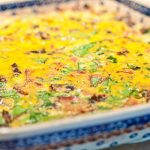 Print Recipe
Spinach Bacon and Mushroom Breakfast Casserole
This Spinach Bacon and Mushroom Breakfast Casserole is a delicious family favorite! Breakfast Casserole recipes are easy to make ahead and so perfect for weekends and holidays!
Spray casserole dish with non-stick cooking spray.

Preheat oven to 350 degrees.

Whisk eggs and toss in bacon, mushrooms, spinach, butter and cheese. Mix well.

Pour into casserole and bake for 30 minutes.

Remove from oven and allow to stand for five minutes. Serve warm.