Jump to Recipe • Print Recipe
Our hens are laying a bunch of eggs. Everyday we're getting about a dozen or so and are giving away eggs to family, friends, and people we meet on the street. I exaggerate, but only slightly. Breakfast casserole recipes have been some of my favorite recipes to make lately. Nothing fills my family up and keeps them going like a delicious breakfast casserole.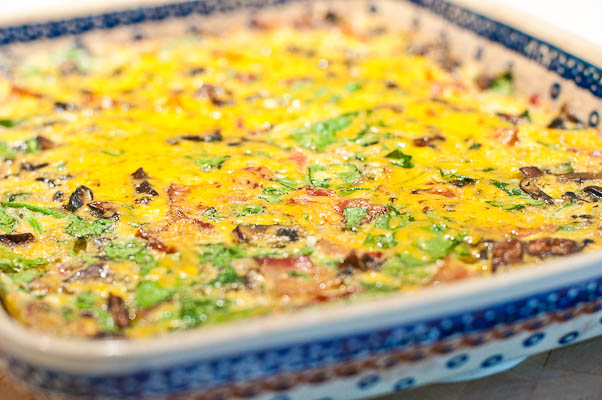 This time, I made a Bacon, Portabello, and Spinach Breakfast Casserole.
And it was some kind of yummy. It's a must-make around here now.
Here's how I make it.
Start with eggs. Imagine that.
Aren't they pretty? Give them a quick whisk.
Grab some bacon and cook it until it's just the way you like it — extra crispy or a little flimsy. Your choice.
Rough chop the bacon and throw it in with eggs.
Chop up about two cups of mushrooms and toss with the eggs.
Next goes in chopped spinach. I love spinach, so I used about 3 cups.
Pour in 1/2 cup of melted butter.
Throw in a cup of shredded cheddar cheese. I use sharp. Give it a quick mix.
Pour into a casserole dish that has been sprayed with non-stick cooking spray.
Bake for about 30 minutes on 350 degrees.
Remove from oven and let stand for about five minutes. Serve warm and enjoy.
Bacon, Portabello and Spinach Breakfast Casserole
Breakfast Casserole recipes are an essential for busy families. This breakfast casserole recipe uses bacon, spinach, and mushrooms
Author:
Robyn Stone | Add a Pinch
Ingredients
9 eggs
6 pieces of bacon, cooked and chopped
2 cups portabello mushrooms, chopped
3 cups spinach, chopped
½ cup butter, melted
1 cup cheese, shredded
Instructions
Spray casserole dish with non-stick cooking spray.
Preheat oven to 350 degrees.
Whisk eggs and toss in bacon, mushrooms, spinach, butter and cheese. Mix well.
Pour into casserole and bake for 30 minutes.
Remove from oven and allow to stand for five minutes. Serve warm.
This makes an excellent make-ahead meal you can enjoy as follows:
– Quick Mornings: Mix all ingredients and pour into casserole dish. Place in refrigerator overnight and pull out next morning for a hearty breakfast.
– Freezer Meals: Make casserole per instructions and allow to cool completely. Wrap dish tightly in foil and place in freezer. For cooking, remove from freezer and allow to thaw in refrigerator overnight. Then, remove foil and warm in microwave for approximately five minutes.
Enjoy!