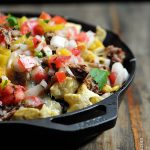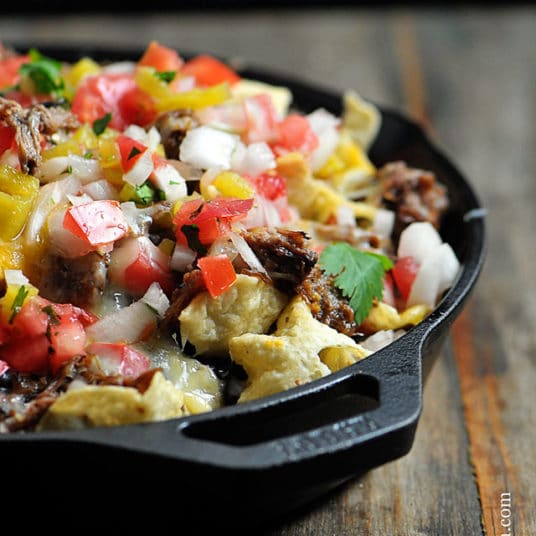 Print Recipe
Shredded Beef Nachos Recipe
Shredded Beef Nachos make the perfect, hearty game day meal or served for when entertaining. Shredded Beef Nachos also make a great quick supper for busy weeknights for a crowd.
1

tablespoons

olive oil

2

cups

shredded beef

1/2

medium

onion

diced

1

clove

garlic

diced

2

cups

black beans or black eyed peas or 1 (15-ounce) can black beans

with juices

8

ounces

tortilla chips

2

cups

grated cheddar cheese

1

cup

grated pepper jack cheese

1

4.5 - ounce can diced green chilis

1

tablespoon

chopped fresh cilantro

Sour Cream
Preheat oven to 350º F.

Drizzle olive oil into a 12 - 15-inch skillet over medium heat. Add shredded beef, onion and garlic. Cook until onion begins to become translucent. Remove from heat and spoon half of beef mixture into a medium bowl.

Add the following in loose layers, making sure that bites of all ingredients can be made by lifting a chip and scooping: tortilla chips, shredded beef, beans, cheeses, pico de gallo. Repeat layers until skillet is full and mounded, reserving about 1/2 of the pico de gallo for serving alongside nachos.

Place in oven and bake until cheese is fully melted. Remove from oven and serve warm with sour cream, guacamole, and additional pico de gallo.