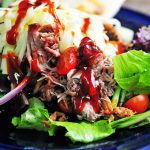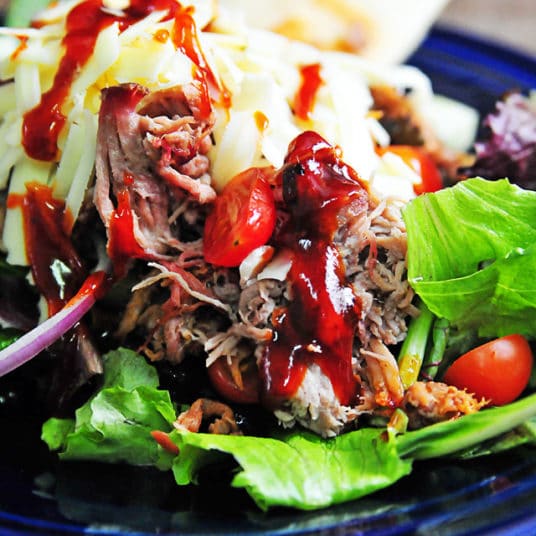 Print Recipe
Pulled Pork Enchilada Salad Recipe
This recipe for pulled pork enchilada salad makes a delicious meal full of flavor!
Prepare pork roast according to recipe directions. Pull apart with two forks. Set aside.

In a medium saucepan, combine enchilada sauce, Coke, brown sugar and Sriracha sauce. Cook over medium heat until reduced thickened enough to coat the back of a spoon. Remove from heat. Set aside 1/4 cup of sauce. Add pulled pork to the remainder of the sauce and toss to coat the pulled pork.

Assemble salad of lettuce, cucumber, tomatoes, black beans and onion. Top with sauced pulled pork, then cheese. Drizzle each salad with a bit more sauce.

In a medium skillet, heat canola oil. One at a time, cook tortillas on both sides until lightly browned. Remove with tongs and allow to drain. Slice into strips and serve a few pieces alongside each salad.