I've been craving this. So, finally since we're well into the new year, I decided it just had to happen. And, by this, I mean Pulled Pork Enchilada Salad.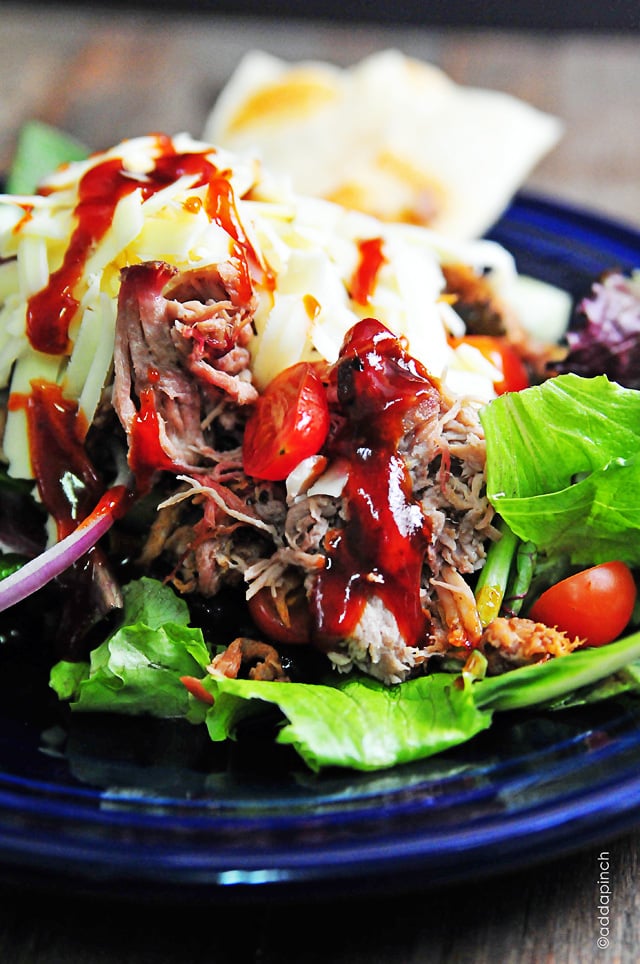 Mercy! I do believe it is one of my favorite salads ever. After all of the holiday foods, this little kick of spice was just what I needed.
And pulled pork? Yeah, well, I think it has to be my husband's favorite food ever.
The history on this salad is that I really was craving pulled pork enchiladas, but decided that turning it into a salad just sounded like what should happen in January. Add more veggies, take away some bread.
But now I'm really thinking that I'll just make this salad whenever I have a craving for the enchilada version and see if that feeds it for me.
While my husband had smoked this pulled pork over the weekend, I'd stashed a bit of it to the side just for such an occasion for making my enchiladas this week. I was somewhat concerned that my husband might not like my fiddling with the pork he'd smoked for hours on end and throwing it in this salad. Not that he usually cares, but you just never know about men, their pulled pork, and smokers. They can get just a wee bit finicky from time to time.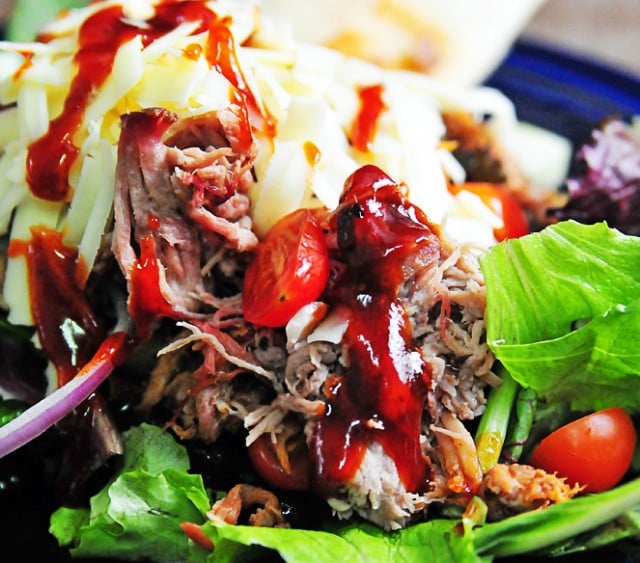 Well, if this gives you any indication, once he'd eaten his salad, he began just eating the pulled pork in the spicy sauce I'd made to go on the salad.
As the saying goes from one of my favorite commercials growing up, I felt like shouting, "He likes it. He really likes it!"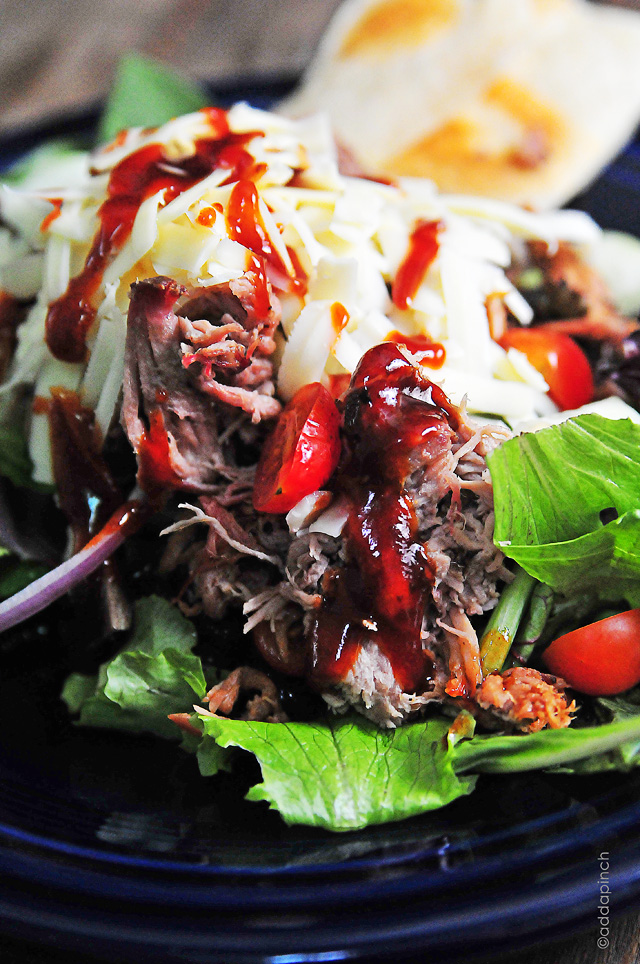 Here's the recipe for my Pulled Pork Enchilada Salad. I hope you love it as much as my husband does!
Pulled Pork Enchilada Salad Recipe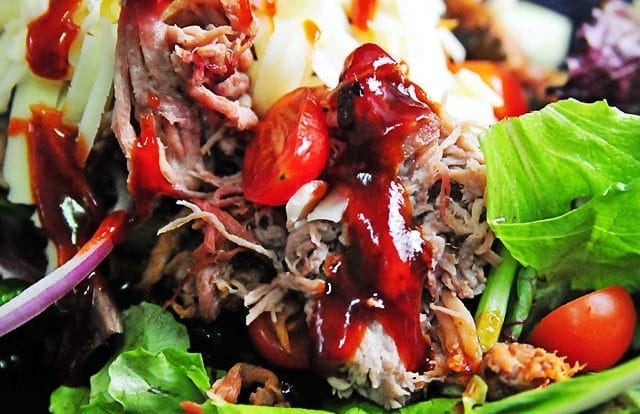 This recipe for pulled pork enchilada salad makes a delicious meal full of flavor!
Ingredients
4

cups

pulled pork from Pork Roast recipe

1 10-

ounce

can enchilada sauce

10

ounces

Coke

regular

2

tablespoons

brown sugar

1

teaspoon

Sriracha sauce

4

cups

lettuce greens

1

cucumber

peeled and diced

1

cup

cherry tomatoes

halved

1 14-

ounce

can black beans

drained and rinsed

1/2

red onion

2

tablespoons

canola oil

2

corn or flour tortillas

8

ounces

Mozzarella cheese

grated
Instructions
Prepare pork roast according to recipe directions. Pull apart with two forks. Set aside.

In a medium saucepan, combine enchilada sauce, Coke, brown sugar and Sriracha sauce. Cook over medium heat until reduced thickened enough to coat the back of a spoon. Remove from heat. Set aside ¼ cup of sauce. Add pulled pork to the remainder of the sauce and toss to coat the pulled pork.

Assemble salad of lettuce, cucumber, tomatoes, black beans and onion. Top with sauced pulled pork, then cheese. Drizzle each salad with a bit more sauce.

In a medium skillet, heat canola oil. One at a time, cook tortillas on both sides until lightly browned. Remove with tongs and allow to drain. Slice into strips and serve a few pieces alongside each salad.
Enjoy!
Robyn xoxo