Spicy Pulled Pork Stuffed Sweet Potatoes. How in the world have I gone so many years without these in my life? I'm not entirely certain, I'm just so excited that I don't have to go any longer without them!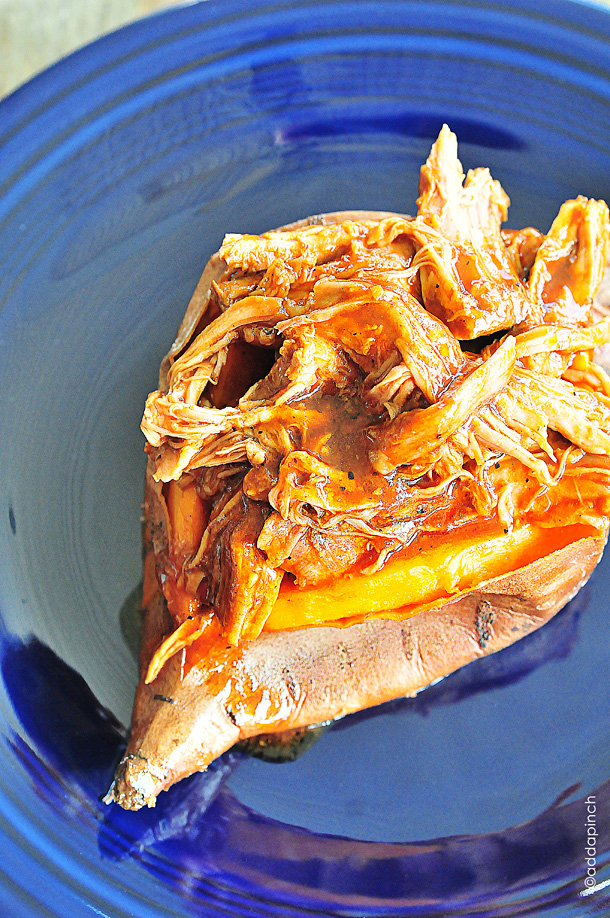 My sister and brother-in-law came to visit the other night and I knew I wanted to fix something easy for supper, but something that they'd both love.
My sister has always loved sweet potatoes (smart girl, isn't she?) and my brother-in-law loves my husband's spicy pulled pork that he smokes for hours and hours on end. I decided I'd use my busy Mama's best friend, my slow cooker, to pull off supper since I had a busy schedule with school, after school activities, and more errands than I wanted to admit that I needed to run.
I threw the pork butt into the slow cooker that morning as we were finishing up breakfast, and this is where I cheated a ton, I poured in a bottle of our favorite BBQ sauce along with a bit of what we call rooster sauce for a kick.
All day long I smelled it.
It taunted me.
It tempted me.
Thankfully, slow cookers come with glass lids so you can peek in on the contents repeatedly without messing up all that magic that is happening inside! Did you know that every single time you lift the lid of your slow cooker, it adds 20 minutes to the cooking time? That stops my hand on the lid handle in its tracks every single time.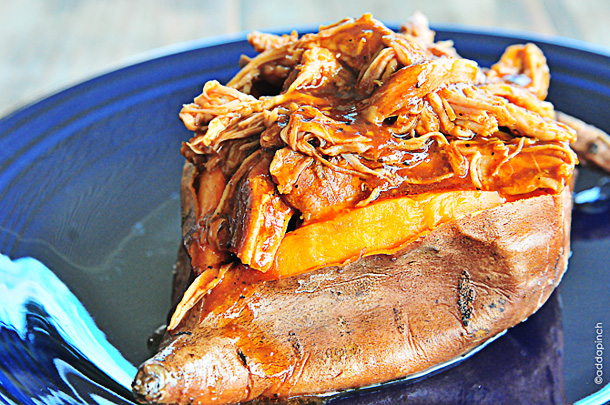 When we got home from running all over town and back again, I threw the sweet potatoes that I'd prepped that morning into the oven.
By the time everyone was home from work, the table was set, the potatoes were as soft as could be and I'd pulled the pork for stuffing inside of them.
I felt like Wonder Woman!
Well, not exactly like Wonder Woman, but maybe her side-kick.
Wait.
Her side-kick was Steve Trevor. Although I always thought he was a cutie patootie and that they were really in love with each other, I really didn't mean to say I felt like Steve. I don't think I thought this through when I started. Never mind.
Back to the pulled pork and sweet potatoes.
It's too bad I can't teleport one of these straight through my computer to you. You know I certainly would if I could, don't you?
Can I just tell you that whatever you do, you have got to make these soon?
They would be perfect to make-ahead, wrap in aluminum foil and then reheat for a quick supper or even for lunch one day. I think they'd be perfect to go ahead and assemble and then reheat on the grill for a tailgating party, too. I have a feeling you'd be the favorite tailgate spot of them all if you did!
Here's the recipe for my Spicy Pulled Pork Stuffed Sweet Potatoes.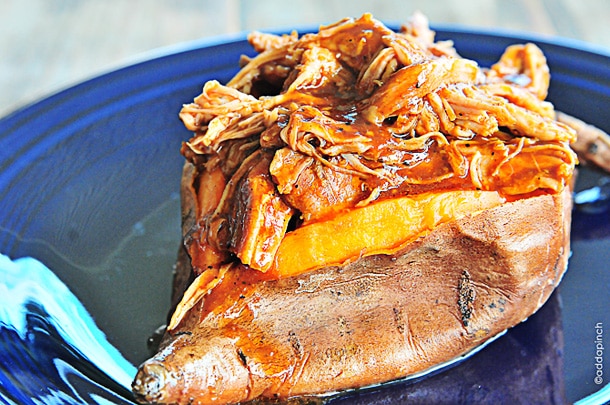 Spicy Pulled Pork Stuffed Sweet Potatoes Recipe
Spicy Pulled Pork Stuffed Sweet Potatoes makes a wonderful fall meal. Use your slow cooker to prepare the spicy pulled pork and then stuff into a warm, tender sweet potato.
Ingredients
1

3-5 pound

pork butt

,

bone-in

1

18-oz bottle

BBQ sauce,

I used Sticky Fingers

1-2

teaspoons

Sirachi Sauce

,

depending on the amount of spice you like

8

sweet potatoes

,

scrubbed

olive oil

kosher salt
Instructions
Add pork butt into the insert of a slow cooker. Pour in your favorite bottled or homemade BBQ sauce. Add Sirachi sauce to your taste, about 1-2 teaspoons. Cook on high for 4 hours or low for 8-10 hours, until the pork falls apart when pulled with a fork.

About 1 hour prior to serving, preheat oven to 375 degrees. Place each sweet potato onto a sheet of aluminum foil. Drizzle with olive oil and sprinkle with salt. Wrap tightly and place into the oven. Cook until fork tender, about 50 -55 minutes. Remove from the oven and split each sweet potato open with a knife.

Stuff spicy pulled pork into the opening of the sweet potato and spoon additional sauce over the top.

Serve warm.
Nutrition information is automatically calculated, so should only be used as an approximation.
I can't wait to hear how you like it!
If you like this recipe, you may also enjoy:
Sweet Pulled Pork Tacos from What's Gaby Cooking
Carnitas from Leite's Culinaria
Spicy Dr. Pepper Shredded Pork from The Pioneer Woman
+ more pork recipes on Add a Pinch