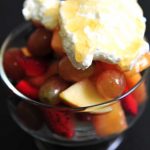 Print Recipe
Fruit Salad Recipe
Fruit Salad Recipe. Fruit salad is easy to assemble ahead of time for serving with a honey citrus dressing and an optional honeyed whipped cream topping.
Fruit Salad Dressing:
orange or pineapple juice

from above in the Fruit Salad

3

tablespoons

honey
Topping: (optional)
Fruit Salad Recipe

Pour orange juice into a medium bowl.

Clean and cut all fruit and place into a separate large bowl, placing any fruits that will easily brown when cut into the orange juice bowl for soaking. Remove fruits placed in the orange juice with a slotted spoon and add to the rest of the fruit salad.

Dressing

Add honey to the orange juice in the medium bowl. Whisk together until well-combined. Add more honey to taste. Pour dressing over fruit salad.