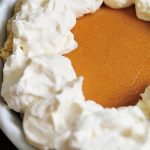 Print Recipe
Caramel Pie Recipe
Caramel Pie made from scratch makes a delicious dessert for the holidays and special occasions.
1 9-

inch

pie crust

1

cup

packed brown sugar

1/4

cup

all-purpose flour

1/2

teaspoon

kosher salt

1/2

cup

milk

1/2

cup

half and half

4

large egg yolks

1 1/2

teaspoons

vanilla extract

1

cup

granulated sugar

2

tablespoons

butter

Whipped Cream

for serving
Preheat oven to 425 degrees. Place pie crust into pie plate and bake for 8 minutes. Remove pie crust from oven and set aside.

To prepare the caramel pie filling, add brown sugar, flour, salt, milk, half and half, and egg yolks to a heavy bottomed, 3-4 quart saucepan over medium heat. Whisk together to combine continue to whisk until thick and creamy. Remove from the heat, add vanilla extract.

Add granulated sugar and butter to a small skillet over medium heat. Stir constantly until the sugar has melted and caramelized. Slowly pour, whisking as you do, into the warm cream mixture until well combined.

Pour into prepared pie crust and allow to cool for about 10 minutes. Place a piece of plastic wrap onto the caramel portion of the pie and place into the refrigerator for 1-3 hours to overnight to allow the pie to firm.

When ready to serve, remove the pie from the refrigerator and carefully remove the plastic wrap from the top of the caramel.

As the pie is resting, pour whipping cream and granulated sugar into a medium glass bowl. Whip until stiff peaks have formed in the whipping cream. Use to top the caramel pie.

Store pie in the refrigerator to keep the caramel firm.