The BEST Chewy Chocolate Chip Cookies recipe with a secret little ingredient. They are soft, chewy, and amazing! Learn the tips to the best chocolate chip cookies that everyone requests!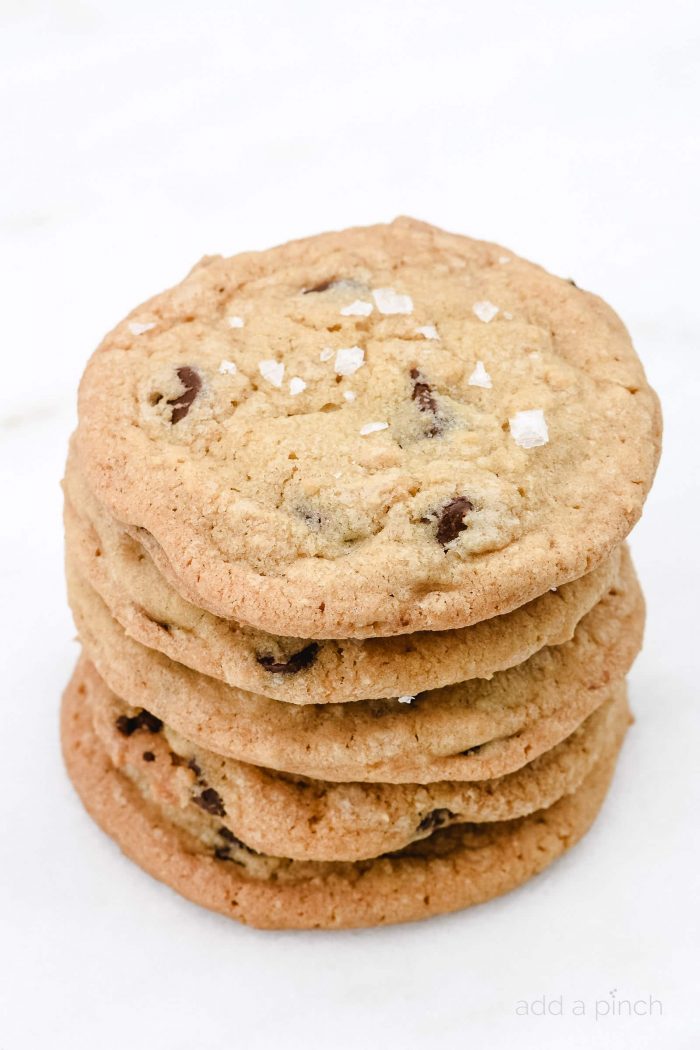 These chocolate chip cookies have to be our absolute favorite chocolate chip cookies in the whole wide world. But seriously, chocolate chip cookies and milk? I think my son could eat his weight in them he loves them so much. I've been making these incredible cookies for so many years now that they are one that is requested over and over again.
If you like your cookies to be crisp on the outside, chewy on the inside with the perfect combination of sweet and a little bite of salty then this cookie recipe has your name on it, too!
How to Make the Best Chocolate Chip Cookies You'll Make Again and Again!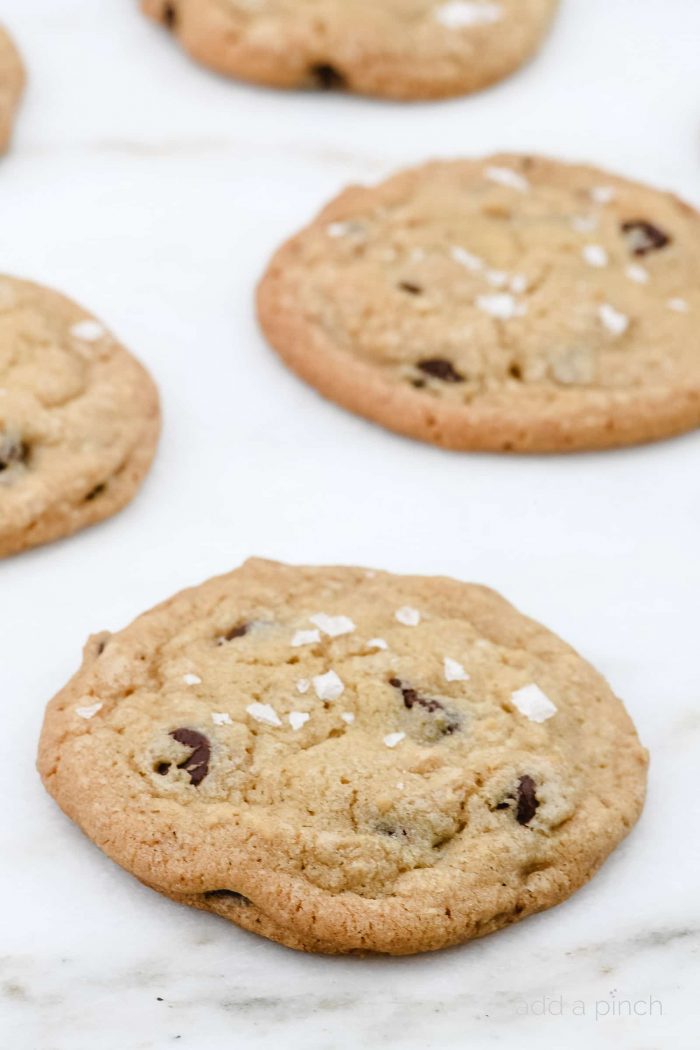 What Ingredients Do You Need for the Best Chocolate Chip Cookies?
Butter
You can use either salted or unsalted butter in this recipe, whichever you have on hand. I generally keep salted butter and use that in my baking.
If you prefer to use unsalted butter, I do recommend that you include the optional sprinkle of salt on the top of the cookies. That sprinkle adds so much.
Resource: How to Soften Butter
Sugar
You are using a combination of both granulated and brown sugar in this cookie recipe. The brown sugar contains molasses which adds such a depth of flavor to the cookies and makes them even more delicious.
Eggs
You'll use standard large eggs in this recipe. I like to allow my eggs to reach room temperature for all of my baking, including cookies, but it generally isn't as important for cookies as it is for baking cakes and cheesecakes. The room temperature egg will cream together more easily and produce fluffier baked goods. Cold eggs straight from the refrigerator will still work in this recipe, but will not cream together as easily.
Vanilla Extract
A good vanilla extract makes a huge difference in baking. You can either make your own from whole vanilla beans and liquor or you can be sure to purchase the highest quality vanilla extract you can. There are a few brands at different price points that work well, such as Nielson-Massey, Rodelle, and McCormick Organic.
Resource: How to Make Vanilla Extract
Flour
This recipe uses all-purpose flour. Note that if you need to make these cookies gluten-free, I would recommend using Cup 4 Cup gluten-free flour blend in place of the all-purpose flour. It will slightly change the finished texture of the cookie, but is absolutely delicious when you need to make sure that your cookies are gluten-free.
Oats
This is the secret ingredient!
My recipe also includes quick-cooking oats. Quick cooking oats are generally old-fashioned oats but with a finer texture. They impart the same flavor as old-fashioned oats without the bulk in this cookie.
Again, if you need a gluten-free option, make sure to use certified gluten-free oats.
If you only have old-fashioned oats on hand, simply add them to your blender and pulse for about 2 seconds until they are slightly finer.
Salt
I use kosher salt in this recipe, specifically Diamond Crystal kosher salt brand which has less sodium than some other brands. If you would like to use regular table salt, fine sea salt, or even another brand of kosher salt, I recommend that you simply use half of the salt listed in the recipe.
For an optional topping, I also love to add a pinch of flaky sea salt to the tops of my cookies while they are still warm. 🙂
Baking Soda
Baking soda is part of the leavening in these chewy chocolate chip cookies. Make sure that the baking soda is fresh.
Chocolate Chips
You may wonder what kind of chocolate chips are the best chocolate chips to include in this cookie. Well, the answer is… the ones that you prefer! 🙂 My family loves dark chocolate, so we generally like to use those in this cookie recipe. You can also use semi-sweet chocolate chip, milk chocolate chips or even a blend of two if you'd like. A blend of dark and milk chocolate is delicious – it's what I use in my recipe for Salted Double Chocolate Chunk Cookies.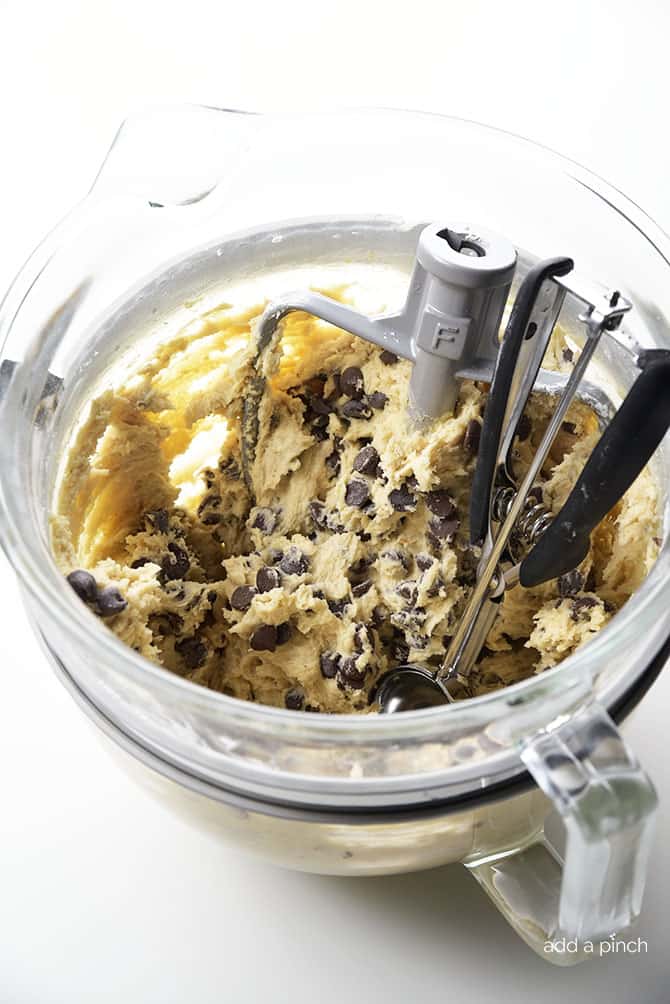 Do You Need to Chill Chocolate Chip Cookie Dough for the Best Cookies?
That is really a matter of personal preference. And time.
Here's what I've found.
Chilled cookie dough prevents the cookies from spreading as they bake. The butter becomes firm again within the cookie dough as the dough is chilled. Scooping the dough onto the baking sheet and refrigerating as little as 20 – 30 minutes helps the cookies from spreading a great deal.
Unchilled cookie dough will spread a bit, but will still be delicious.
I make these cookies often enough that I generally like to keep scoops of the cookie dough at the ready in my freezer so that I can bake a small batch of fresh chocolate chip cookies for my son and his friends on a whim.
I also bake them frequently enough that I bake them immediately after mixing together my cookie dough.
We love this cookie both ways. There is no wrong way or right way to make them in my book! 🙂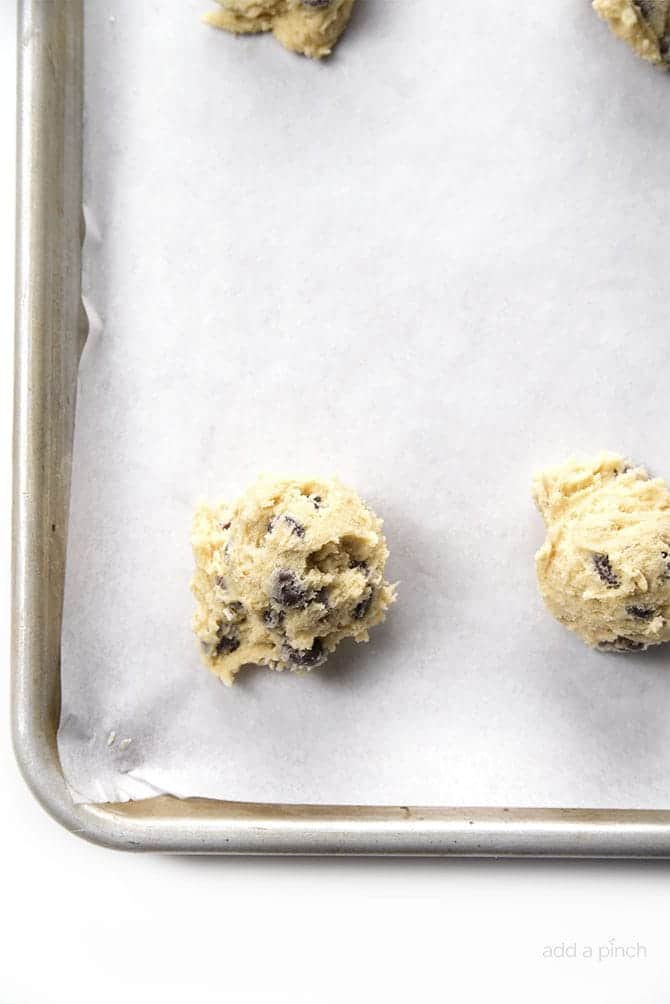 Making and Baking the Cookies
To make these cookies, you will start by preheating your oven and lining the baking sheets with parchment paper or silicon baking mats.
Now stir together your dry ingredients of flour, oats, salt, and baking soda. Make sure that they are well blended so that when you add the dry ingredients to your butter mixture the ingredients are well distributed throughout the cookie dough.
Then, cream together your butter and sugars until light and fluffy. Mix in your eggs and vanilla extract until well combined. By adding your vanilla extract at this point in the mixing process, the vanilla extract and the butter are combined more thoroughly which then imparts more flavor in your baked cookies, in my opinion.
Mix the dry ingredients into the butter mixture until just well combined. Be careful not to overmix here.
Next, stir in your chocolate chips.
Scoop your cookie dough onto the baking sheet and bake for about 8-10 minutes just until lightly golden brown.
Remove from the oven and watch them disappear.
How to Store Chocolate Chip Cookies
Baked. Store in an airtight container at room temperature for up to 5 days.
Unbaked. Store in an airtight container in the freezer for up to 3 months.
How to Freeze Chocolate Chip Cookie Dough
Place cookie dough scoops onto a parchment lined baking sheet and into the freezer until frozen, about 30 minutes. Then, remove the scoops from the baking sheet and place into a freezer-safe, airtight container.
When ready to bake one, two or ten cookies, pull that number out and bake. You may need to add a few more minutes to the baking time since they are being baked from frozen.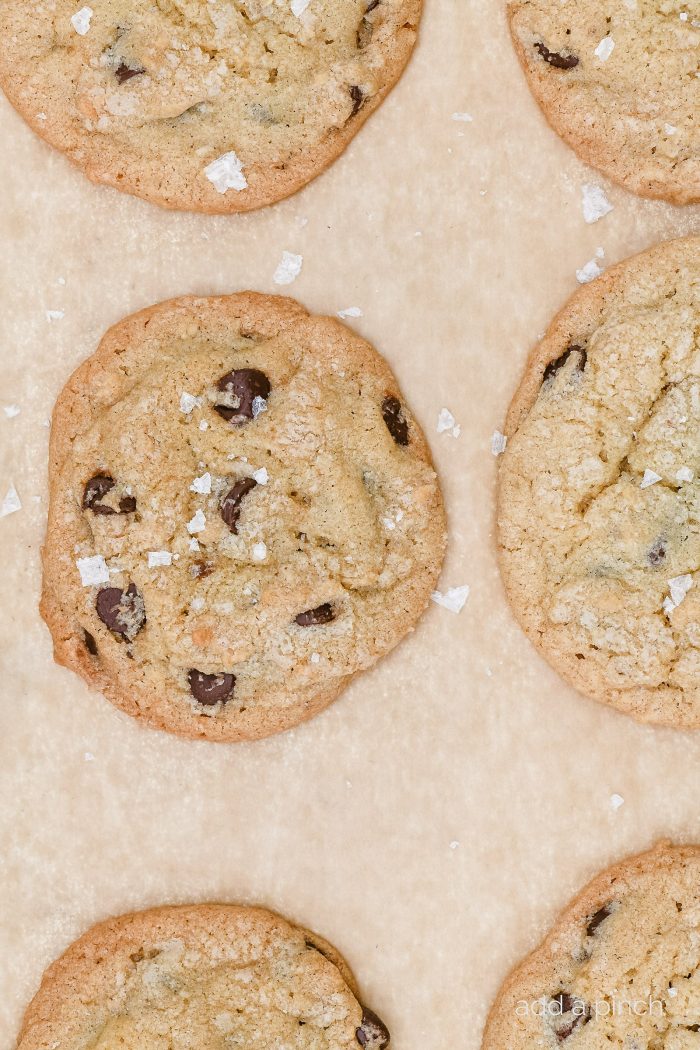 Here's my recipe for The Best Chocolate Chip Cookies. I think you'll love them.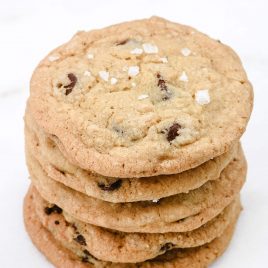 The Best Chocolate Chip Cookies Recipe
Chewy Chocolate Chip Cookies recipe with a secret little ingredient. They are chewy, soft, and amazing! Learn the secrets to the chocolate chip cookies that everyone requests!
Ingredients
1

cup

butter

softened

1

cup

brown sugar

packed

1

cup

sugar

2

large

eggs

room temperature

1

tablespoon

vanilla extract

3

cups

all-purpose flour

1/4

cup

quick-cooking oats

1

teaspoon

kosher salt

3/4

teaspoon

baking soda

1 1/2

cups

chocolate chips

flaky sea salt

optional, for topping
Instructions
Preheat oven to 350º F. Line baking sheet with parchment paper or silicon baking mats. Stir together dry ingredients of flour, oats, salt, and baking soda in a medium bowl. Set aside.

Cream butter then add sugars and mix until light and fluffy. Add eggs and vanilla. Mix until well-combined. Add flour, oats, salt, and baking soda to butter mixture. Mix well and then stir in chocolate chips. Scoop chocolate chip cookie dough onto a cookie sheet spacing well apart to allow room for the cookie to spread lightly. Bake for about 10 – 12 minutes or until lightly browned.

Optional: sprinkle a pinch of flaky sea salt onto cookies right out of the oven while still warm.
Nutrition Information
Calories:
172
kcal
|
Carbohydrates:
25
g
|
Protein:
1
g
|
Fat:
7
g
|
Saturated Fat:
4
g
|
Cholesterol:
23
mg
|
Sodium:
143
mg
|
Potassium:
26
mg
|
Sugar:
16
g
|
Vitamin A:
190
IU
|
Vitamin C:
0.1
mg
|
Calcium:
18
mg
|
Iron:
0.7
mg
Enjoy!
Robyn xo
From the Add a Pinch recipe archives. Originally published 2010.