My husband makes the most amazing smoked chicken. It is fabulous and something I never get tired of eating! So, I thought I'd ask him to share his tips on how to smoke a whole chicken.
Take it away, sweetie!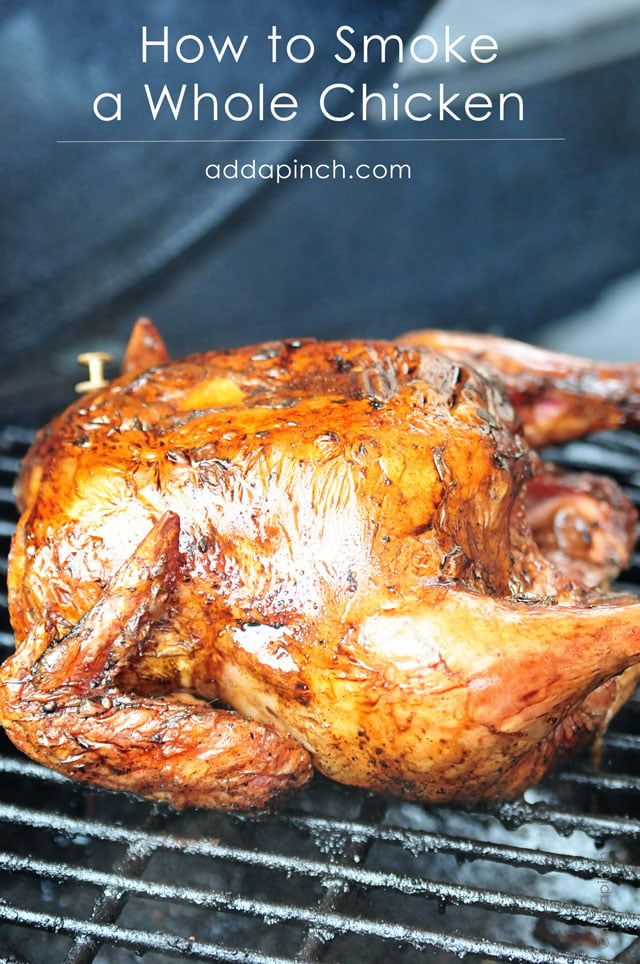 Smoking a whole chicken is about as easy as it comes. There are only a few things you'll need to watch for while prepping and cooking to make sure your smoked chicken turns out just right.
First, prep your grill or smoker.
We use a Big Green Egg smoker with lump charcoal by Big Green Egg. I've found it to be very consistent in heat and flavor. If you are using a gas grill to smoke, you'll want to soak and add your wood chips to obtain the smoke flavor. For that, I'd recommend you just follow the directions for your smoke box or chips. If you are using a charcoal grill, you can use a lump charcoal like I'm using in my Big Green Egg.
Next, you'll want to decide if you want to add a drip pan underneath the grates to catch any drippings off the chicken. As lean as chicken is known to be, a whole chicken will produce a good bit of drippings and these cause flare-ups. You definitely don't want any flare-ups when smoking.
Once you have your grill/ smoker situated, preheat it to a stable 350 degrees, with no flames.
Next, clean your chicken.
Remove all of the giblets and other items that are placed inside the bird. If you'd like to save those for another use, do so. If not, discard them.
You'll also want to trim off any excess fat from around the openings of the bird.
Then, once you've done all that, give your chicken a good rinse with clean water inside and out. Rinse it until the water runs clear.
Finally, smoke that bird!
Place your whole chicken onto the grill/ smoker and cook until temperature registers 165 degrees when checked with a meat probe. Be sure to check various areas of the chicken – the breasts, legs, thighs, etc. The cooking time will depend on the size of your whole chicken, but for a medium size will take about 45 minutes. Note: Be sure to use a meat probe or get a chicken with a pop-up indicator – or both! You just can't tell if a whole chicken is done by looking at the outside. Better to be safe than sorry!
Wrap chicken in foil and allow to rest for five to ten minutes. Then, cut and serve!
Note from Robyn :: Occasionally, we'll use a seasoning or rub on our smoked whole chicken, but that is always a matter of preference. If you choose to add a rub or seasoning mix to your chicken, do so before you add it to the smoker. If not, you'll still have a tender, juicy, and delicious chicken following these steps.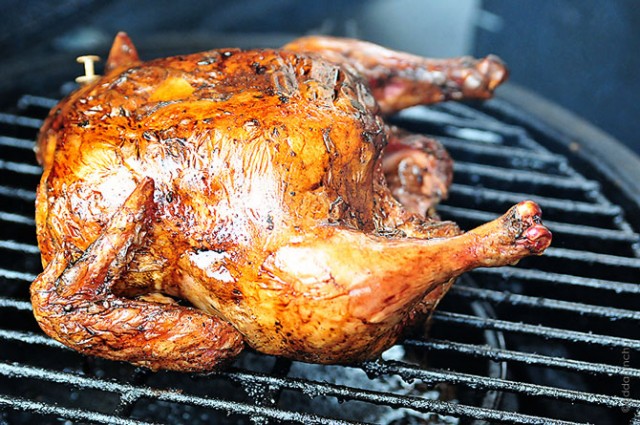 Hope your chicken turns out as great as ours usually do. Be patient with it when you first start out smoking meat, but in the long run, it is so worth it.
Let me know if you have any questions!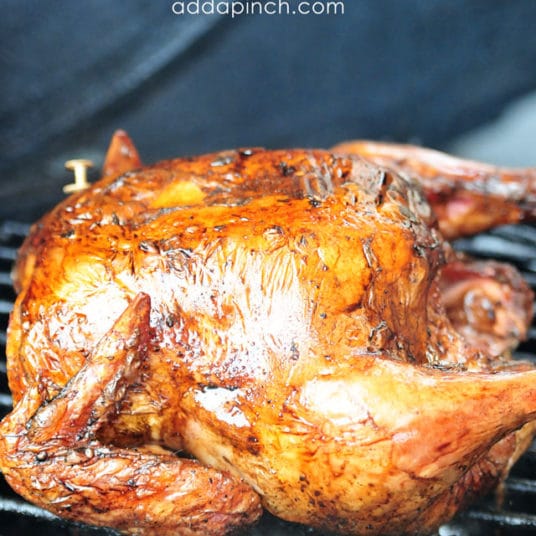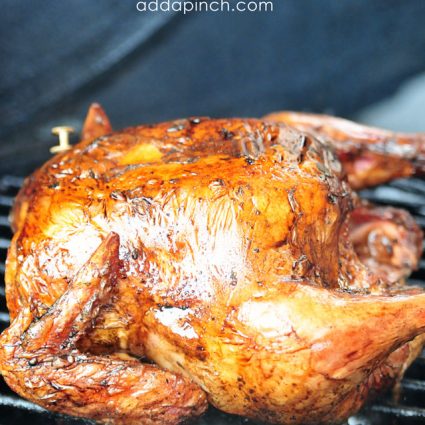 How to Smoke a Whole Chicken
Learning How to Smoke a Whole Chicken opens up a whole world of delicious menu options. Follow these easy steps for a perfectly smoked whole chicken!
Ingredients
1

whole chicken

poultry season or dry rub

,

optional
Instructions
Prep and preheat grill or smoker to a stable 350º F.

Place chicken onto grill or smoker and smoke until internal temperature registers 165º F when checked with an internal meat probe in multiple locations (breast, thigh, leg, etc). Time will vary based on the size of the chicken.

Remove from smoker and wrap with aluminum foil and allow to rest for 5 to 10 minutes.
Nutrition
Calories:
273
kcal
|
Protein:
24
g
|
Fat:
19
g
|
Saturated Fat:
5
g
|
Polyunsaturated Fat:
4
g
|
Monounsaturated Fat:
8
g
|
Trans Fat:
1
g
|
Cholesterol:
95
mg
|
Sodium:
89
mg
|
Potassium:
240
mg
|
Vitamin A:
178
IU
|
Vitamin C:
2
mg
|
Calcium:
14
mg
|
Iron:
1
mg
Nutrition information is automatically calculated, so should only be used as an approximation.
Happy Smoking!
The Mister