Weekly Meal Plan #20
Sharing our Weekly Meal Plan with make-ahead tips, freezer instructions, and ways make supper even easier!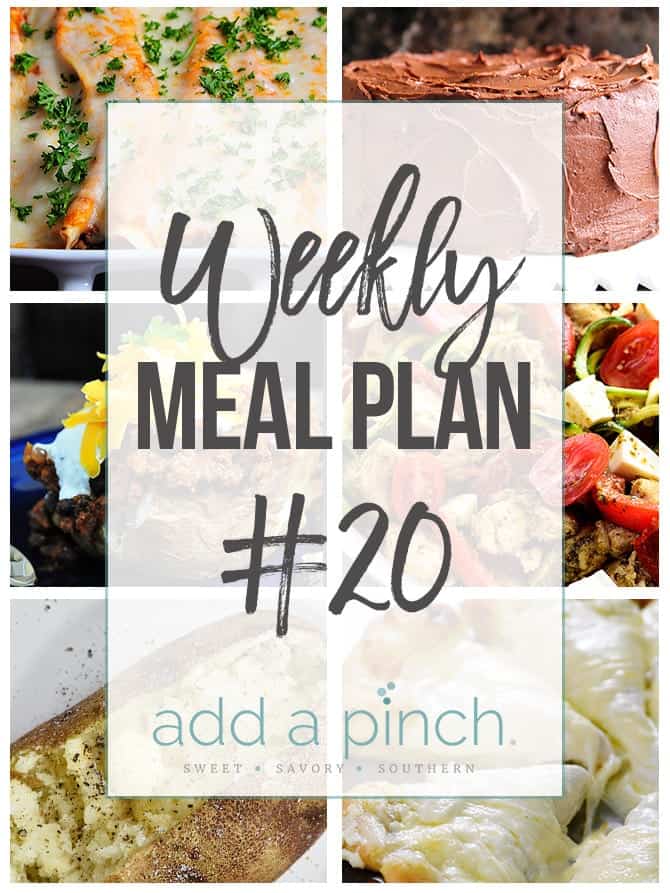 Saturday: Family Night Out! (My niece Katherine's Wedding Day!)
Sunday:  Citrus Shrimp + Salad ( from the Add a Pinch Cookbook)
Monday: One Pan Pesto Chicken (30 Minute Meal)
Tuesday:  Chili Stuffed Baked Potatoes + Salad
Wednesday: Three Cheese White Pizza 
Thursday: Beef Enchiladas + Salad (30 Minutes)
Friday: Farm Weekend Night Out!
MEAL PLAN TIPS:
Saturday:
My sister's daughter, Katherine, and her fiance, Joseph, are to be married on Saturday! We are absolutely thrilled and so excited to officially welcome Joseph to the family!!!
Sunday:
Citrus Shrimp: This shrimp recipe from the cookbook comes together in a snap and is perfect for an easy, breezy meal. Paired with a salad and homemade citrus vinaigrette dressing it is simple, scrumptious, and just right! I'll make the vinaigrette ahead earlier in the day and always love to have a large salad assembled for my family throughout the week. 

Monday: 
One Pan Pesto Chicken: Another quick-fix supper recipe, this one-pan dish is a favorite!
Tuesday:
Chili Stuffed Baked Potatoes: While my chili is cooking, I'll also prepare my baked potatoes and salad.
Wednesday:
Homemade Three Cheese White Pizza: I love to keep homemade pizza dough in the freezer for busy weeknights. Then, I just let the dough thaw in the refrigerator overnight so that by suppertime, it is ready for making our homemade pizzas! So easy!
Thursday:
Beef Enchiladas: We'll be preparing for guests to arrive for the Add a Pinch Weekend at the Barn on Friday! I can't wait! So, I'll pull a pan of beef enchiladas from the freezer for a super easy meal.
Friday:
Guests arrive today for the weekend so we are headed into town for a great meal by one of my favorite local chefs!
Have a great week, friends!
Robyn xo