One Pan Pesto Chicken Recipe
This One Pan Pesto Chicken recipe makes a quick, easy and delicious dish for a weeknight supper!  Made with chicken, pesto, peppers, tomatoes, and zucchini, this pesto chicken is a family favorite chicken recipe.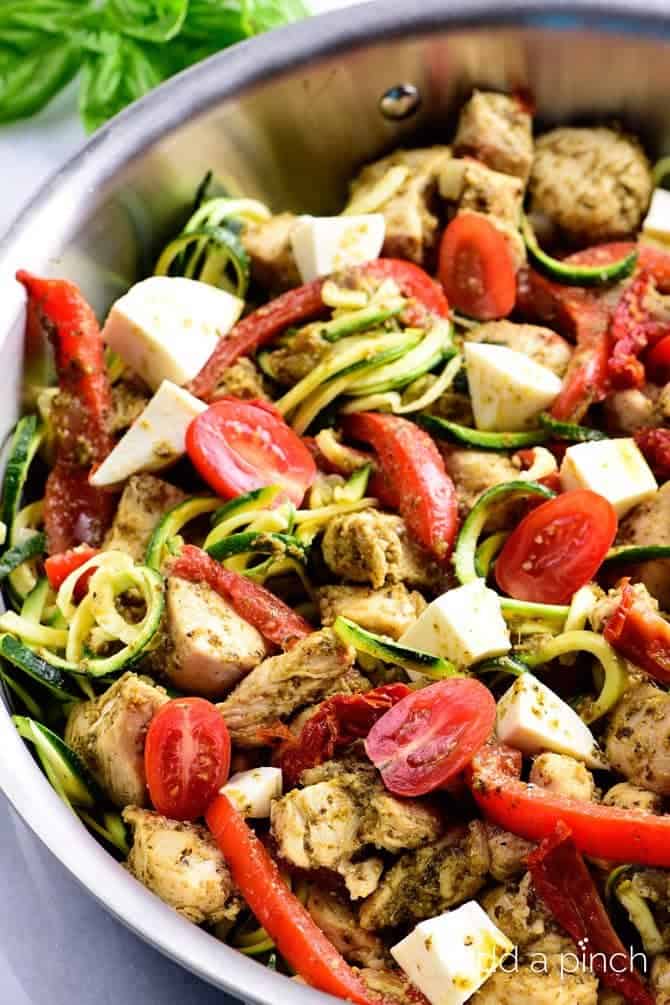 Hi, sweet friends! I have a quick, easy and mighty delicious one pan recipe to share with you that I think you are going to adore as much as we do! It is my one pan pesto chicken that is a weeknight staple around my house.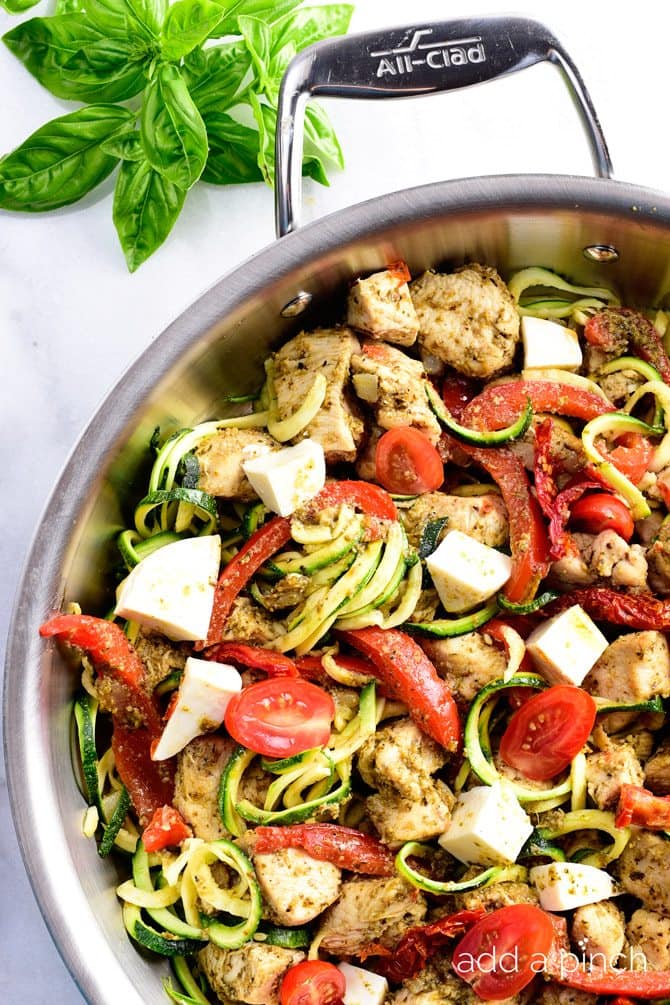 We've been going through a good many quick and easy meals at my house lately. I think it has a lot to do with the time of the year. I probably say it every year, but man is it a hectic! We're wrapping up the end of Sam's eighth grade year and all of the activities that go along with the end of a school year. And since the days are longer, we're staying outside longer working in the garden or piddling around with chores around the farm. The to-do list is always growing, it seems. Which leads me back to why we're all about quick and easy lately.
Working in the garden the other night, I kept cheering on my baby tomatoes and the blooms for my squash and zucchini. I just couldn't resist picking fresh basil as I headed back into the house. When I got back in, I knew exactly what I wanted to make! I whipped up a fresh batch of pesto as I started the chicken cooking for my pesto chicken recipe.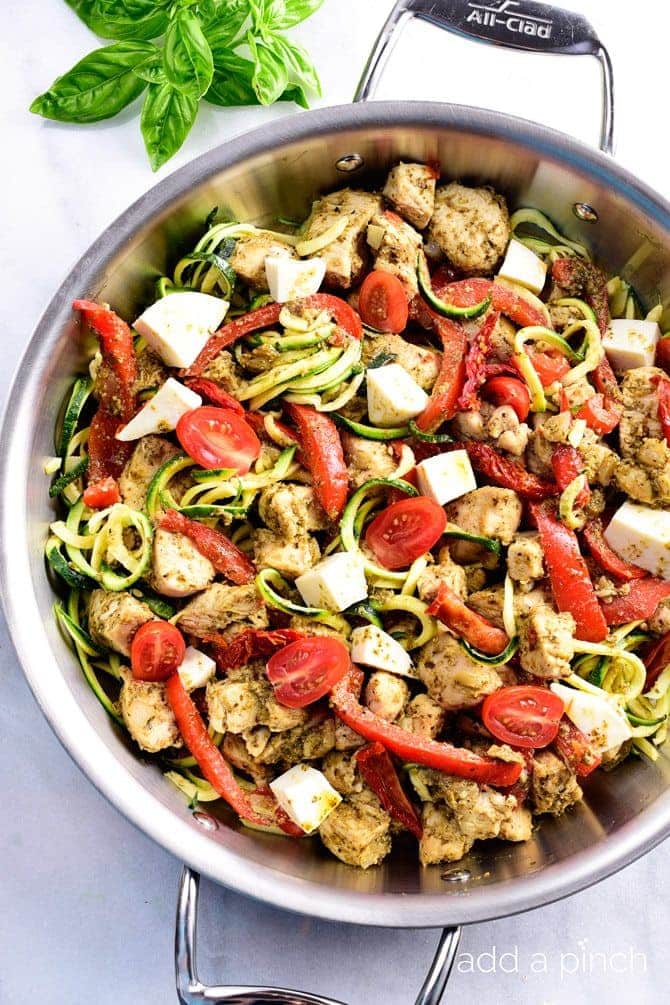 I especially love that it all comes together in one big pan – making cooking and cleaning a cinch!
Speaking of the pan, I used my All-Clad d5 all-in-one pan. Stainless steel with five bonded layers, the d5 cookware is one of my absolute favorites. I can absolutely tell a difference when cooking with my All-Clad cookware compared to the cookware that I used when we were first married. The All-Clad heats consistently and holds the heat evenly for great distribution across the cookware. It also doesn't hurt that it is just beautiful cookware either! I was excited when All-Clad reached out to me about sharing a recipe using their new 4 quart all-in-one pan and knew you'd be just as excited about the recipe and their giveaway as well!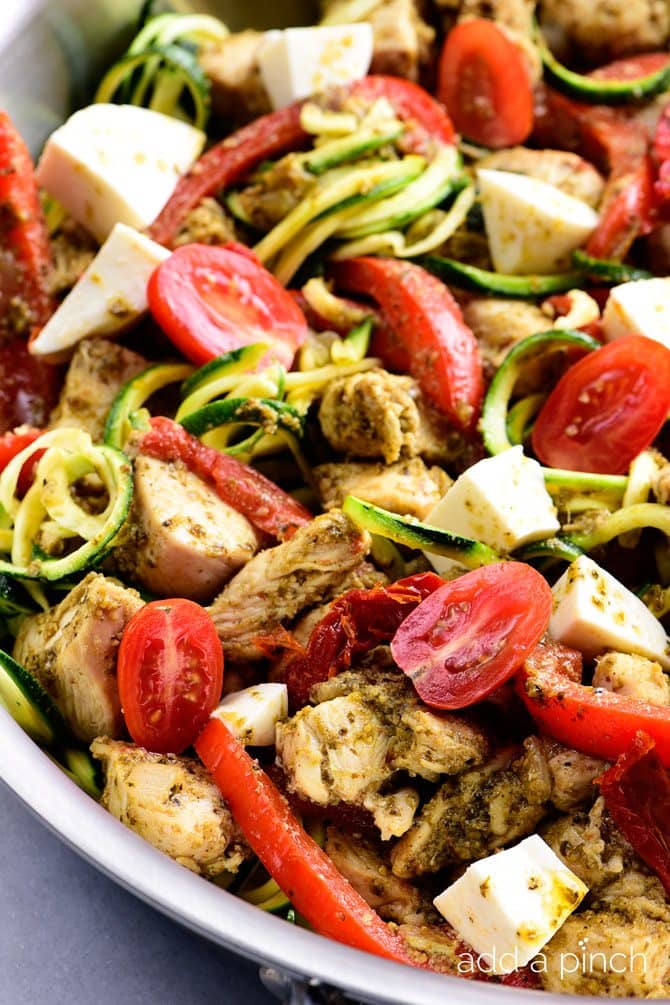 Here's my One Pan Pesto Chicken Recipe. I hope you enjoy it as much as we do!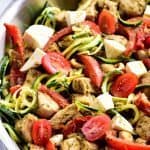 Print Recipe
One Pan Pesto Chicken Recipe
This One Pan Pesto Chicken recipe makes a quick and easy answer to what's for supper? Made with chicken, pesto, peppers, tomatoes, and zucchini, this will easily become a favorite!
Prep Time10 mins
Cook Time15 mins
Total Time25 mins
Servings: 4
Calories: 290kcal
Ingredients
2 tablespoons olive oil
3 skinless, boneless chicken breasts, cut into 2-inch pieces
1 medium red pepper deseeded and sliced
5 medium zucchini cut into ribbons or spirals
1 pint grape tomatoes halved
1/4 cup pesto homemade or store-bought
mozzarella cheese optional
Instructions
Set large pan over medium heat. Drizzle in olive oil. Once the olive oil begins to shimmer, add the chicken pieces and the red pepper and cook, stirring frequently, until the chicken is cooked throughout, about 8 to 10 minutes. Stir in zucchini, tomatoes, pesto, and mozzarella cheese, if using. Serve immediately.
Nutrition
Calories: 290kcal | Carbohydrates: 15g | Protein: 23g | Fat: 16g | Saturated Fat: 2g | Cholesterol: 55mg | Sodium: 270mg | Potassium: 1296mg | Fiber: 4g | Sugar: 10g | Vitamin A: 2745IU | Vitamin C: 99.1mg | Calcium: 80mg | Iron: 1.8mg
Enjoy!
Robyn xo

All-Clad provided me with the all-in-one pan photographed as well as one to giveaway to a lucky Add a Pinch family member. As always, all opinions are 100% my own!