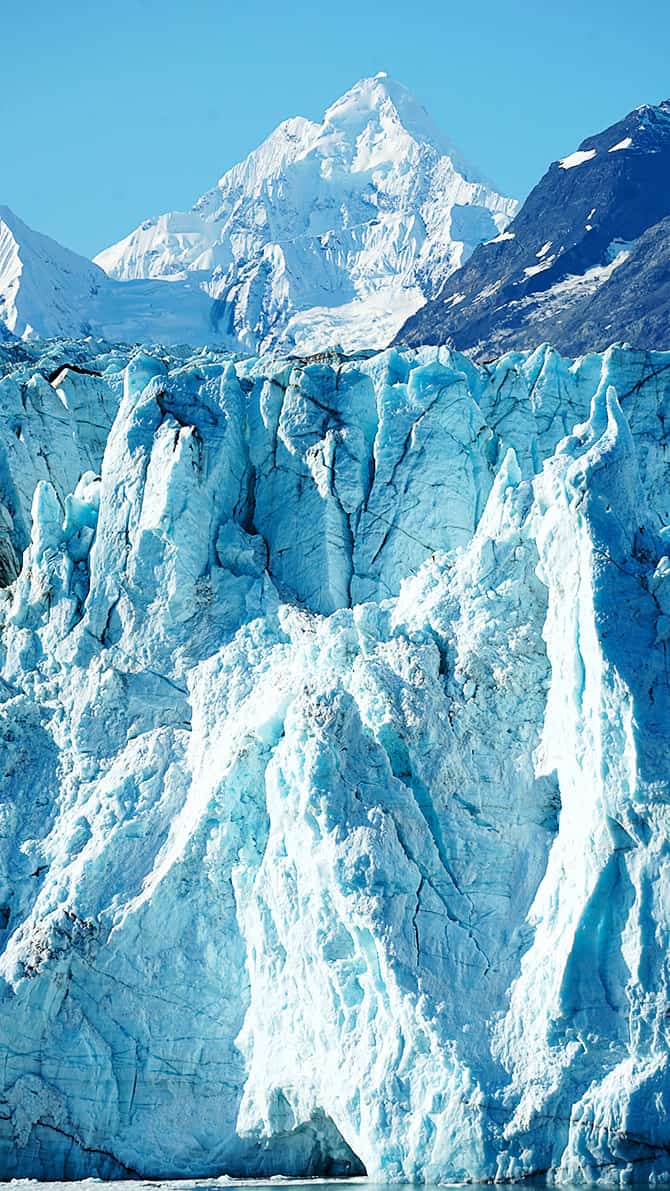 Alaska!
It's definitely a place of beauty and grandeur!
With that natural beauty comes weather and temperatures that vary from day to day. That's why it's so important to pack accordingly with the right clothes and travel essentials. On a cruise, you definitely want to take clothes to wear on the ship too!
Since Alaska is a temperate rainforest, the weather is vastly different from that here in Georgia and much of the lower 48 of the United States. I knew the average weather conditions for the time of year for our cruise and consulted friends and family who had previously cruised in Alaska for their advice.
The number one recommendation that I received was:
Pack so that you can dress in layers.
While that sounds easy enough, I didn't exactly know what that meant when it came right down to making my packing list. So, I knew that once I returned, I would share with you tips on what to pack for your Alaska cruise!

Clothes to Pack for Alaska Cruise
Alaskan cruises are by nature more casual than you'll find many other cruise destinations.
You'll want to consult your cruise itinerary to find out more about clothing recommendations and if there are formal nights during your cruise. While formal nights are generally optional, they are a great deal of fun!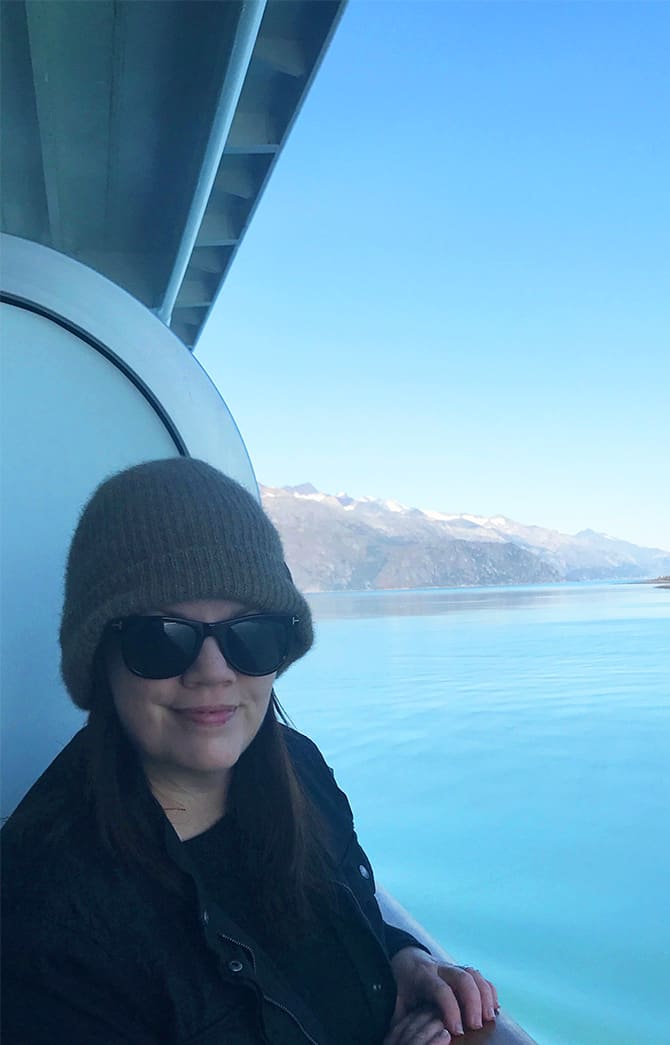 Daytime – Dress in Layers – Everyone told me to plan to dress in layers, but it took a bit for me to understand what this truly meant. In Alaska, weather can change rather rapidly. It can go from sunny and warm to rainy and cold in seconds.
For our September cruise, I wore a layer of light silk thermals topped with either jeans or leggings on the bottom and a t-shirt and sweater or pullover on top.
Over that, when we went out, I would wear a waterproof, hooded jacket. Since we were later in the year and I am cold-natured, I wore an insulated waterproof hooded coat.
If you prefer, a lighter version would work if you have warm layers underneath. I don't recommend an umbrella, as a hooded rain jacket or coat is much more convenient.
I also recommend a casual fleece jacket, pullover, or a lined field jacket as I wore above, for another layer. You'll wear this a lot during the day!
I also had a scarf and gloves with me at all times in my bag, just in case. 🙂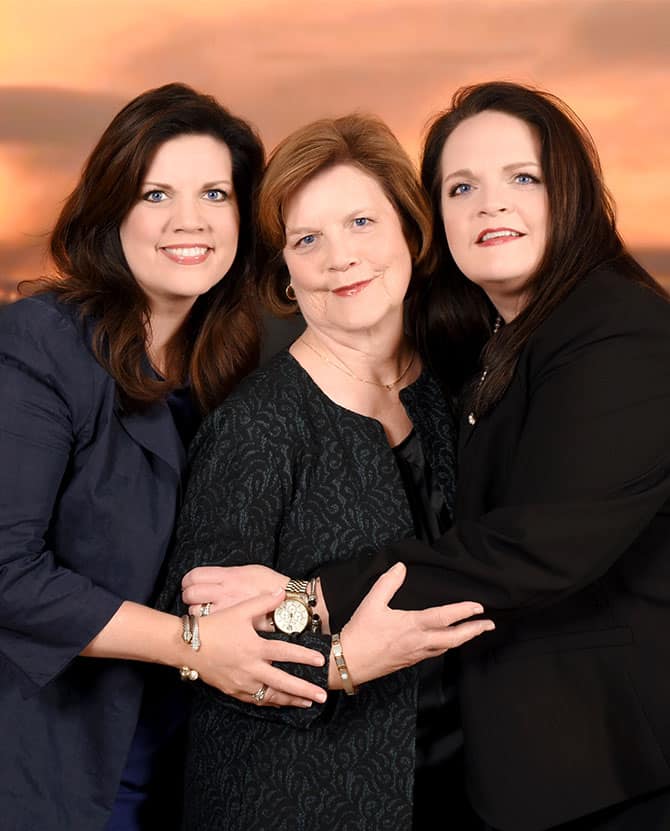 Evenings – Again, consult your cruise itinerary for information on the evening schedule during your cruise.
Generally, you'll find that everyone dresses a bit nicer for dinner. You'll see people wear everything from beaded gowns and tuxedos to the classic little black dress to nice pant suits for women and classic dark suits for men.
I mostly wore classic pantsuits for dinner and then if we were going to spend much time on deck in the evenings, I would change back into my layers from earlier in the day – and I definitely wore my scarf, gloves, and even an extra beanie under my hooded coat!
It's pretty chilly on the deck on September evenings, so pack those layers and cold-weather necessities!
Shoes and Bags – During the day, you'll want to bring warm, comfortable, waterproof shoes for exploring ports of call.
I found that I wore boots like these every single day in port, along with my favorite wool socks. They kept my feet dry, comfortable, and warm!
I also packed dress shoes for dinner as well as a pair of loafers and tennis shoes.
As I mentioned in my essentials to pack for an Alaska cruise post, I strongly suggest a backpack for your carry-on, as well as carrying to your port adventures. My backpack was a classic black like this one, so I carried it as my purse many times, even on the ship!
In addition to the backpack, pack a purse that coordinates with the colors you are wearing the most so that you can carry it to dinner and around on the ship. I had a small black tote, but a classic black bag (like my mama and sister carried) or a clutch are perfect too!
One thing that you'll also notice about the clothes I took along on my trip, and generally like to pack for any trip, is that I usually pack neutrals that will mix and match well with each other and then add a bit of color with a scarf, jacket, or other pieces. I find that helps with packing because I can pack one color of shoes and bags instead of having to pack multiple colors. I've included a few examples in the graphic so you can see them. This makes packing so easy!
If a cruise to Alaska is on your bucket list, I hope you go sometime soon – and that this is helpful to you as you plan what clothes and accessories to pack!
Alaska Cruise: Packing List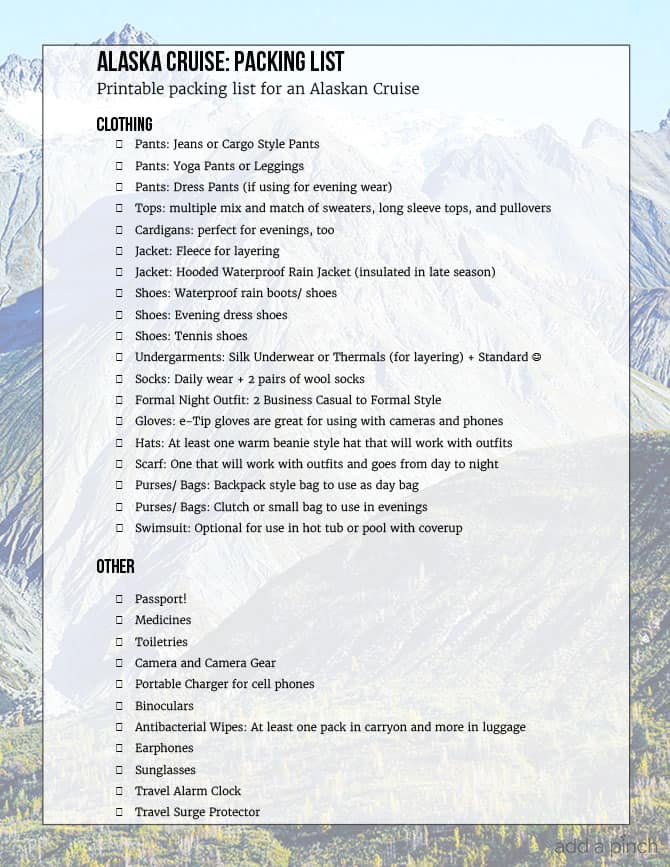 Here is the link to the printable packing list. It is a PDF document you can print and check off the items as you pack (if you are a list follower like me!).
Alaska Cruise: Packing List Printable Link
Here are more Alaska Cruise Posts you may enjoy.
Tips for Planning Your Alaska Cruise
Alaska Cruise: Travel Essentials
Bon voyage!
Robyn xo