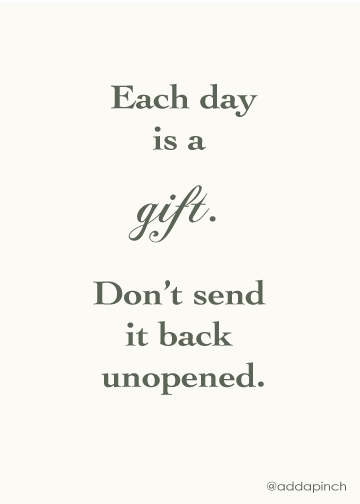 I hope you had a great weekend! It flew by much too quickly, didn't it?
We spent both days this weekend visiting with a dear friend who is battling cancer. His cancer is rapidly advancing, causing his doctors to only give him a short time. As soon as we heard, our hearts knew exactly where we needed to be – spending time with his family, doing what we could to help them. In reality, he helped us more.
Not really knowing what to do with ourselves when we got home, we dug into a few spring cleaning and gardening chores that I've been procrastinating about quite honestly. But I'm now so thankful to have gotten them accomplished. Cleaning our garage is always one of my most dreaded things in the world to do, but it has to be done a whole lot more often now that Ranger's kennel is in there.
Each morning when I open his door and we greet each other like we haven't seen each other in eons, we chat, I give his neck a good ole scratch and then he darts outside in a swirl of white fluff that goes everywhere as he races to the front porch in hopes that I've forgotten to bring in the day's newspaper.
By lunchtime he's worked himself so hard, he needs a nap on the cool garage floor, but his romp around digging for buried treasure always gives him away leaving a tell-tell path of each step he's made.
It must be such a tough life being a dog. Spending the day chasing squirrels, barking at turkeys, and only hoping for forgotten newspapers and delivery trucks to leave packages before I make it to the door to pick them up.
Today, I pulled out the bottle of dish soap, a good stiff broom and the water hose and scrubbed his domain from top to bottom. It felt great to muscle through the grime that had built up over the last little bit. Little Buddy's favorite part, as was mine when I was his age, was sliding on the soapy garage floor from one end to the other and then back again. No iPods, no Xbox, no PSP were even thought of as he slid, danced, and skated as I scrubbed away.
As I watched him, I remembered doing the same as my Grandmother would wash her garage. His eyes grew as big as saucers when he looked up to see me squirting more soap onto the floor as I start skating along beside him. While my dips and slides weren't nearly as deep or long as my 10 year old partners, I am certain I shall feel each move in the morning as I get up. But every ache and creek is absolutely, without a doubt worth it.
The look in his eyes told me so.