Hosting a Cheese Judging Party is a great way to spend time with friends while learning so much about cheese. A while back when I visited the Cracker Barrel headquarters in Chicago, Illinois, I was able to learn a few tips first hand from an acclaimed cheese judge, Virg. I knew the tips I learned would be something friends of ours would be interested in learning and that you'd love to know them as well.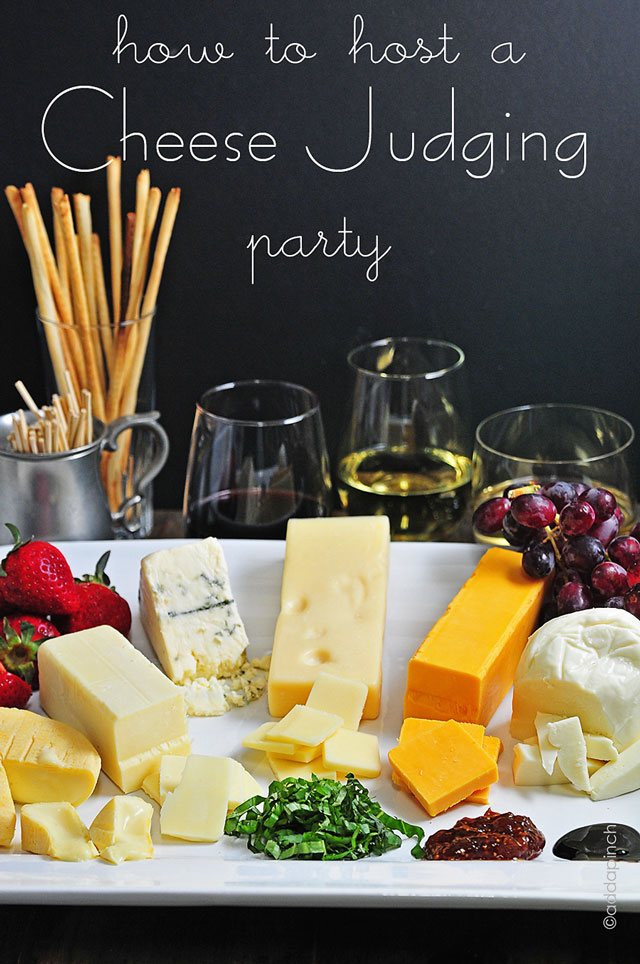 So many times, I pull together a cheese board and serve wine and other drinks when entertaining, but until I spent time with the experts at Cracker Barrel, I really didn't realize the proper way to assemble a full cheese board paired with appropriate wines or other beverages. I certainly didn't understand how to host a cheese judging party until then. I knew by the end of the first afternoon during my visit that my friends would love to have the same information I'd just learned so they would understand the complexities that come into play. I knew that once they'd learned to judge cheese as I had, it would elevate their cheese experiences from that point forward as it had mine.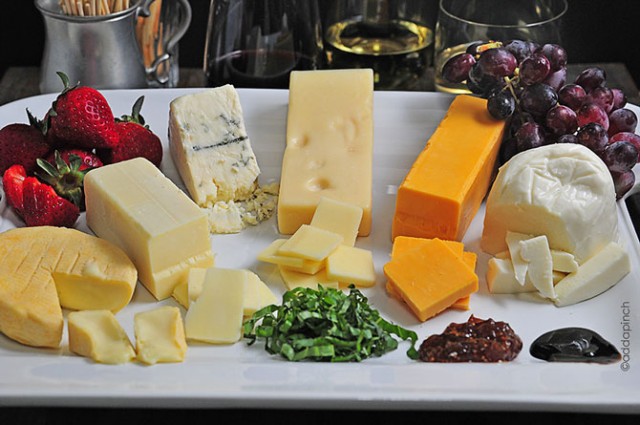 Recently, I hosted a cheese judging party to do just that and want to share how to host a cheese judging party with you, too.
First, decide on the styles of cheese to serve based on their moisture content and texture.
The board I assembled focused more on high and medium moisture content cheeses that also fell in the semi-soft, semi-hard, and hard categories. Don't worry, I've included a quick chart below that provides information on cheese styles by moisture content, as well as cheese styles by texture.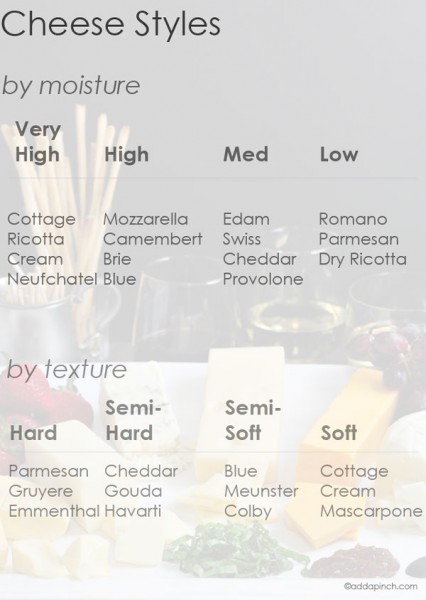 For my cheese judging party, I included Camembert (High Moisture, Soft Texture), Mozzarella (High Moisture, Soft Texture), Blue (High Moisture, Semi-Soft Texture), two Cracker Barrel cheddar cheeses – Extra Sharp and Aged Reserve (Medium Moisture, Semi-Hard Texture), and Emmenthal (Low Moisture, Hard Texture). We began our cheese judging party by going over the cheese styles and began by judging the cheeses on their own, without additional food elements or drink. We utilized the Cracker Barrel Tasting Square, which I've included below for your use as well.

You begin by taking a sniff of the cheese for the full aroma. Next, you'll size-up the cheese. For cheddar, the appearance should be smooth and consistent. Then, slice the cheese. Pinch the cheese between your thumb and forefinger to smoosh it. You'll find that for cheddar, a younger cheese will be springy while an aged cheese is dry and will crumble. Finally, you'll want to savor the cheese. That's the best part in my book! Allow yourself to enjoy the bite by taking in the full flavor of the cheese and the feel in your mouth.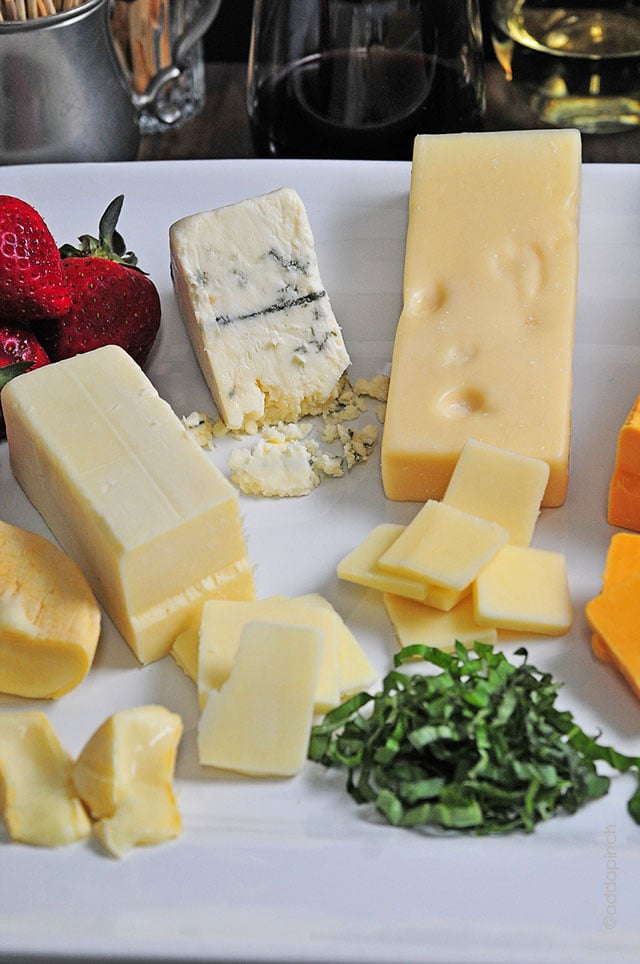 As we judged each of the cheeses, we discussed the cheese using cheese descriptors Cracker Barrel taught me to use. I've included a few that you'll want to consider when you host your own cheese judging party. Lactic – fresh milk, cooked milk, yogurt, whey, fresh butter, melted butter, fresh cream, white chocolate Fruity – apricot, citrus fruit, orange, grapefruit, lemon, plum, dry nut, almond, honey, floral Roasted – fresh bread crust, brioche bread, fudge, browned toasted bread, fried onion, roasted peanut, coffee, black chocolate, smoked tobacco Vegetable – hay, straw, green note, young grass, garlic, onion, vegetable stock, celery, artichoke, mushroom, hummus, soil Animal – meat stock, leather, hard egg yolk, litter Spicy – vanilla, nutmeg, pepper, menthol, fresh note, varied spices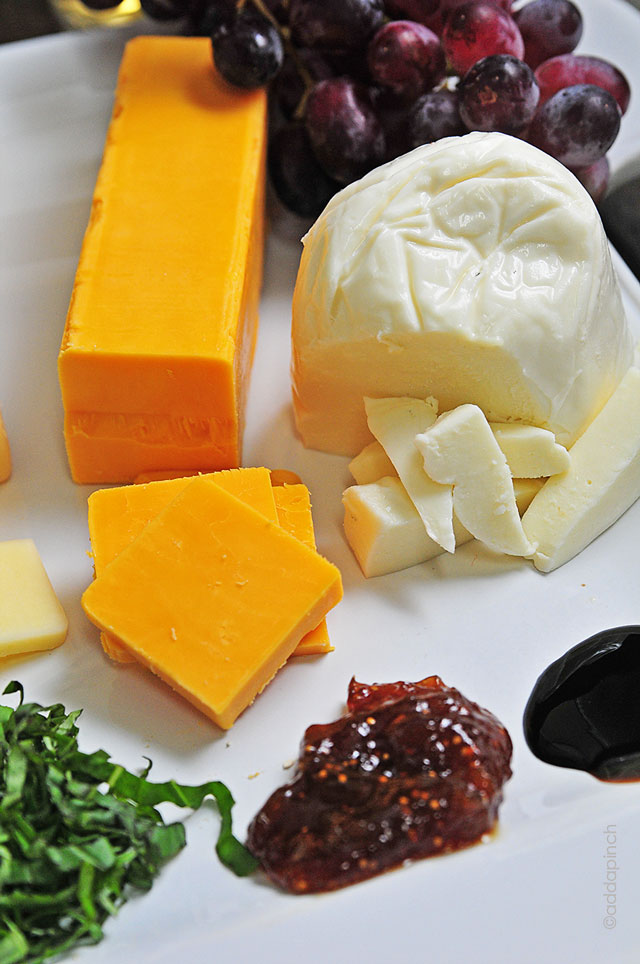 Our second step in our cheese judging party was to judge each of the cheeses again along with a beverage.
For beverage pairing, I included two American wines by Robert Mondavi, a Merlot and a Chardonnay. I also included a non-alcoholic Ginger Beer and of course, water.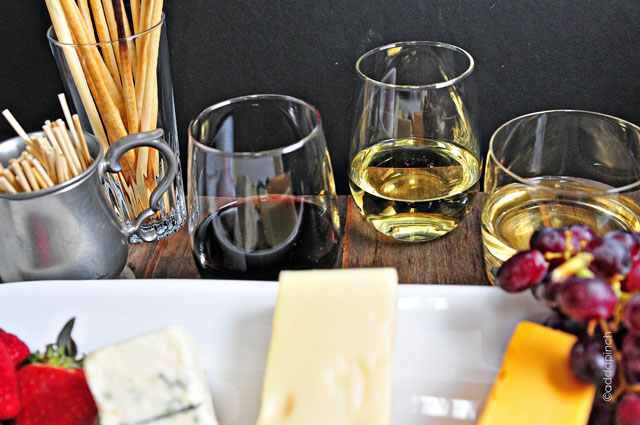 Again, we discussed each of the cheese descriptors and how the wine or other beverage might alter the results.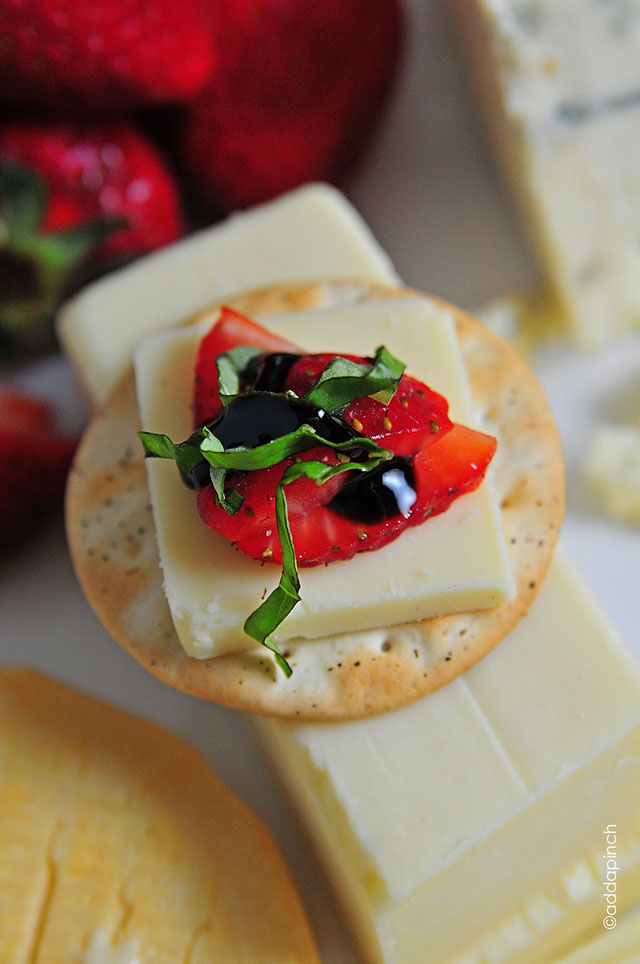 Finally, we paired cheese, beverage, and cheese board accompaniments.
Again, we discussed how the additions of beverage and something as simple as a cracked black pepper cracker, juicy strawberries, basil, and balsamic glaze makes a difference.
Overall, we discussed our final results.
Just as during my trip to Chicago, the results clearly showed that overall, we preferred cheddar cheese in all areas of judging. I'd noticed that everyone continued to "snack" on the cheddar cheese during breaks in the judging, but they also overwhelmingly preferred cheddar cheese when paired with beverages as well as other accompaniments. Our friends were also just as surprised as I'd been in the distinct differences in comparing the two Cracker Barrel cheeses.
The Extra Sharpe Cracker Barrel Cheese was what we all considered a classic, high-quality cheddar in smell, appearance, ability to slice, feel, and taste, while the Aged Reserve Cracker Barrel Cheese was a much more complex, high-caliber cheese in all areas.
The Aged Reserve was duller in appearance than the Extra Sharp, was more difficult to slice, and had a slightly dry feel during the "smoosh" test. The flavor of the Aged Reserve was more pronounced as well with a rich, tangy flavor and lingering cheddar flavor. They were just as impressed as I was at how well all beverages and accompaniments paired with these two Cracker Barrel cheddar cheeses and had so much fun assembling their own favorite pairings. I highly recommend hosting a cheese judging party with your friends and family soon. You know, Memorial Day will be here before you know, wouldn't it be fun to pull together a group of friends to enjoy the holiday together? Teaching them how to judge cheese might just make it the most fun party yet!
Disclosure: I have been selected by BlogHer and Kraft Foods to be an ambassador for Cracker Barrel cheese. While I have been compensated for my time, my opinions are my own.
Graphic and Cheese Judging Information Credits: Unless otherwise watermarked, graphics are provided by Cracker Barrel. Information on how to properly judge cheese are provided by Cracker Barrel.