Sugar scrubs make great personal gifts throughout the holidays or throughout the year, really. Although there are so many delicious smelling scrubs available at various department stores and boutiques, I like to make my own so that I know exactly what is included. I knew my Lemon Sugar Scrub would be a great gift to include in my week of Handmade Gift Ideas.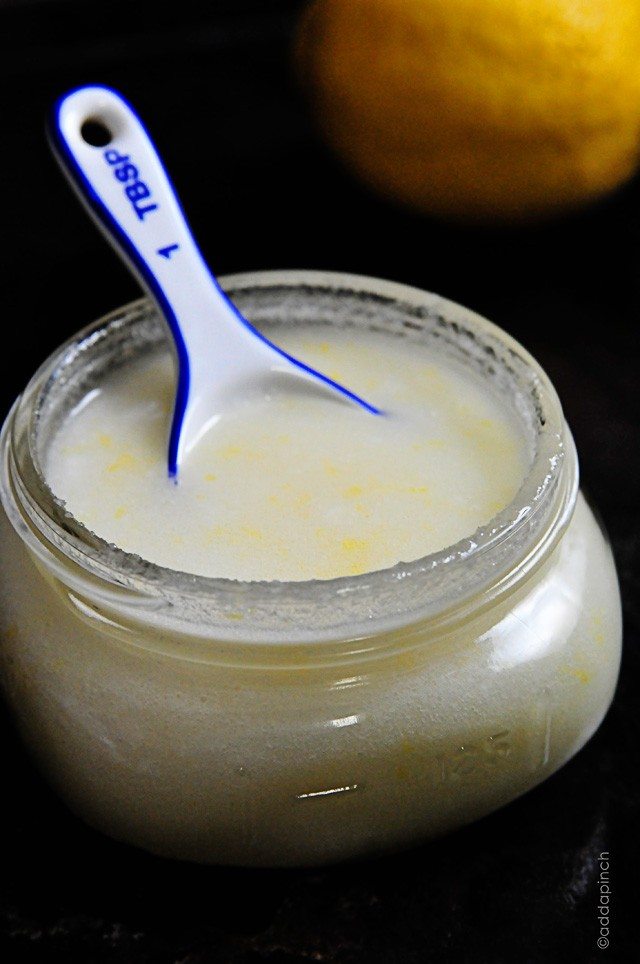 This Lemon Sugar Scrub has really become my favorite. It has a bright, citrus scent that leaves just a faint hint of lemon after using it, making it perfect for women, men, teens, or anyone really.
It works great as a hand scrub in the kitchen as well as a body scrub in the bath.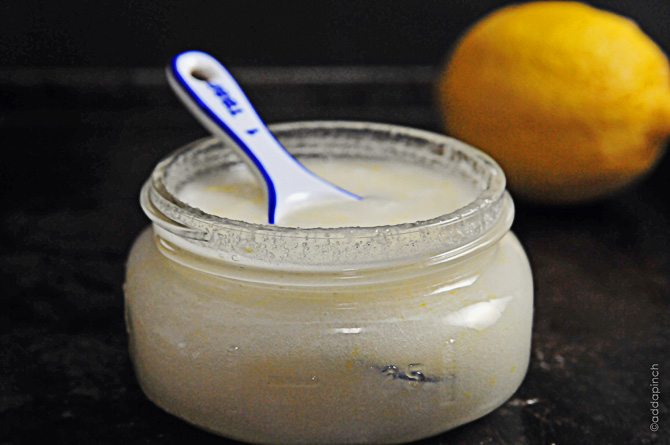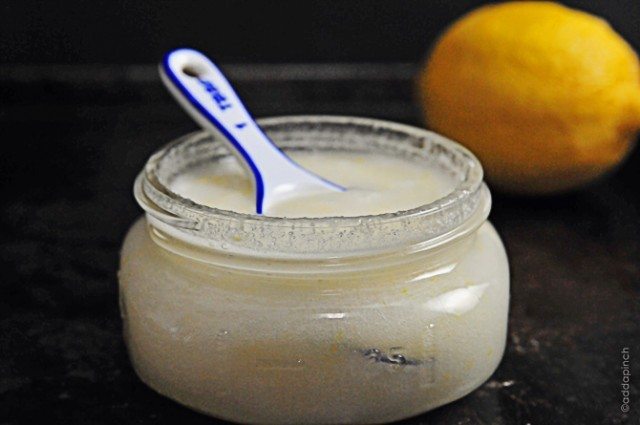 Since it isn't full of heavy, sweet smelling oils – just all-natural citrus – this lemon sugar scrub is perfect anytime of the year.
I think that may be one reason I love it so much!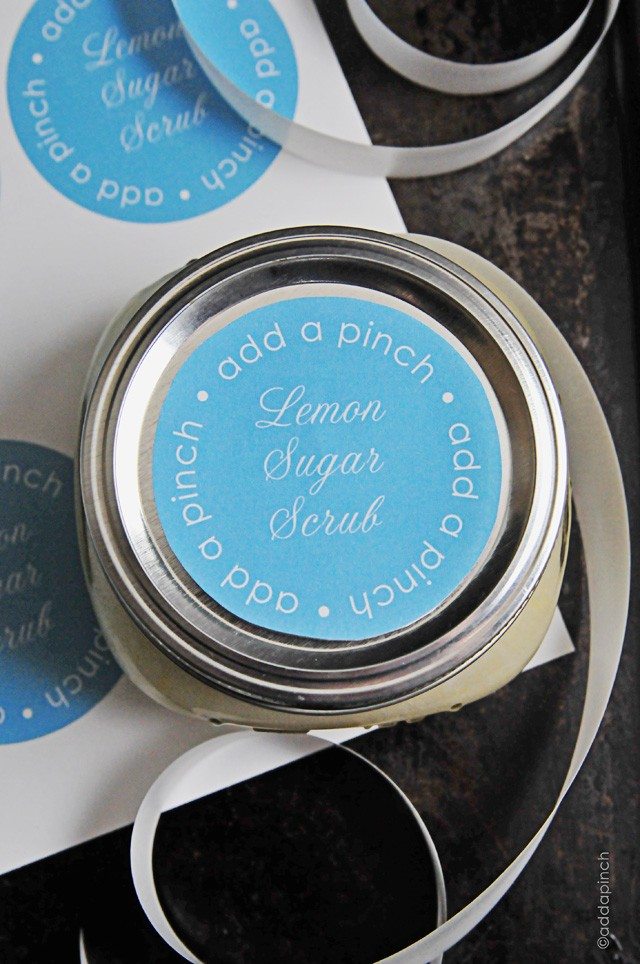 The "recipe" for my Lemon Sugar Scrub yields one half-pint jar. The recipe is easily doubled or more in order to make larger batches of for gifting friends, teachers, or family.
Fairly quickly, you can gather and mix up the ingredients and have plenty of gifts to give.
Just be sure to make one for yourself, too! You'll be so glad you did!
Gifting Ideas
While this Lemon Sugar Scrub makes a beautiful present anyone would love to receive, you can also add it to a basket filled with fun pampering essentials like a few new nail polishes in the season's best colors as well as a few classics for ladies and tweens.
For men, you could wrap it along with a pair of gloves to protect their hands during the winter months.
And if you plan on giving this scrub during the summer, how cute would it be wrapped with a few magazines and a beach towel in preparation for a trip to the beach, pool, or lake!?!
See, I told you this was a versatile gift!
Lemon Sugar Scrub Printable
I've also created a printable that you can download, print and place on the lid of each half-pint jar to show what's inside.
I've developed them to be easily printed on Avery round labels, product number 22830.
Of course you can just print them on any type of paper you prefer and then adhere them with double stick tape as well.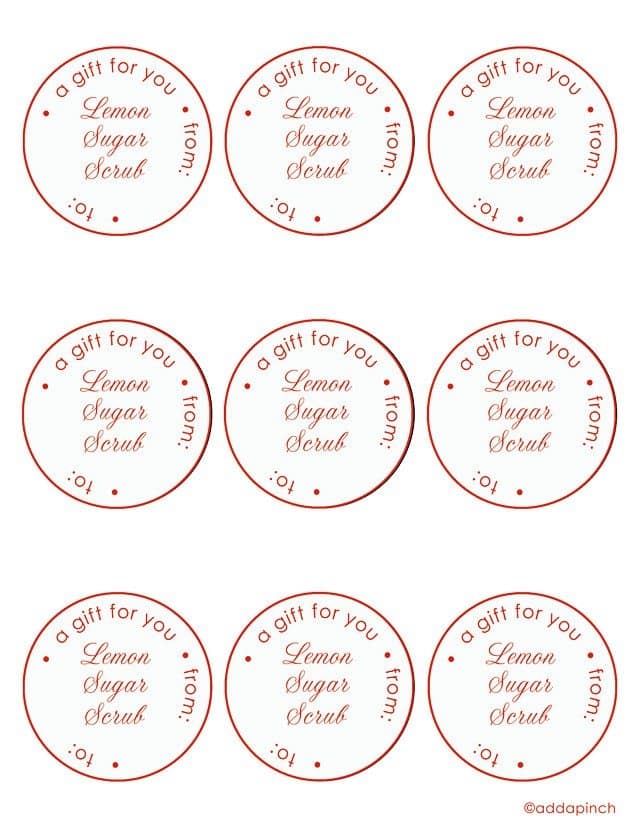 Lemon Sugar Scrub Printable Gift Labels
Lemon Sugar Scrub Recipe
Here's how you make the lemon sugar scrub.
Lemon Sugar Scrub Recipe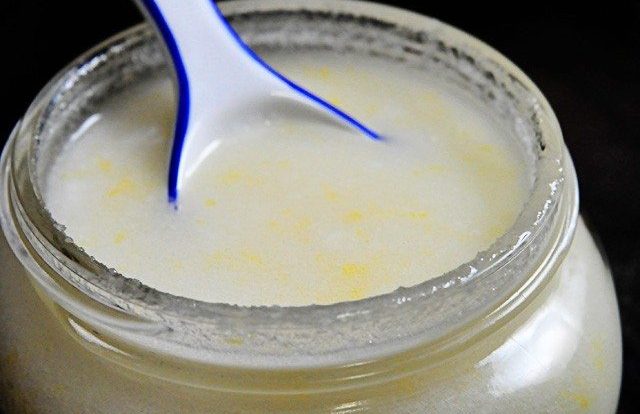 Lemon Sugar Scrub makes a beautiful gift throughout the year.
Ingredients
1

lemon

1 – 1 1/2

cups

granulated sugar

1

tablespoon

coconut oil

1

tablespoon

unscented liquid soap

I used Cetaphil

You'll also need:

1

half-pint Mason jar or similar sized container for gifting

knife

spoon

zester

optional

printed gift labels
Instructions
Zest lemon and place lemon zest into a small glass bowl. Cut lemon in half with a knife and squeeze juice into bowl with the lemon zest. Remove any seeds from the juice with a spoon and discard.

Add coconut oil and stir together until smooth and any lumps of coconut oil have been dissolved. Add soap and stir until smooth.

Add 1 cup of sugar and stir until well-combined. If a more grainy sugar scrub is desired, add more sugar.

Pour sugar scrub into gift container and affix printed gift label.
Merry Christmas!
Robyn xoxo