Jump to Recipe • Print Recipe
Grilled Salmon is one of my all-time favorite fish recipes. Like ever. I could seriously eat it every week for the rest of my life and be a very happy girl.
I thought I'd share with you my favorite way to prepare my Grilled Salmon that always just makes my mouth water thinking about it.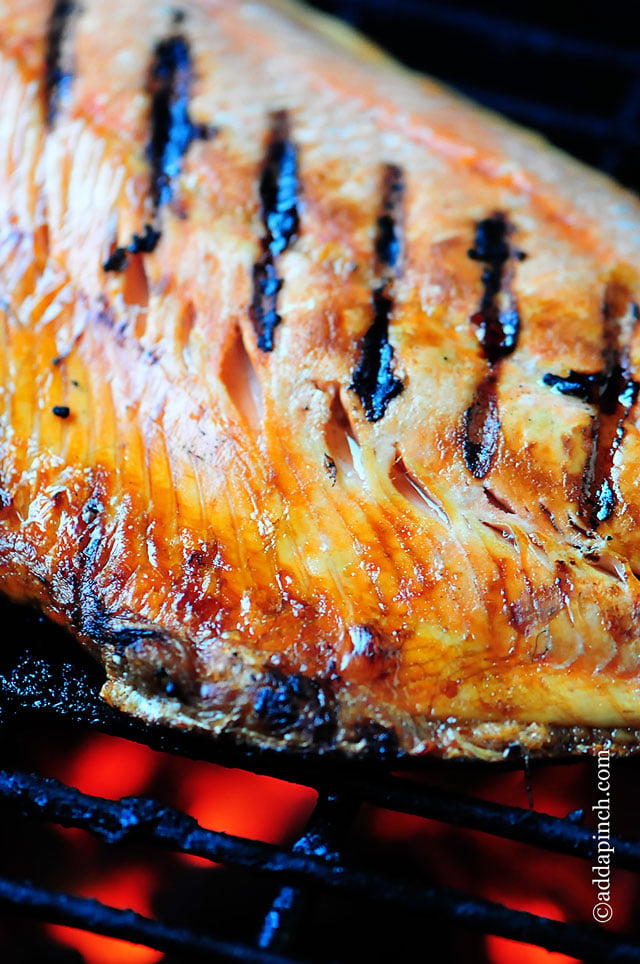 It starts with absolutely the best possible salmon that I can find. A few years back, the Mister and his brothers went on a fishing trip to Alaska and brought home so much salmon that I was in salmon loving heaven.
Unfortunately, that stockpile of salmon has dwindled over the years and I seriously need for someone to take another Alaskan adventure to refill the freezer soon! There's just nothing like the taste of wild caught salmon in my book. But you know, Georgia is a bit of a far cry from the shores of Alaska, so I definitely have become quiet the question-asker at my local grocery store's meat and fish department. I feel sure they wish the Mister would head on back to Alaska fishing, too! Heh!
Anyway, on to this recipe. It is definitely one we love and I feel sure you'll love it, too!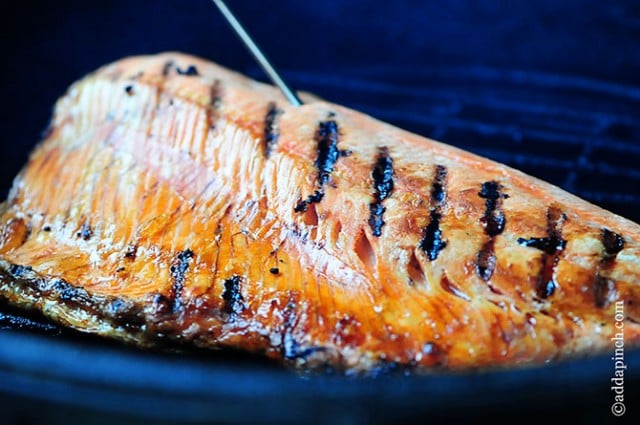 Here's my Grilled Salmon Recipe. Can't wait to hear how you love it.

Grilled Salmon Recipe
Grilled Salmon is a favorite, light and delicious meal. This grilled salmon recipe is the perfect combination of savory and sweet and will quickly become a favorite.
Author:
Robyn Stone | Add a Pinch
Ingredients
2 pounds salmon fillets
½ cup brown sugar
1 teaspoon garlic salt seasoning
⅓ cup lemon juice
zest of one lemon
¼ cup soy sauce
⅓ cup water
¼ cup olive oil
Instructions
Place salmon filets where they lay flat in a zip top bag. In a 2-cup measuring cup, mix together all remaining ingredients, stirring until the sugar has dissolved. Pour over salmon filets, press out all excess air from bag and seal well. Place flat into the refrigerator and allow to marinate for about 2 hours, flipping the bag after one hour.
Preheat grill to medium heat. Brush grate with olive oil and place salmon onto grill, flesh side down for about 6-7 minutes. Flip onto skin side and continue to grill until internal temperature registers 120º F. Allow to rest about 5 minutes before serving as the carryover temperature will continue to rise in the salmon to about 127º F. If you prefer a more well-done salmon, cook to 135º and allow carryover to reach 140º F as the salmon rests.
Using a large spatula, remove the skin from the salmon and serve.
Love ya,
Robyn xo