This week for On the Grill, I'm sharing one of my very favorite sides for any cookout.
Sweet Potato Fries
I love good sweet potato fries. No, like I really LOVE sweet potato fries.
It's really pretty crazy how much I love them.
If we find a restaurant that serves them, I pretty much will forgo the entree part of the meal and order a large order of these little bits of deliciousness.
Have you ever tried them?
Well, I've learned how to make them at home.
Making them at home saves my family the embarrassment of my voice getting 10 pitches too high when I read the menu and persistently tell my family I'm getting the sweet potato fries.
Doh! I think they could guess that already.
So back to my learning how to make them at home. I'm not sure why I'm just discovering how to make them for myself. They are fairly simple to make.
Here's how I do it.
First preheat peanut or canola oil in a fryer to approximately 350 degrees.
Peel and wash one sweet potato per person you will be serving. If mainly hungry men, go ahead and plan on one and a half potatoes per person. You'll be glad you did.
Cut the potato into strips. Personally, I prefer to cut the potato in half and then slice one half of the potato into medium size slices. Then, turn the potato on your cutting board and cut the same slice again for perfect fries.
Throw the cut potato into the basket of your fryer with the basket outside of the hot oil. Make sure the temperature of the oil has reached 350 degrees before lowering your potatoes into the oil. Otherwise, you'll wind up with limp, soggy fries. Bleh!
To test the temperature, just lower a candy thermometer into the oil to verify. You'll be glad you made this important little step!
Cook for approximately 3 minutes in the hot oil until the fries have reached a bright orange, crispy look.
Remove to a bowl lined with paper towels for draining. Immediately sprinkle with salt. I personally prefer sea salt on my sweet potato fries. It makes all the difference.
Serve as a side to your favorite grilled hot dog, chicken, hamburger, or if you'd like… all by themselves. Yep, they are that good
Sweet Potato Fries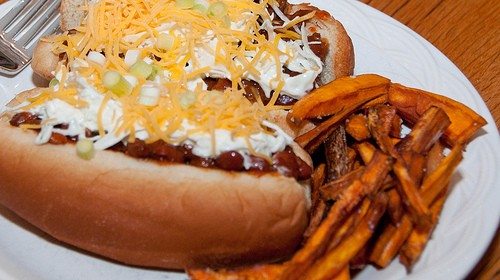 Deep-fried sweet potato fries make a delicious side dish that everyone loves.
Ingredients
Sweet Potatoes

peeled and sliced

Peanut or Canola Oil

heated in fryer to 350 degrees

Sea Salt
Instructions
Place fries in fry basket outside of the hot oil. Lower gently.

Cook fries approximately 3 minutes, until bright orange and crispy exterior.

Remove from oil and place into paper towel lined bowl for draining.

Add a pinch of sea salt to taste. Additional seasonings to try are Mrs. Dash and cinnamon sugar.
Enjoy!
Robyn xo