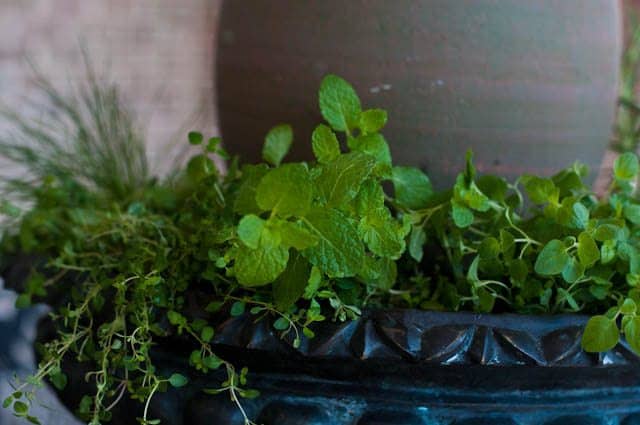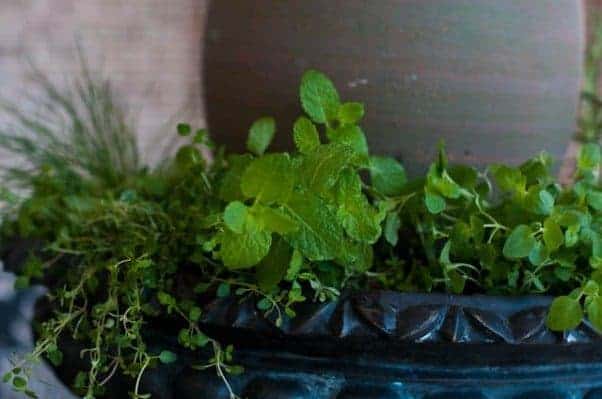 I absolutely love cooking with fresh herbs – they enhance the flavors of an otherwise ordinary and even bland tasting dish and make it shine.
Before we moved to the "farm" as we like to call it, we lived in a subdivision where the yards were about as big as a postage stamp. It took minutes instead of a day to cut the grass and having chickens and a large vegetable garden was just a dream. Even then, I knew I wanted my fresh herbs on hand, but I thought I needed more land to be able to grow them myself. Thankfully, we were blessed with Mrs. Thompson as a neighbor. She had one of the greenest thumbs you can imagine. It seemed as if they could just walk through my yard and make flowers bloom and otherwise dead-looking foliage green again. I only slightly exaggerate.
One afternoon, Mrs. Thompson knocked on my door while holding a basket full of beautiful herbs – basil, thyme, chives, rosemary, and mint. I opened the door and she walked straight through my home onto my back porch, placed the herb basket on the porch table and began telling me how to care for them. "Use them often," she said, "and for goodness sake keep them watered." That was it, that's all she said.
Since that day, I continue to keep a small herb garden on my back porch. It allows me to grab the smaller containers to take with me as we travel in our RV and enjoy my own fresh herbs away from home.
Here are some tips I've learned for my container herb garden:
1. Choose a Container – select a container with good drainage and that allows room for the plant to grow. I have used various types and styles of containers previously, from each herb having a separate large container on my porch to having one large window box or urn holding many smaller containers. This year, I'm using a large table urn filled with garden pebbles in the bottom and smaller herb containers placed in the urn.

2. Select Your Herbs – choose your herbs carefully based on the types that you will utilize regulary. I've noticed the more regularly I use my herbs, the more they grow! Those that I plant on a whim because I think I "may" use them and rarely do, do not do as well as they could if I used them or pinched them back more often. Read about each of the herbs you choose to determine sunlight requirements and if they are invasive plants – such as mint.

3. Water Often – during the summer months, check your herbs daily and water as needed. In the heat of our Georgia summers, I usually need to water my herb garden daily.
I still do not have Mrs. Thompson's green thumb. Gardening just doesn't come naturally to me yet, but when I grab a handful of fresh herbs to cook with in my kitchen I feel like I'm a master gardener.
What are your favorite herbs?