This blackberry cobbler recipe makes an old-fashioned Southern Blackberry Cobbler recipe with a lattice top and pastry dumplings. Always a favorite!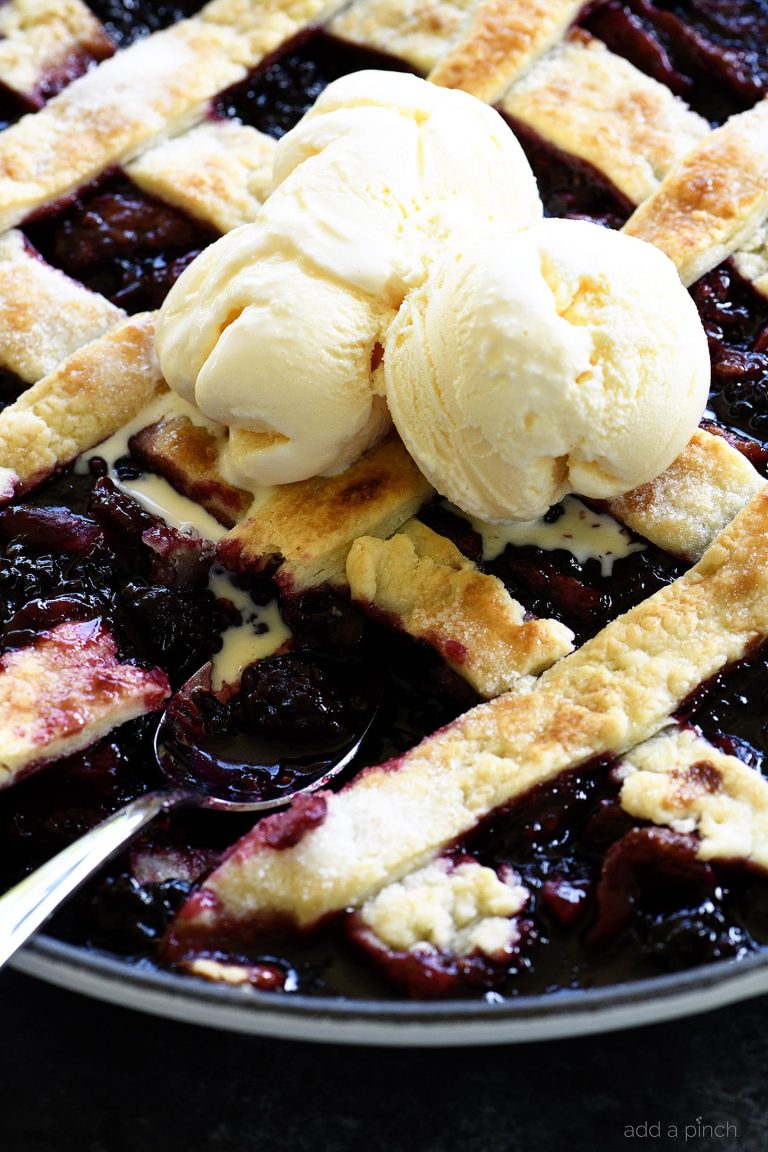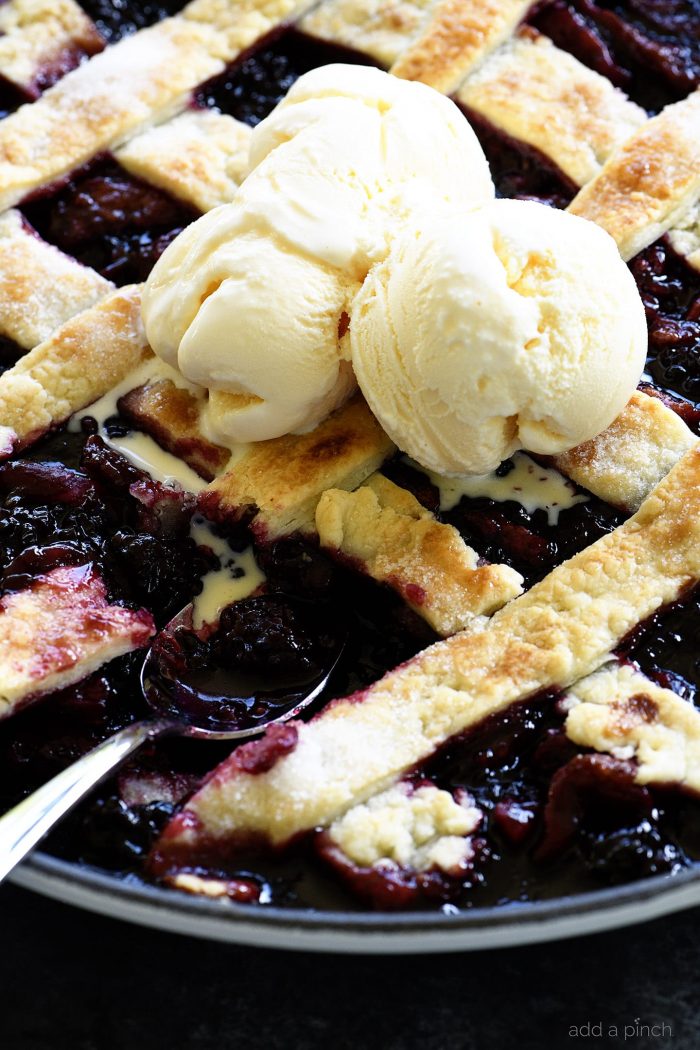 I grew up having a definite love / hate relationship with blackberry cobbler.
You see, during the summer my sister and I would spend days with our grandparents while our parents worked. Our days were filled with all of the love and fun little girls could possibly pack into them – with the exception of the days when we knew we were going with Grandmother to pick blackberries.

Southern Blackberry Cobbler Recipe
My Grandparents' land adjoined ours with our pasture in between us on one side. The other side adjoined my aunt and uncle with acres of trees in between. Along the line of the trees and just inside their canopy were Grandmother's blackberries.
It seemed as if it took forever to reach them with our baskets swinging and dolls tucked under our arms. Grandmother would lead the way, usually humming or telling us about each plant, bird, or bug as we past it by. Finally, we were there. Outfitted in our long sleeves and thick gloves we would go about picking basket after basket of big, juicy blackberries. We knew there would be a cobbler for dessert after supper and most likely, if we picked enough, we'd get to help her make blackberry jam.
With the sun beating down on us, sweating under those gloves that were beginning to feel like they weighed twice as much as they did, and with scratches along our arms where the long blackberry thorns had worked their way through our shirt sleeves, I was ready to be done with picking blackberries. At this point I would convince myself that blackberry cobbler wasn't that great after all.
And yet, when I caught sight of her blackberry cobbler on the sideboard during supper, I was quiet certain blackberry picking was worth it after all.
How to Make Southern Blackberry Cobbler
Here are the step-by-step photos showing exactly how she made her Blackberry Cobbler. You'll notice when I made the step-by-step photos of her recipe (many, many years ago!), I used her cobbler pan. I made sure to snap a few photographs the other day when I made this blackberry cobbler again, this time making it in my medium skillet. This shows you that you can easily make it in either!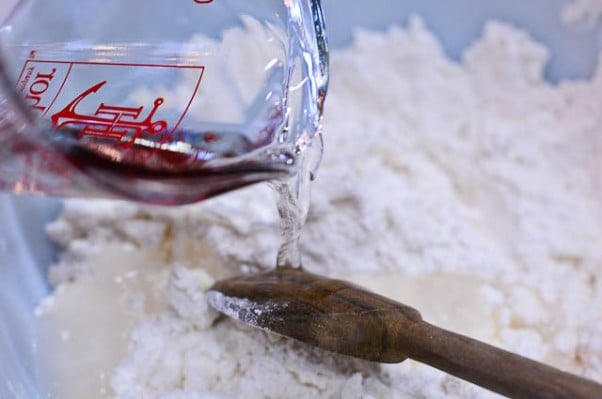 Start by making the dough for your cobbler crust.
Once your cobbler crust dough has been made, pop it into the freezer for a bit while you are making the filling portion of your blackberry cobbler.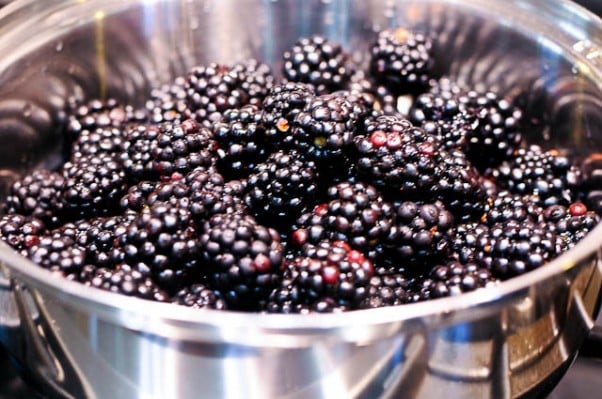 I use my Mother's cobbler pan that she gave me and that is just like the one that my Grandmother would use. It's a simple, round stainless steel pan without handles that went with their Towncraft cookware. You can just use any medium-sized, heavy bottomed pan.
Clean your blackberries and put them in your pan over medium heat.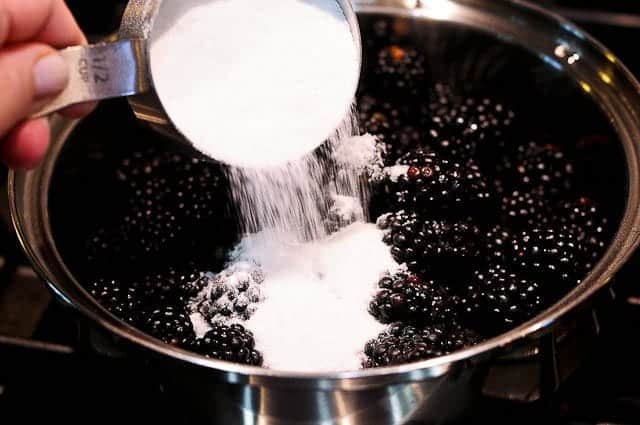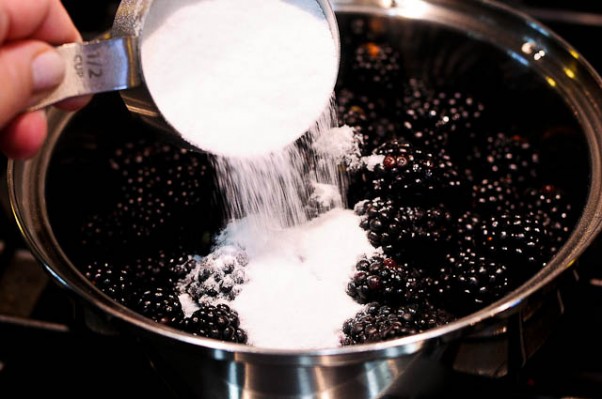 Pour in your sugar.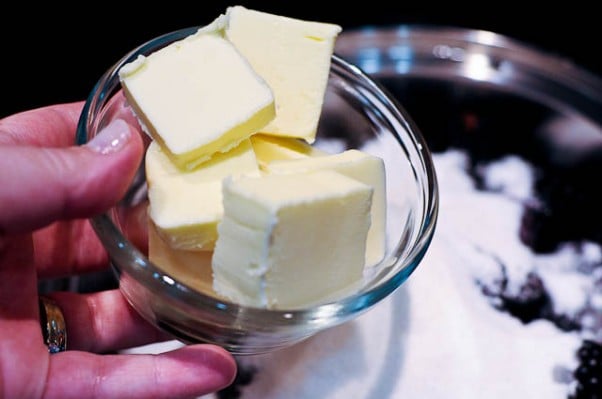 Add butter.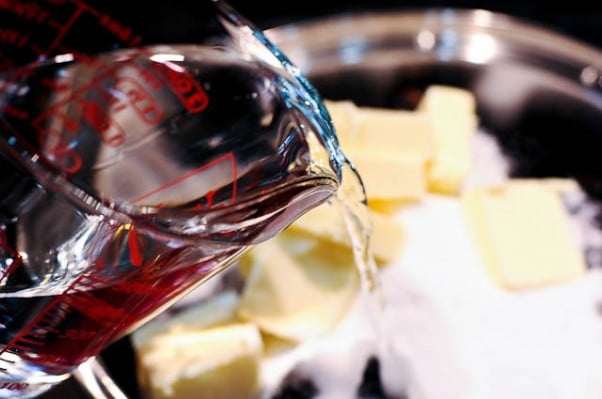 And a bit of water. Give it all a good stir and let it just do it's magic.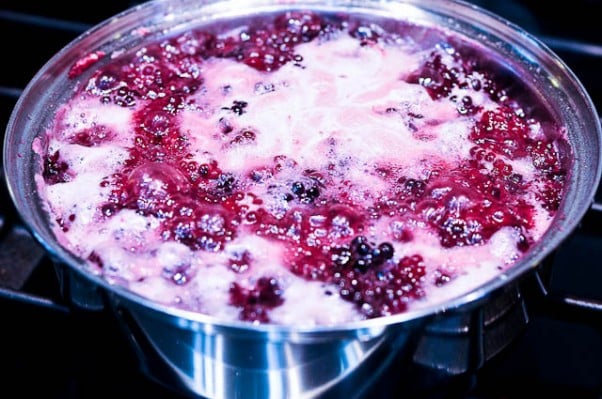 Like this.
It should start to get thick and syrupy and absolutely scrumptious before the next step. The berries will be soft when you press them against the side with a spoon.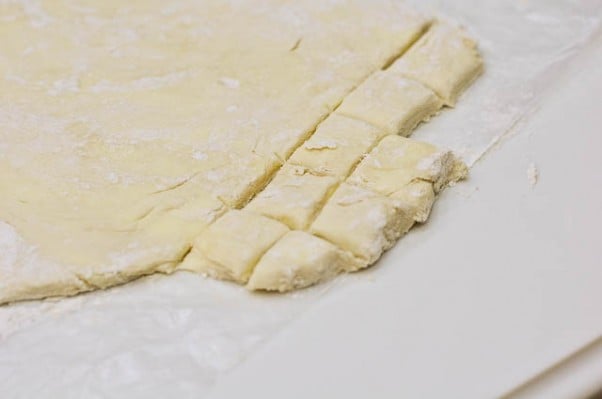 While your blackberry cobbler filling is cooking away, go ahead and roll out the dough for your crust.
I like to just roll mine out on the parchment paper that I wrapped it in for the freezer – there's less mess that way.
Take one half of your dough and cut into 1/2″ wide strips. Then, cut again into about 1/2″ long pieces.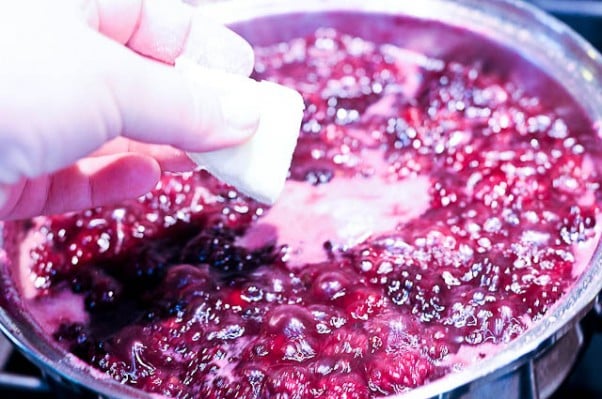 Now this is the twist in the recipe for Grandmother's blackberry cobbler that I told you about.
Now just drop those little pieces of dough you cut up one at a time into the boiling blackberry dish.
This makes a delicious dumpling right in your blackberry cobbler that is out of this world.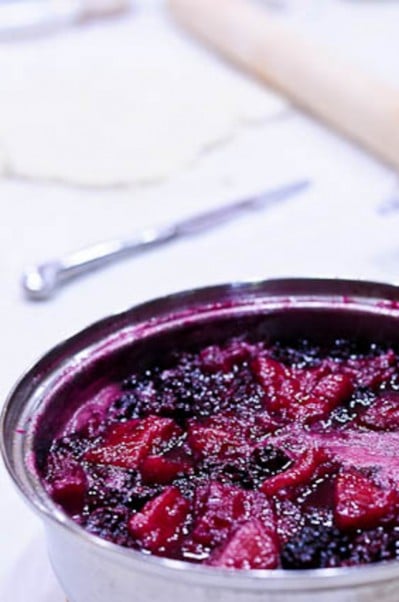 Continue to cook, and stir gently until all your dough pieces have cooked in your blackberries.
Remove your blackberry cobbler pan from the heat and begin to place the second half of your dough in long strips along the top in a lattice pattern.
Place pats of butter on the strips of dough and lightly sprinkle with sugar.
Bake for about 20 minutes until the dough has lightly browned.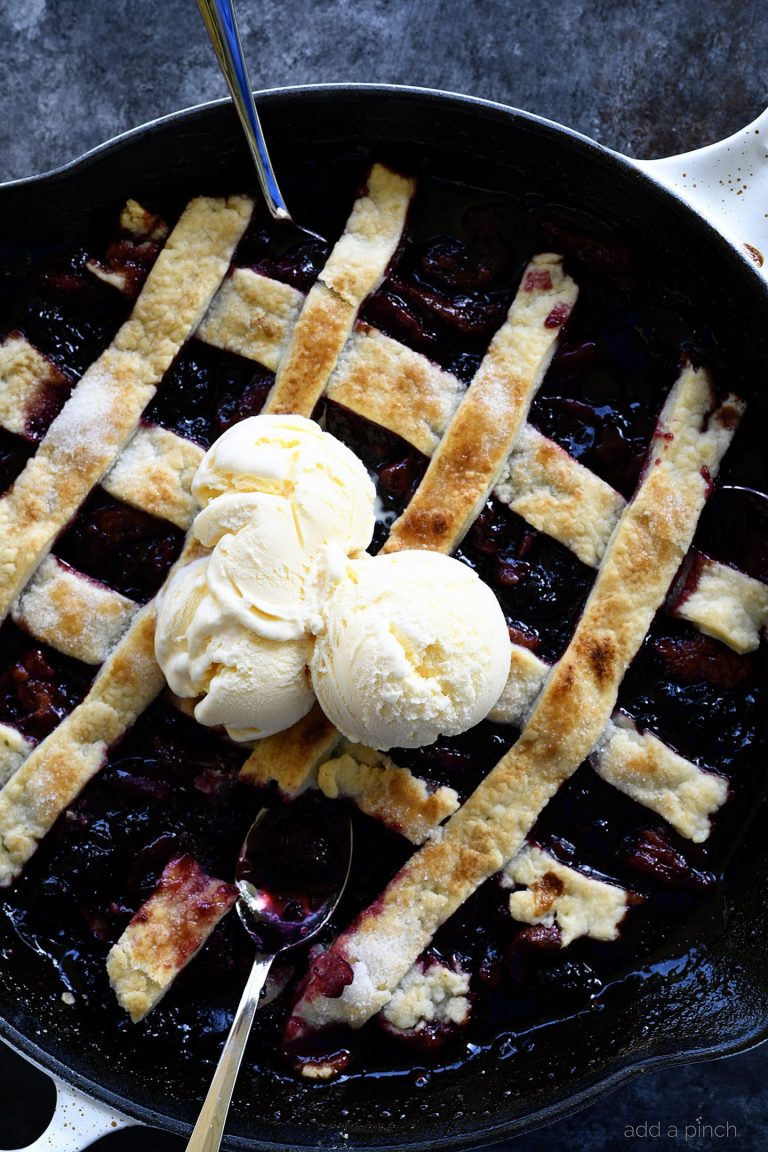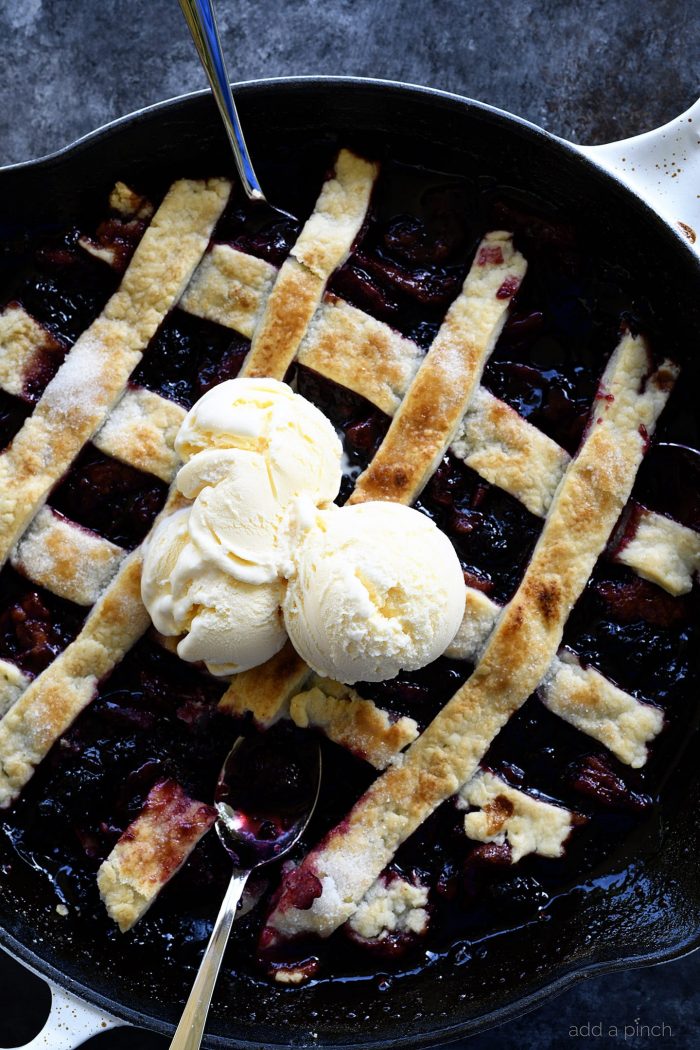 Remove from the oven and allow to cool for at least 10 minutes before serving. I highly recommend grabbing your ice cream at this point and get ready with big ole scoops! 🙂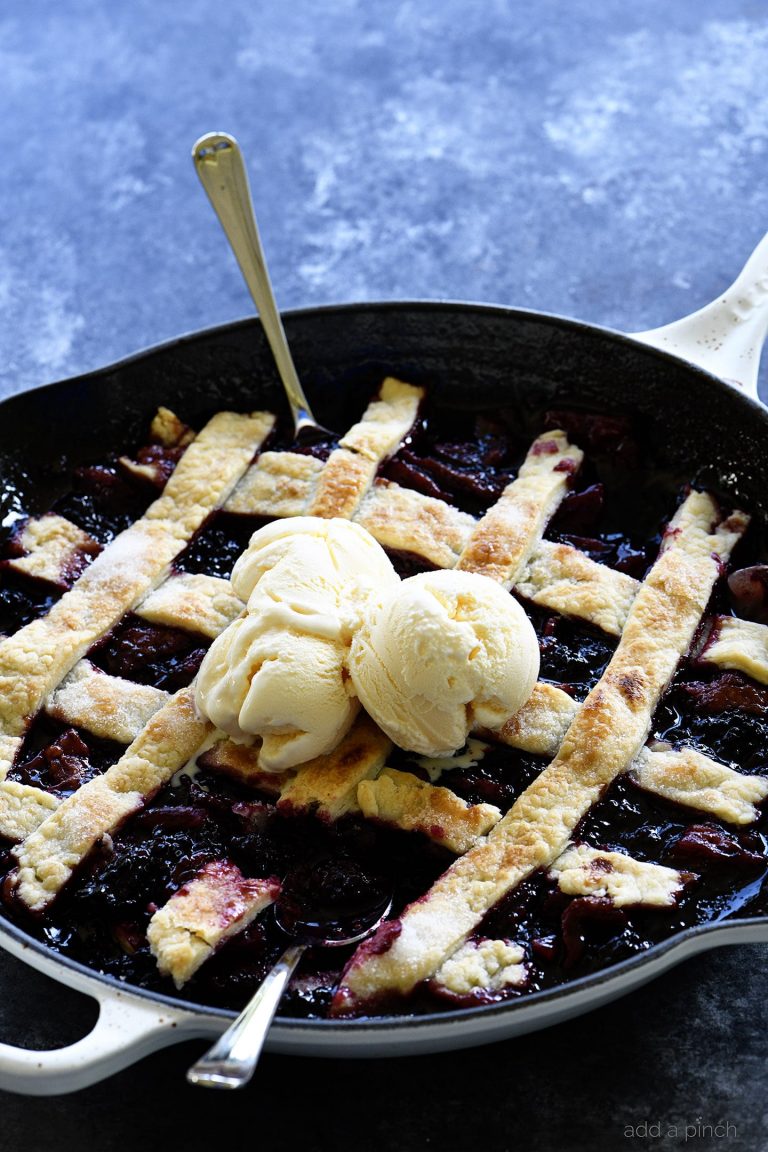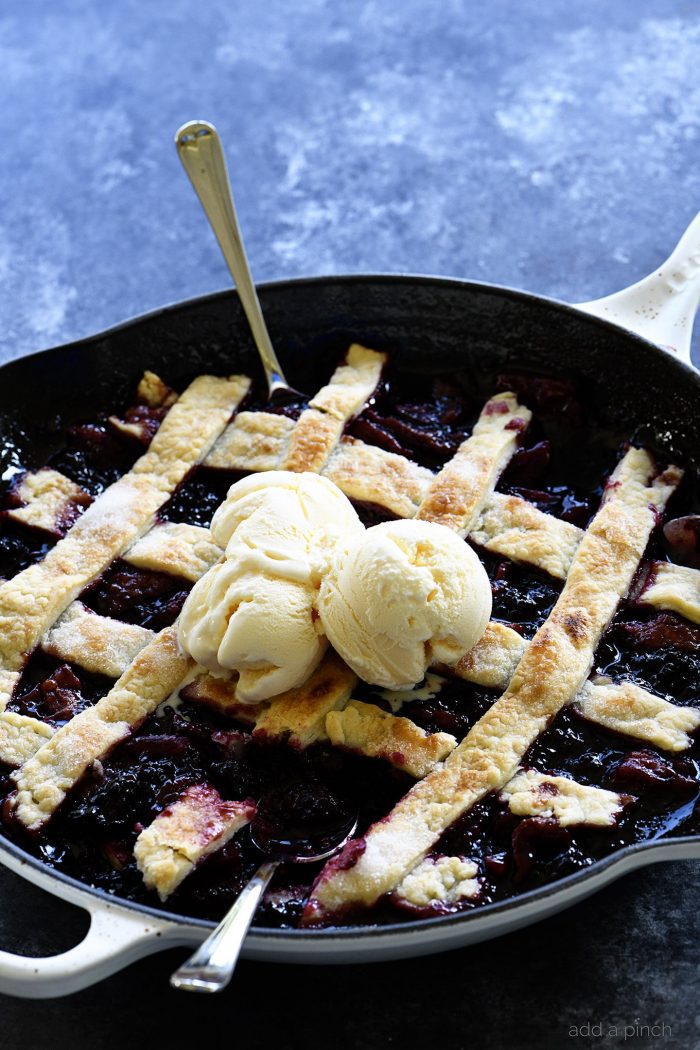 Here's my Grandmother's Blackberry Cobbler recipe. I hope you love it as much as my family always does.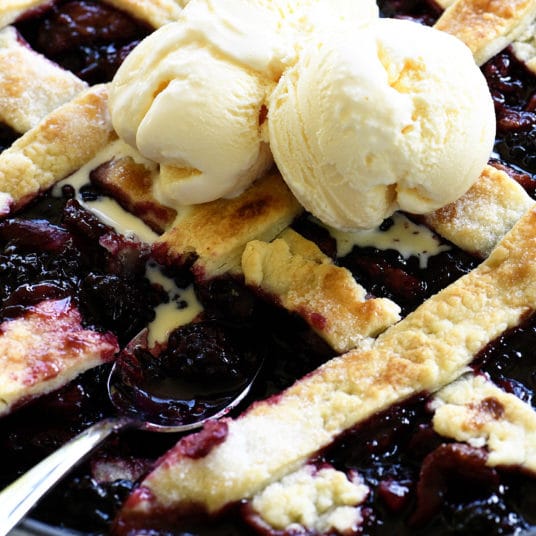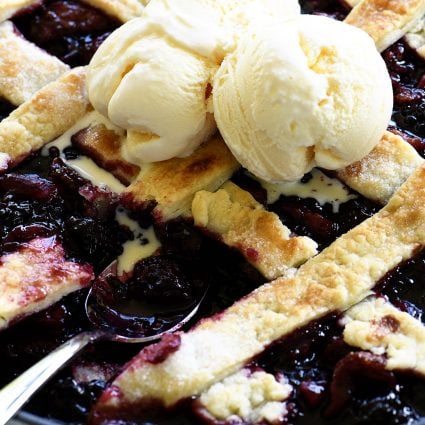 Southern Blackberry Cobbler
This blackberry cobbler recipe makes an old-fashioned Southern Blackberry Cobbler recipe with a lattice top and pastry dumplings. Always a favorite!
Ingredients
For the crust:
2

cups

all-purpose flour

12

tablespoons

butter

1/2

cup

ice water
For the cobbler:
3

cups

blackberries

,

cleaned (about 24-ounces)

1 1/2

cups

sugar

6

tablespoons

butter

1 1/2

cups

water
Instructions
For the cobbler crust:
Chill mixing bowl and pastry cutter in freezer for about 15 minutes prior to making crust.

Cut the butter called for in the crust into the flour with a pastry cutter. Slowly incorporate ice water just until the dough begins to form.

Pour dough onto parchment paper, divide and quickly work into two flat discs. Wrap tightly and place in the freezer to chill prior to using.
For the Cobbler:
Combine berries, sugar, butter, and water in a heavy-bottomed pan.

Bring to boil over medium heat and cook for 20 minutes. Berries will be soft when pressed against the side of the pan with a spoon. The blackberry mixture will also begin to thicken and become syrupy.

Remove pastry for cobbler crust from the freezer and roll. Cut 1/2" strips in both portions of the dough.

In one half of the dough, cut strips again to form individual pieces for dumplings.

Drop the dough pieces into boiling blackberries and occasionally stir gently to make sure all dumplings are cooked, about 7 minutes.

Remove cobbler pan from heat and place the second half of the dough in a lattice pattern on top of the blackberries. Place pieces of butter on top of the lattice crust and sprinkle with sugar.

Place into oven and bake for about 20 minutes or until crust is lightly browned.

Remove from oven and allow to cool for at least 10 minutes before serving.
Nutrition
Calories:
406
kcal
|
Carbohydrates:
53
g
|
Protein:
3
g
|
Fat:
20
g
|
Saturated Fat:
12
g
|
Cholesterol:
54
mg
|
Sodium:
183
mg
|
Potassium:
100
mg
|
Fiber:
2
g
|
Sugar:
32
g
|
Vitamin A:
720
IU
|
Vitamin C:
9.1
mg
|
Calcium:
23
mg
|
Iron:
1.4
mg
Nutrition information is automatically calculated, so should only be used as an approximation.
Enjoy!
Robyn xo
From the Add a Pinch recipe archives. Originally published 2011.