Wooden spoons require special care in the kitchen. Learn how to keep your wooden spoons in perfect condition in a few easy steps!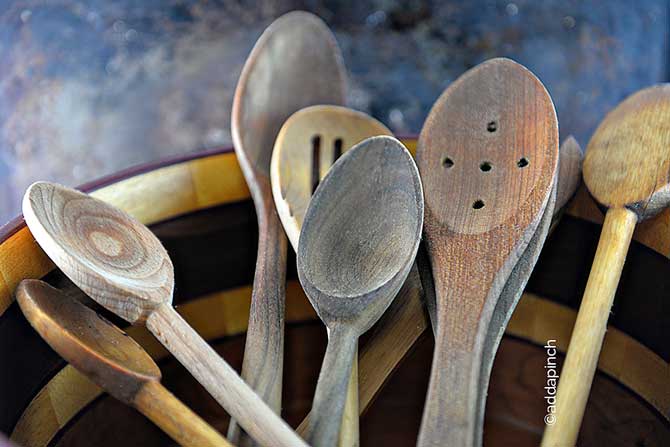 I have a collection of wooden spoons that I use frequently in my kitchen. They are perfect for mixing together batters, stirring caramel without causing it to become grainy, and so many other uses. They are really one of my favorite kitchen utensils!
Learning how to properly care for your wooden spoons ensures that they'll be around for generations.
How to Care for Wooden Spoons
Clean
Keep your wooden spoons meticulously clean. I've found that it is easiest to wash them as soon as they have been used to prevent items from sticking to the wood and hardening.
Wash them by hand, never in the dishwasher. As tempting as it may be to place them in the dishwasher, the water temperature and drying methods used by dishwashers will dry out your wooden spoons causing them to crack and split.
Do not allow them to soak in water. Excess water will cause your wooden spoons to swell and crack.
Dry
Keep them dry. As soon as you've cleaned them, dry them well with a lint-free drying cloth.
Store
Keep your wooden spoons stored in a well-ventilated, clean location. I store mine in a crock beside my cooktop. You can also store them in a drawer.
Condition
Periodically, you'll need to condition your wooden spoons to keep them in tip-top shape. I like to use a little mineral oil on a clean, lint-free cloth.