Container Gardening makes for an efficient method of vegetable, herb and flower gardening. You can create as big or as small of an area for your container gardens as you'd like or have the space to allow.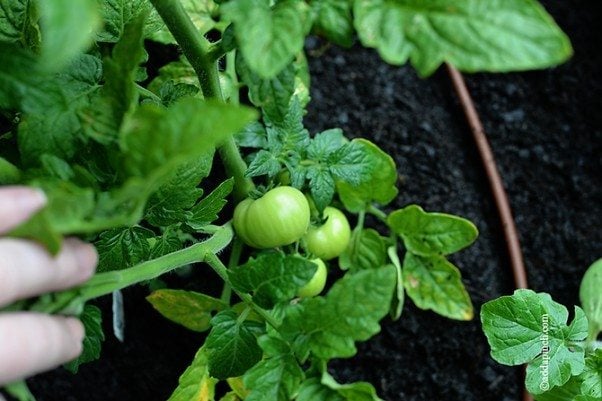 This year, we decided to step our container gardening game up. In years past, we've had a large vegetable garden on the farm that about July would become so hot to work in that we'd have to have all gardening done early, early in the mornings, or late in the evenings. If we traveled and were out of town for more than a long weekend, the garden would become so overrun that it would be hard to manage when we returned. We'd thought of just giving up on having our own vegetable garden for a while and then, finally, we began having smaller containers on our porches for some of our "must-have" vegetables like tomatoes and such.
This year though, we decided to turn our container gardening up a notch or two and developed a plan for our back porch garden.
Choosing Containers
Our back porch is fairly long and allows for larger containers. We chose three six foot, by two foot, by two foot galvanized troughs that you can find at most home and farm supply stores. These came from our local Tractor Supply, but you can also find them online if the shipping isn't too prohibitive.
We chose the two-foot height to allow for easier working in the garden.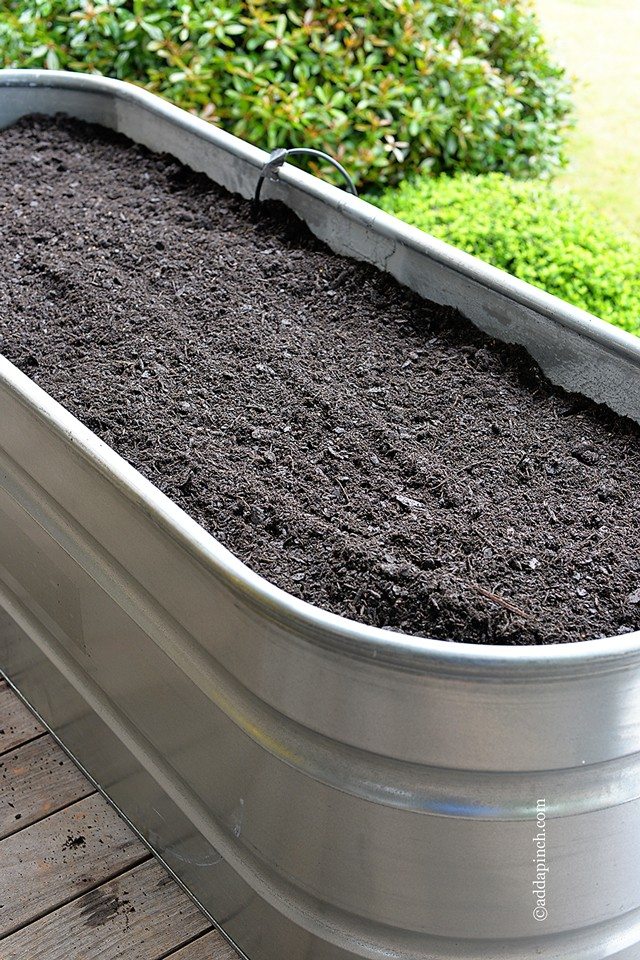 Setting Up Containers
To each container, we placed a piece of mesh over the drainage hole of the trough and then added a layer of large rocks and then a layer of composted soil mixed with river sand to allow for good drainage. Then, we added organic soil, leaving about one foot of space to the top of the container.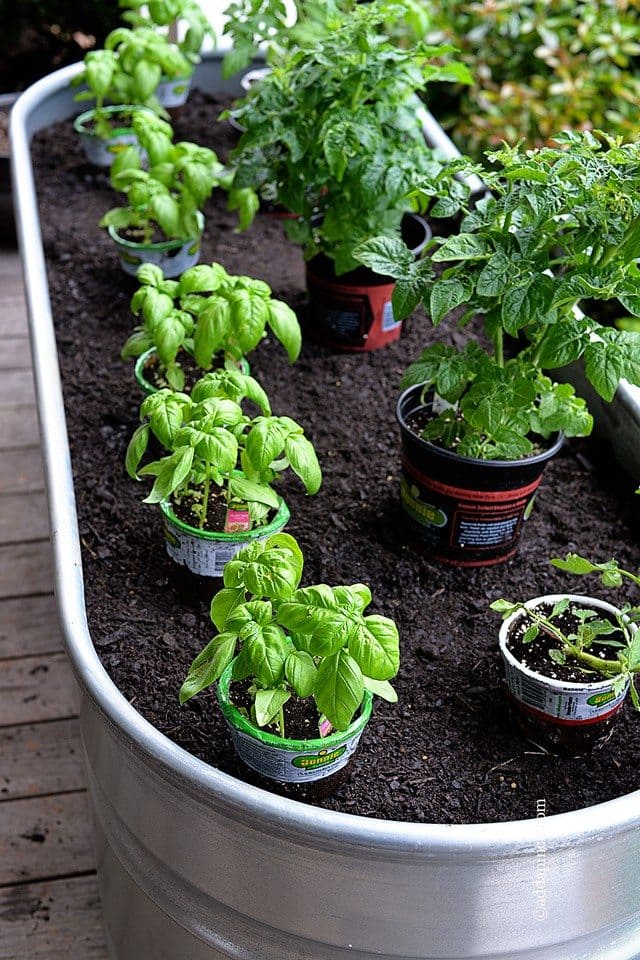 Planting Plants
We used transplants for our garden this year since we had such a late winter this year and the weather has been indecisive until just the last week or so. Normally, we make our own seedling pots in February to plant around Easter.
I chose plants that were good for container gardening in their descriptions as well as plants that grow well together. Since our containers are fairly large, I was able to fit a good many plants into each container. However, I will admit that we have crowded our plantings on purpose based on seeing similar containers of our friends. If things become too crowded, we can add additional containers.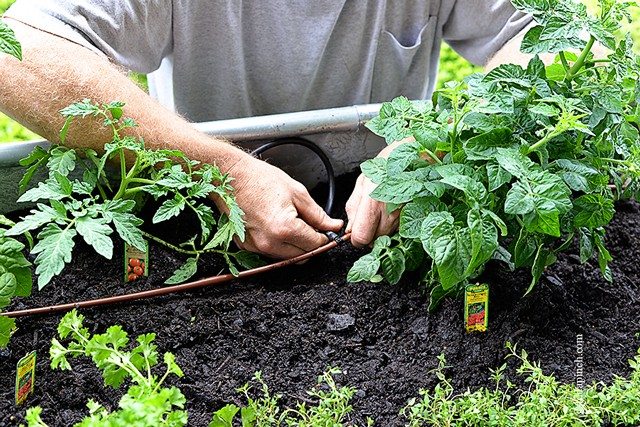 Adding Automatic Watering
We decided that we needed to add a method of automatic watering to our container gardens to make them as maintenance free as possible. We chose to use a drip irrigation system that we purchased at Lowe's in our gardens. Each day, the timer is set to water the gardens at a certain time for a certain amount of time. We know that if it rains that day, we need to just adjust the timer to not use our well water for watering that day. Otherwise, by using the drip irrigation, the plants are watered deeply and consistently each day.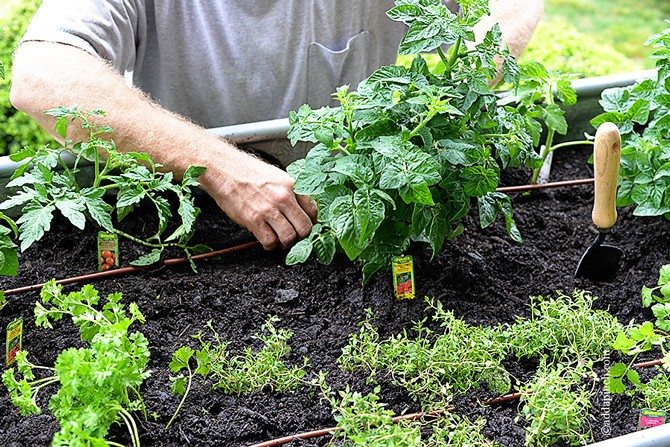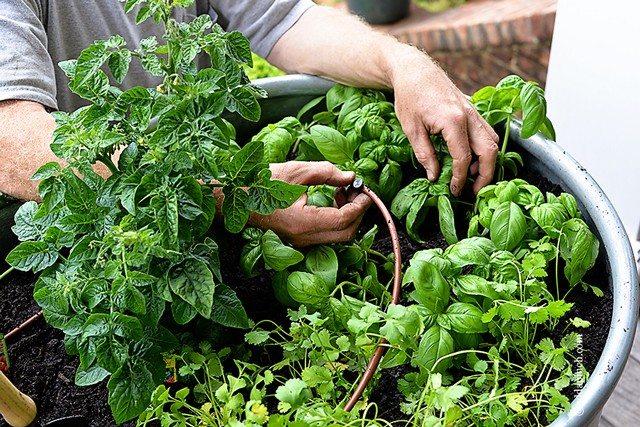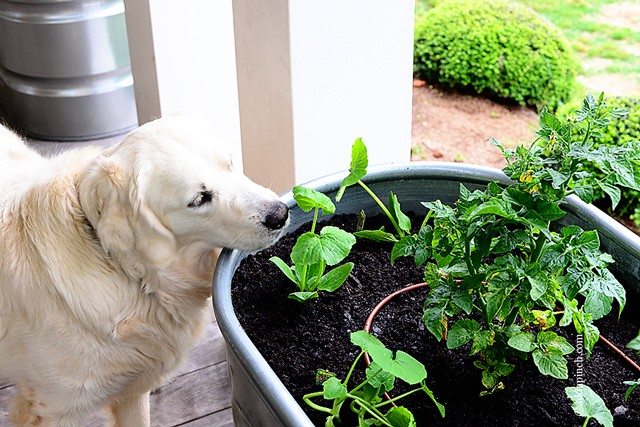 Now, we just have to make sure that Miss Annabelle doesn't decide these gardens are for her!
Have you planted your garden? Are you planting in-ground or using container gardening this year?
Disclosure: This is not a sponsored post it does contain affiliate links.