Chocolate Devil's Food Cake pillows filled with fluffy cream filling make for the perfect Devil's Food Whoopie Pie.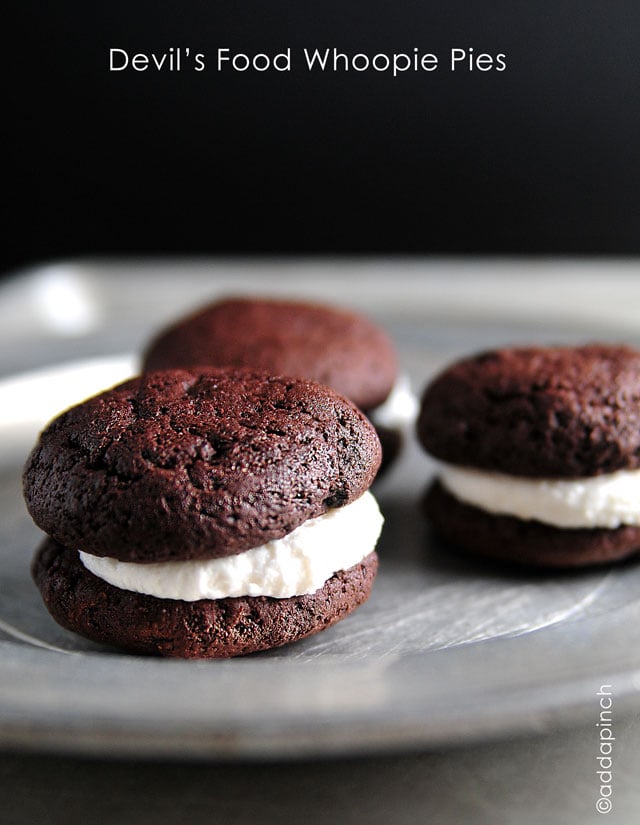 I've had a hankering for chocolate cake and chocolate cookies for the last little while, but this weekend I really wanted to make something different and didn't want to have a cake in the house to tempt me every time I passed it as I walked past. So I decided I'd make Devil's Food Whoopie Pies instead. That decision may have just been my undoing. Do you know how many whoopie pies a person can eat before you realize you've eaten them?
Yeah, well, I'm not telling.
Let's just say it is a whole lot more obvious when hunks of cake are missing than it is little whoopie pies.
So take that as a warning before you make these and are home alone. You really should make them with people around. Like, someone should be in the kitchen with you at all times. And then, you should pack them up immediately and rush them to your neighbor so you don't eat them all.
This is golden advice, friends.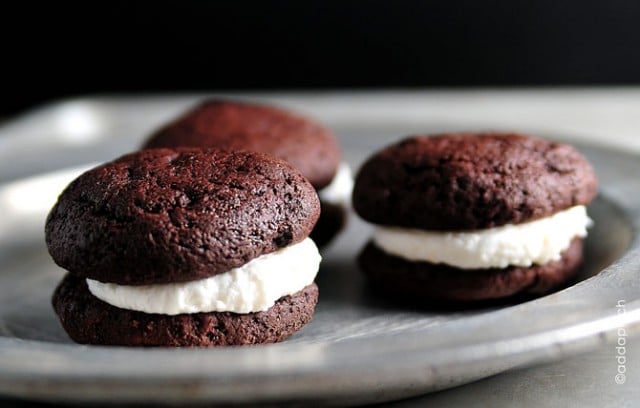 I started with the recipe from Better Homes and Gardens and then changed it a good bit here and there. And because I fiddled with the recipe, testing it with this change and then that change and then another, we were covered up in Devil's Food Whoopie Pies around here.
It was like a dream come true. Well, with the exception of my hips. And my diet. And all that stuff that I don't want to think about when I start baking and testing recipes like this, but really should.
Any who, these little babies are amazing and I think you need them in your life. Like now.
I just wish I could ship you a batch without the creme filling getting all gross. Because you know I would in a heartbeat.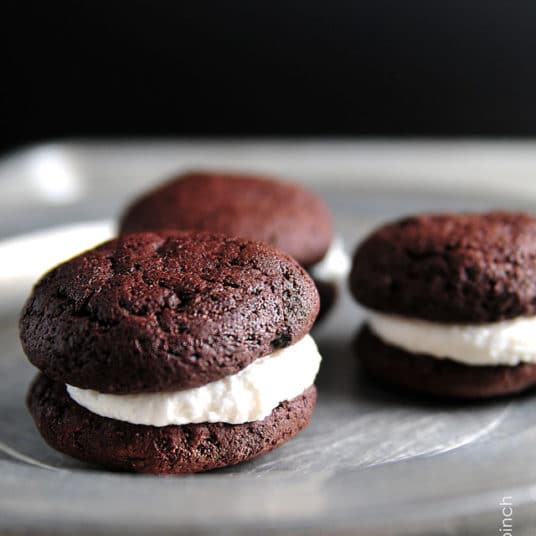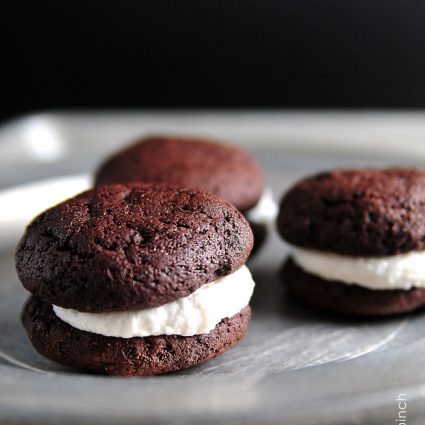 Devil's Food Whoopie Pies
Devil's Food Whoopie Pies. Chocolate Devil's Food Cake pillows filled with fluffy cream filling make for the perfect Devil's Food Whoopie Pie.
Ingredients
Devil's Food Pies:
2

cups

all-purpose flour

1

cup

granulated sugar

1

cup

buttermilk

1/2

cup

unsweetened cocoa powder

6

tablespoons

melted butter

1

teaspoon

baking soda

2

teaspoons

vanilla extract

1/4

teaspoon

kosher salt

1

large

egg
Creme Filling:
1/2

cup

shortening

1 1/2

cups

marshmallow cream

2

cups

confectioner's sugar

1

teaspoon

vanilla extract

1 1/2

tablespoons

milk
Instructions
Devil's Food Dough Recipe

Preheat oven to 350 degrees.

Cream together all ingredients for the Devil's Food dough recipe in a large bowl with an electric mixer. Scoop 1 tablespoon of dough onto an ungreased baking sheet. Space about 2 inches apart to get about 9 tablespoons of dough onto a large baking sheet. Roll the balls between your hands to get very smooth results when baked.

Bake for 10 minutes. Remove from the oven and allow to cool completely.

Creme Filling

While the Devil's Food Dough is baking, prepare the creme filling. Cream together all of the ingredients for the creme filling recipe. Set aside until the Devil's Food portion has completely cooled.

Scoop 1 teaspoon of creme filling and place on top of the flattened side of one Devil's Food cake. Place another Devil's Food cake on top of the creme filling.

Serve at room temperature.
Nutrition
Calories:
424
kcal
|
Carbohydrates:
69
g
|
Protein:
4
g
|
Fat:
16
g
|
Saturated Fat:
7
g
|
Cholesterol:
35
mg
|
Sodium:
220
mg
|
Potassium:
110
mg
|
Fiber:
2
g
|
Sugar:
47
g
|
Vitamin A:
235
IU
|
Calcium:
37
mg
|
Iron:
1.5
mg
Nutrition information is automatically calculated, so should only be used as an approximation.
I really can't wait to hear how you like these. And remember, I sacrificed my diet with these little devil's.
And they were oh so worth it.