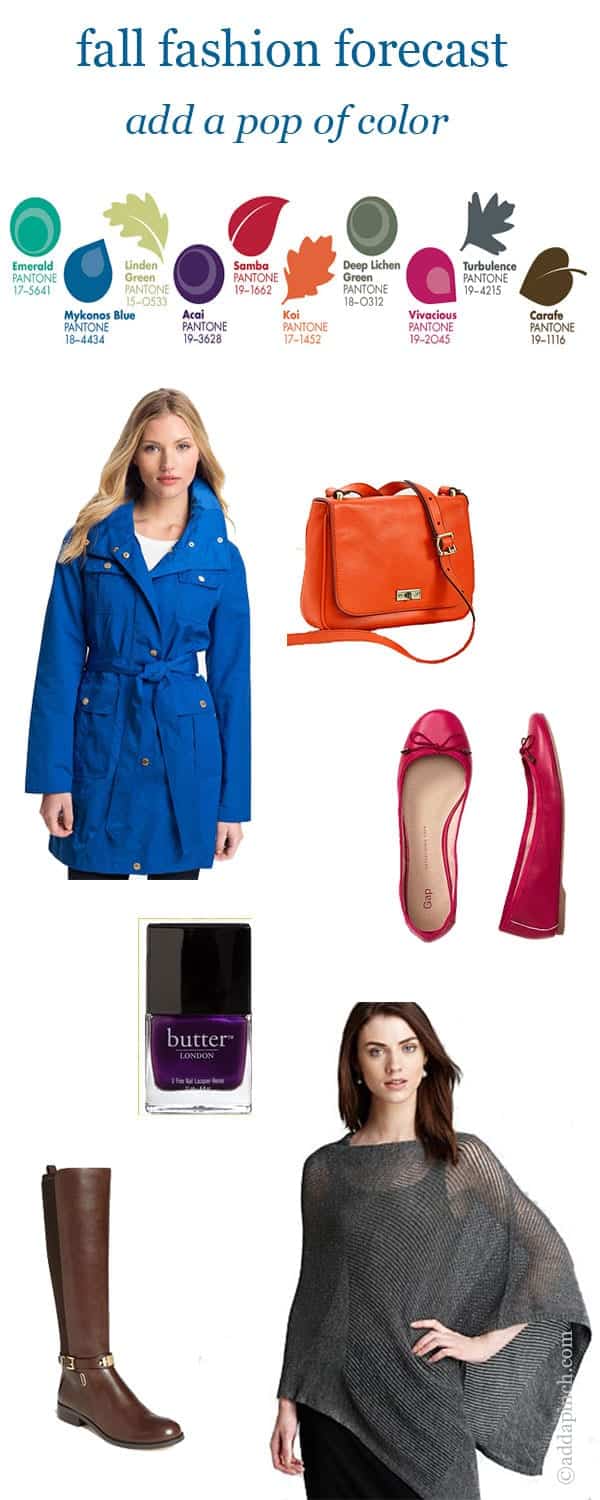 Ellen Tracy Trench Coat in Bright Blue | Memoir Novella Small Flap Fossil Handbag in Bright Orange
Leather Ballet Flat from Gap in Sweet Cranberry | Butter London Nail Lacquers HRH
Michael Kors Arley Boots in Dark Coffee | Eileen Fisher Poncho in Ash
It's hot – really, melt-the-makeup-off-your-face kind of hot.
So I know you are going to think I am nuts when I tell you what I'm thinking about when there is a HEATWAVE over most of the country…but I'm thinking about FALL! I think it is a bit of my way to escape from the shocking take-your-breath kind of heat we have here in the South. That is one of my methods – making ice cream another.
I've started dreaming of rich leather boots, sweaters, jeans, scarves, handbags, jackets, long suede skirts, denim shirts…you get the picture. And I am ready to start shopping – and sometimes just browsing. And lucky for me (and many others like me) it is the time that the retail stores transition to full-on Fall Fashion mode too!
I'm all about the fall fashion forecast for 2013!
The colors for fall fashions are beautiful – so much like beautiful colors of nature. Most of us heard that Emerald is the Pantone Color of 2013. And there are many colors accompanying that gorgeous Emerald for fall – and they are ah-maz-ing!
Now don't get me wrong – I'm not one of those people that have to wear only the colors a fashion expert tells me are "in" for the season – I love my jeans and my yoga pants – and I just like what I like.
And certain colors never stray from my closet – black, brown, khaki, navy, gray – you know – those classic neutrals. But while I'm dreaming of fall, I might as well dream in the colors picked especially for theseason!
I think many of us like to wear a lot of neutrals – especially if the particular piece of clothing was an investment for us. I don't know about you, but if spend my hard earned money on a piece of clothing; I want to get maximum wear out of it! Even though I am in love with my black slacks, I still have a thing for color – especially these gorgeous fall fashion colors. I like to add my pops of color to my outfits with
accessories mostly. That way, I still make the most of my neutrals I love and don't have to invest a fortune to wear some of the coolest colors around!
I've used some of the colors picked for fall and picked accessories that any of us could add to our wardrobes we love. I might wear a koi orange handbag, but think a long time about wearing orange pants. I think even your nail color can be a fashionable accessory – hence the royal purple I
picked. Perfect for a fun fall pedicure.
Fashion is meant to be fun and make us feel good. Kind of like my trusty yoga pants…
I say pick which colors you love and that make you happy and enjoy yourself in the process! Now, I must go make some ice cream to cool off…
How will you add color to your wardrobe for fall? What is the one fashion accessory you plan to purchase
this fall?