Heart cinnamon rolls bring a fun heart shape to a favorite cinnamon roll recipe! Perfect for showing a little extra love!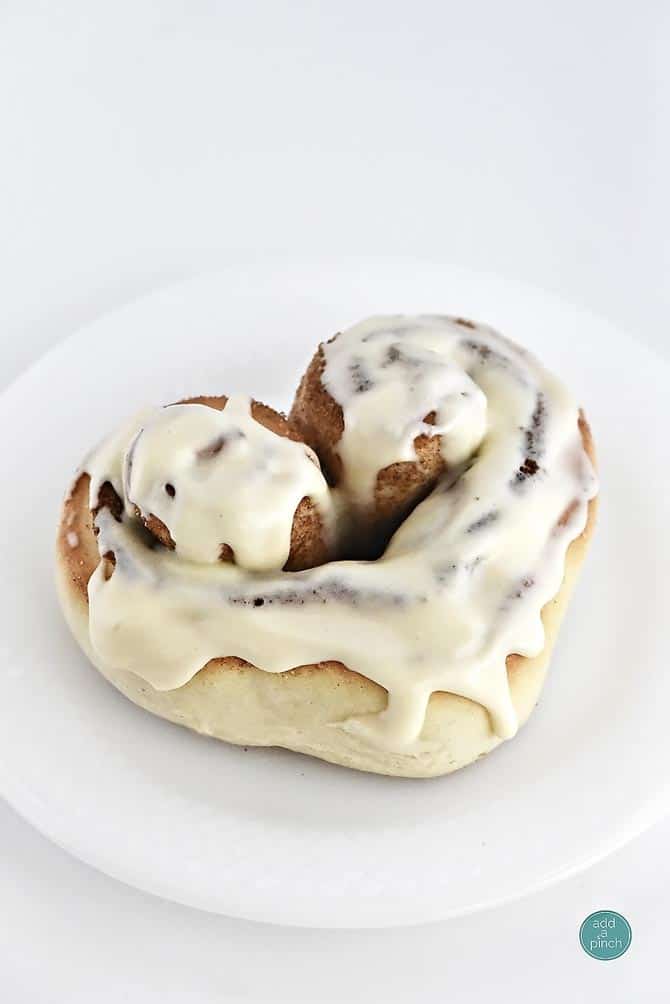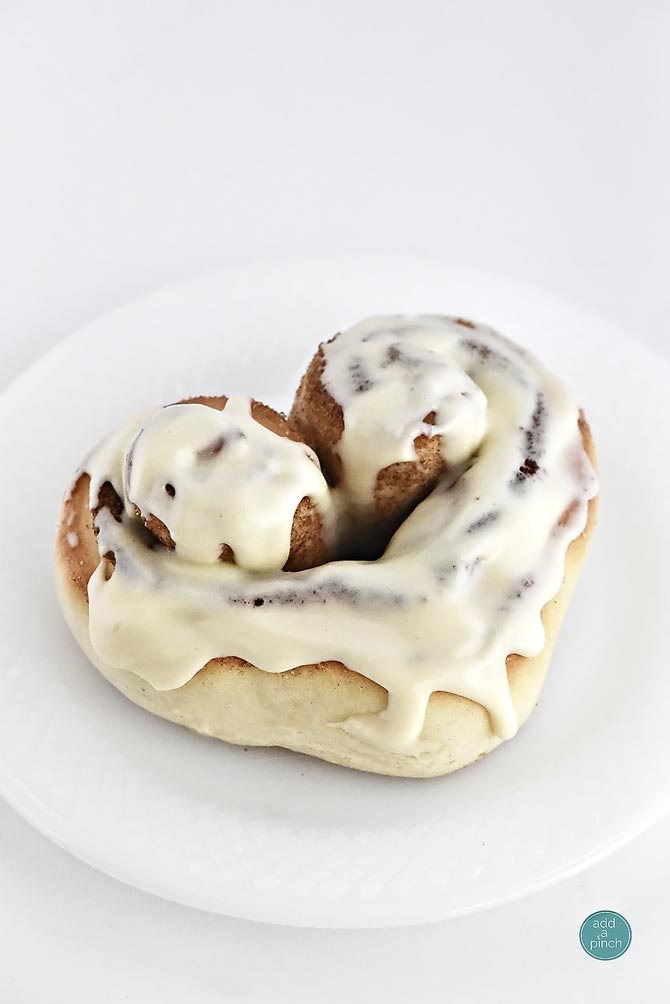 You guys! What better way to show someone you love love love love them than making them these heart cinnamon rolls!?
If your family is anything like mine, cinnamon rolls hold a special place and make for an extra special treat whenever you serve them, but this little special touch to make them into hearts just takes them up a notch higher!
They are perfect for Valentine's Day, Mother's Day, a birthday and anytime that you want to add a special touch to your cinnamon rolls!
I used my husband's cinnamon roll recipe that is an essential in my family. If you are looking to make cinnamon rolls, I clicked away photo after photo a few years ago as he was making them so that I could share the step by steps with you all. But seriously, they couldn't be easier or any better in my opinion!
You'll prepare the cinnamon roll dough and filling just like normal and just like included in that recipe, the difference comes in when you are rolling them to cut.
Rather than rolling them like a jelly roll as you normally would, by beginning on one side and rolling all the way to the other, you roll on one side to the center and then roll the other side to the center so that the two rolled areas meet in the middle. Then, once you slice the cinnamon rolls, you place them onto the prepared baking sheet and allow them to double in size again before baking. Once they've doubled in size, you pinch the bottom of the heart to make sure that the heart shape is defined and then bake as you normally would.
When they come out of the oven, if your house is like mine, you'll have to shoo off your family so that you can pour on the icing. Otherwise, my son would have already snuck a cinnamon roll from the pan!
Here's how we make our Heart Cinnamon Rolls Recipe. Make them for someone special and celebrate the special day!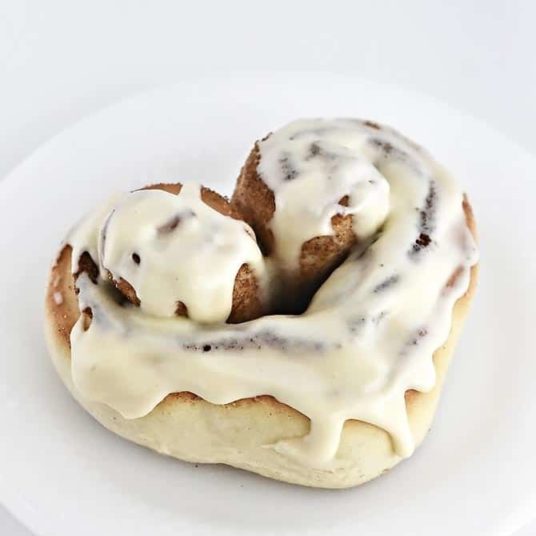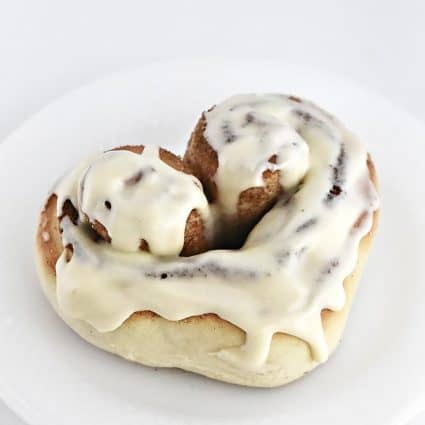 Heart Cinnamon Rolls Recipe
Heart cinnamon rolls bring a fun heart shape to a favorite cinnamon roll recipe! Perfect for showing a little extra love!
Ingredients
Instructions
Cinnamon Roll Dough:
Add yeast and sugar to warm milk in a large bowl. Stir gently to combine and allow the yeast to foam to proof. Once the yeast has proofed, stir in melted butter, salt, eggs, and flour into yeast mixture. Gently mix until well-combined.

Turn dough onto a lightly floured surface and knead for 10-12 minutes. Form the dough into a large ball and place into a large buttered glass bowl. Cover lightly with plastic or with a tea towel and place in a warm location free of any drafts. Allow to rise so that the dough is doubled in size.
Filling and Slicing:
Place dough on a large lightly floured surface and roll to a ¼ inch thickness. Spread softened butter over the top of the dough.

Stir together the brown sugar and cinnamon and sprinkle generously all over the buttered dough.

Tightly roll the dough, beginning at the long edge, and roll to the center of the dough. Repeat with the other side, rolling the dough to meet in the middle.

Cut the dough into ¾-inch to 1-inch slices and place onto a lightly buttered sheet pan.

Pinch the bottom of each slice to make sure the cinnamon roll dough is in the shape of a heart.
Baking and Frosting:
Preheat oven to 400º Fahrenheit.

Allow rolls to rise for 30 minutes on sheet pan.

Place rolls into oven and allow to cook until lightly browned and cooked through, but not overcooked, about 15-20 minutes.

While cinnamon rolls are baking, prepare cream cheese frosting by creaming together butter, confectioner's sugar, cream cheese, vanilla and salt.

Remove cinnamon rolls from the oven and allow to cool slightly.

Spread frosting generously over rolls while they are warm.
Nutrition
Calories:
205
kcal
|
Carbohydrates:
37
g
|
Protein:
5
g
|
Fat:
9
g
|
Saturated Fat:
6
g
|
Polyunsaturated Fat:
0.3
g
|
Monounsaturated Fat:
0.1
g
|
Cholesterol:
37
mg
|
Sodium:
75
mg
|
Potassium:
47
mg
|
Fiber:
1
g
|
Sugar:
20
g
|
Calcium:
21
mg
|
Iron:
3
mg
Nutrition information is automatically calculated, so should only be used as an approximation.
Love ya,
Robyn xo