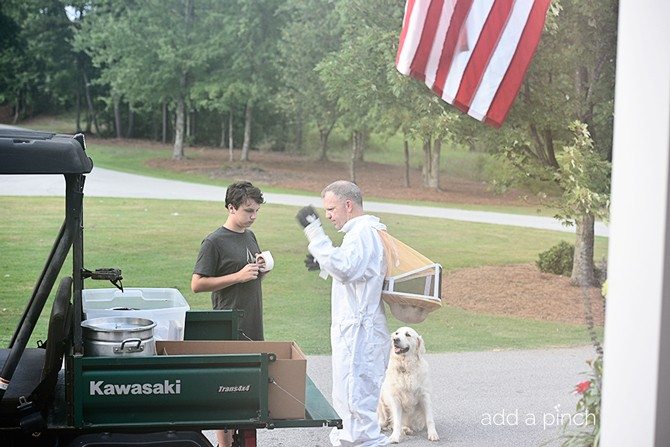 Last night we harvested a little honey from the bees here at the farm. I shared a quick photo on Instagram, but thought you all might like to see a little bit more of the process of how we harvested honey.
With Bart traveling, we were a little late in the season for our harvest, but we finally set aside an evening for it. You want to allow plenty of time so that you aren't rushed and are able to work during a cooler time of the day – for yourself as well as for the bees.
Bart got all the supplies together and pulled out his bee suit to get ready. He had to have a little help from Sam to tape around his gloves to make sure the bees didn't sneak into the suit with him. That would make for a very bad no good day. And let me just say – been there, done that!
Of course, Annabelle had to be right in the middle of the action. She's a nosy little thing.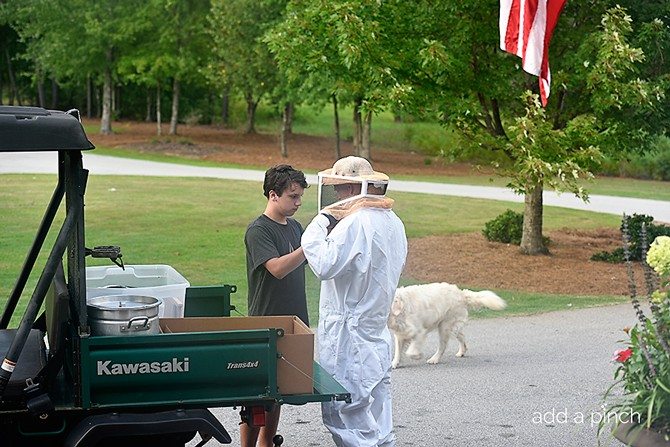 Zip, zip.
Safety check.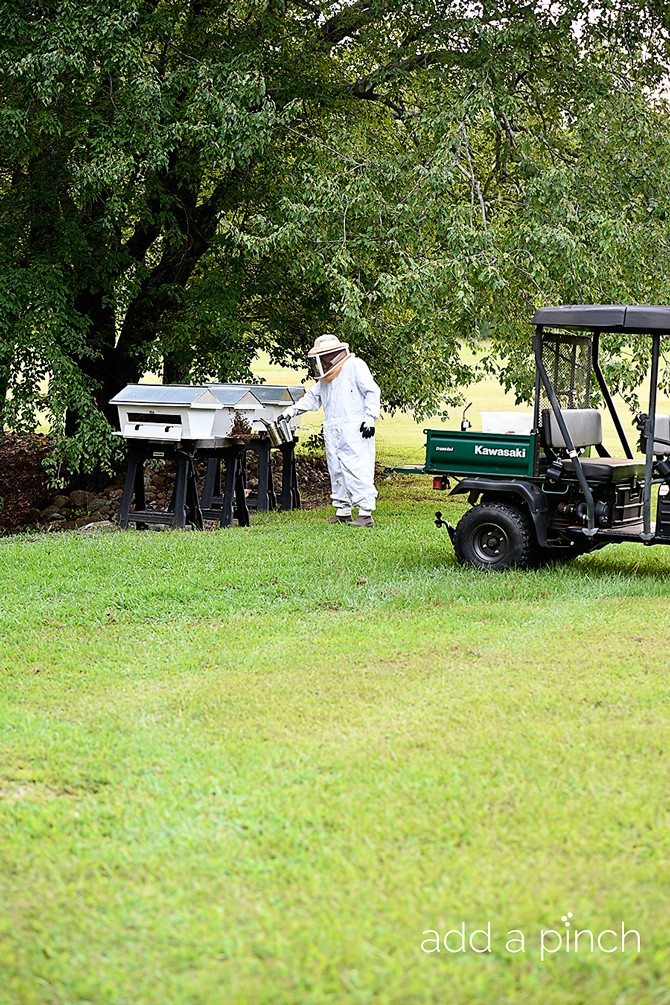 There are so many different methods and opinions on how best to harvest honey and manage bees. If you ask 10 different beekeepers, you are likely to get at least 10 different answers! But, having a great group of beekeepers in your area is a wonderful resource to know specifics to look for with your bees.
We use just a little bit of smoke to calm the bees before going into the hives. Again, lessons learned over the years. But, some beekeepers prefer not to use smoke at all.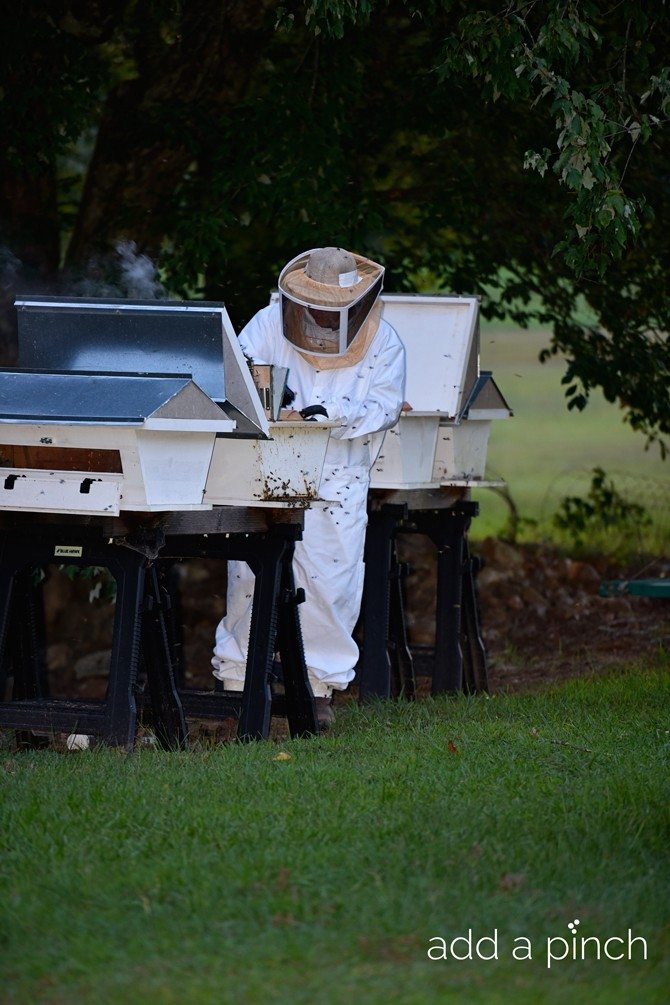 Once Bart checks the hives, he gets to work quickly, but calmly removing just a few of the bars from the hives. We decided to only harvest a few bars this season since weather reports are predicting a more harsh, wet, and cold winter here in our area this year. We left the majority of the honey for the bees to have for their food and to help provide warmth for them through the fall and winter.
When Bart built our topbar hives, he put side panel windows in them so that we can check them periodically without having to disturb the bees. However, there are times that we have to open them to check them more carefully. But I will say those little windows are about the best thing ever!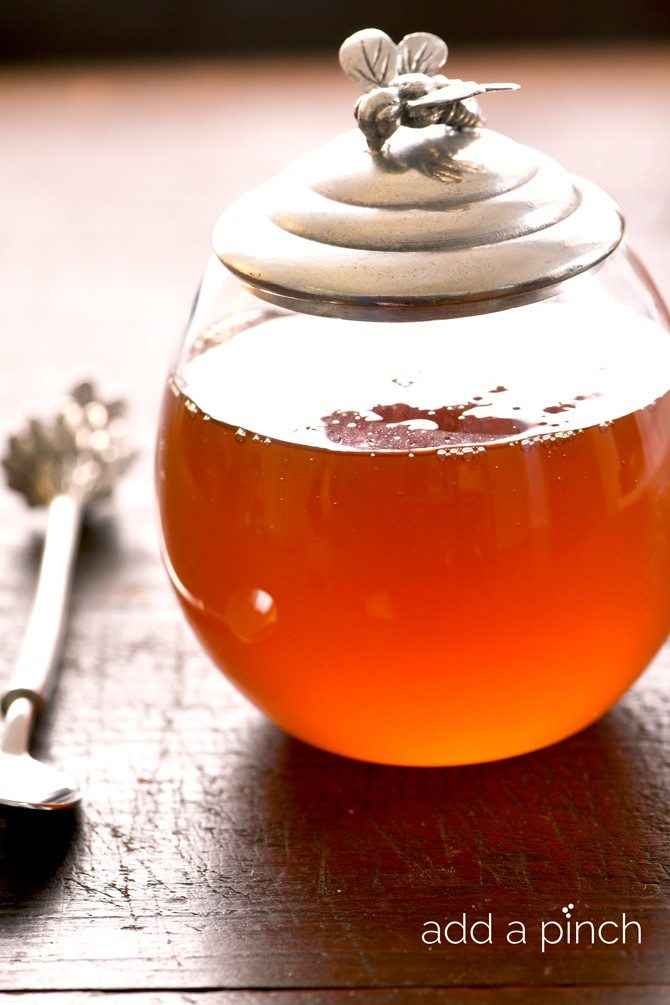 We decided not to use an extractor since we had such a small batch of honey in this harvest. Instead, we used the old, old, old method of straining by hand (or through a series of strainers over sterilized pots). All in all, we ended up with just over two and a half gallons of pure raw honey.
As we were bottling it, I got a little carried away with naming off all of the dishes I was going to make with the honey. If you can picture Bubba rattling off every possible shrimp recipe in Forrest Gump, then you have a pretty good idea of how I sounded throughout the process of straining the honey.
Poor Bart.
But goodness gracious, there is nothing like honey. It just adds so much flavor to every dish you use it in! But really, a spoonful of honey is perfect when we have a cold or allergies and I love to stir it into a warm cup of tea on chilly mornings or to sweeten a glass of lemonade instead of using sugar. See, here I go again!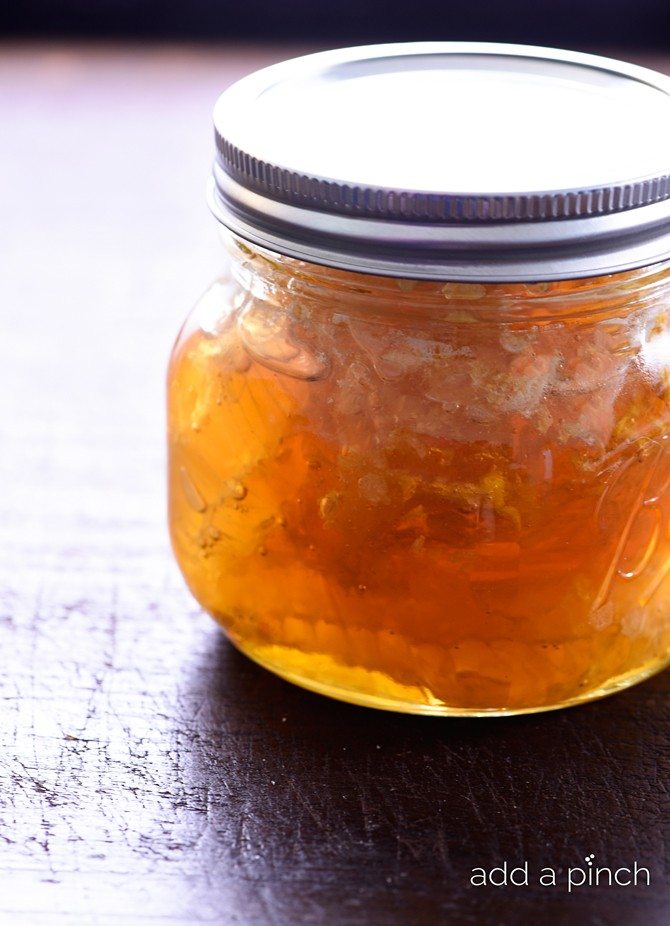 We love to smear honey on warm biscuits or toast in the mornings with just a little bit of the honeycomb, so a few jars include the honeycomb, too!
They are just beautiful with the pieces of honeycomb nestled into the amber colored honey.
I think those are my favorite jars to see up on the shelves!