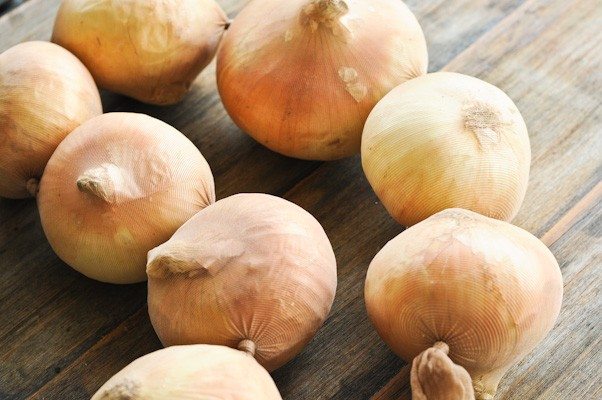 My nephew's football team was selling 25 pound bags of Vidalia onions a few weeks ago as a fund raiser for their team. Of course I snapped them up, thinking of all the delicious dishes I could make with 25 pounds of onions.
And then they were delivered. Did you know that 25 pounds of onions is a whole lot of onions?
Well, luckily, I remembered my Grandmother would always have onions on hand from those she'd grown in her garden. She'd have them practically year-round and without any of the stink of onions going bad in her pantry.
You know that smell?
Yeah, I do too. It's not very pleasant.
So I decided I either had to crank out one onion dish after another for a week or get busy storing them as my Grandmother did many years ago.
Here's how you store onions using the good ole pantyhose method.
Keeping Onions

1. Cut the leg out of the pantyhose, being sure to maintain as much of the pantyhose leg as possible.

2. Push one onion into the bottom of the pantyhose toe and tie a knot as close to the top of the onion as possible.

3. Place a second onion into the pantyhose right next to the knot, tie a knot at the top of the second onion.

4. Repeat until you've reached the top of the pantyhose leg. Tie a final knot.

5. Hang the pantyhose on a hook in your pantry or preferred spot making sure that air can completely circulate around the onions.

Note: For 25 pounds of Vidalia onions, I needed two pairs of pantyhose. The number of hose will depend on the size of the onions, etc.
So now, don't be afraid of buying your onions in bulk.