Oatmeal Lace Cookies Recipe
Oatmeal Lace Cookies have always been one of my husband's favorite cookies. I've known that but quickly forget from time to time as they aren't a cookie I have regularly made. So, the other night I asked him, "what's a favorite Christmas cookie that you'd like for me to make for you?"
His immediate reply, "Lace cookies."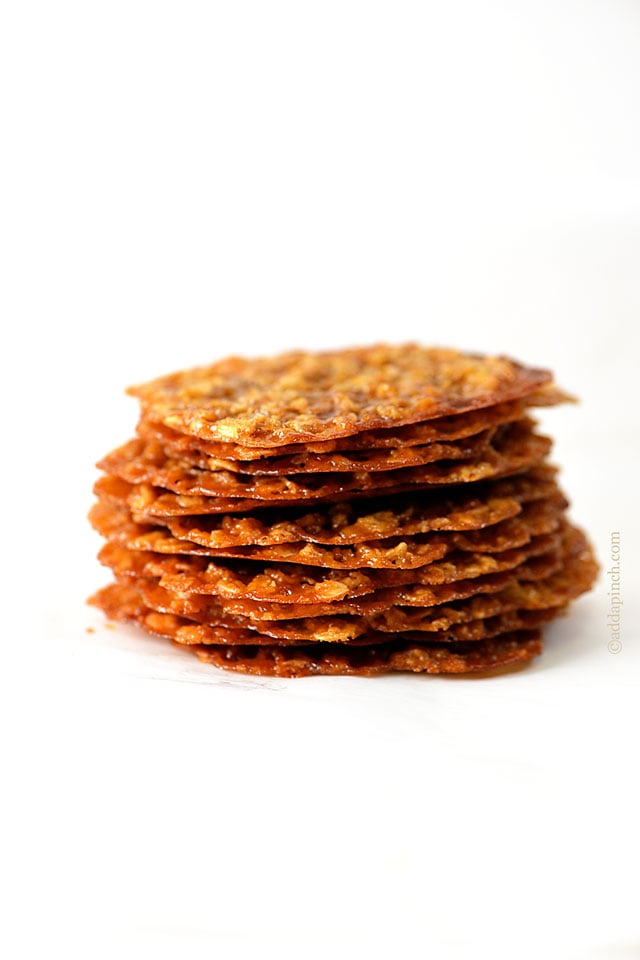 His Mama has always made them, especially at Christmas. And they are amazing.
Which isn't hard to believe, because let me just tell you, I have never, ever, ever tasted one thing that my mother-in-law cooked that was not absolutely out of this world scrumptious.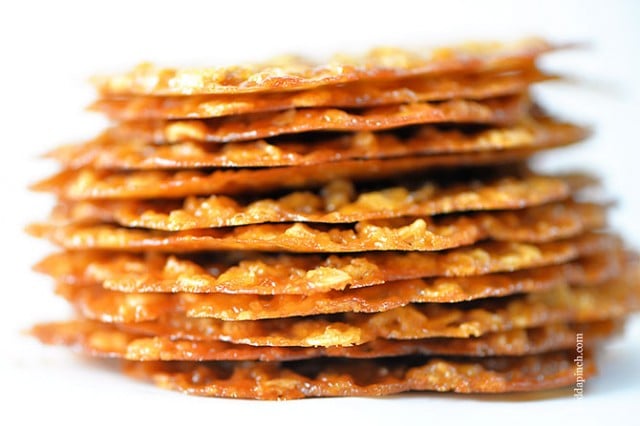 You know, I have truly been blessed to be surrounded by phenomenal cooks in my life with my Grandmothers, Mama, and aunts. I count myself even more blessed to be able to learn even a little bit about recipes, cooking, entertaining large crowds, and life in general from my mother-in-law. She is truly the best!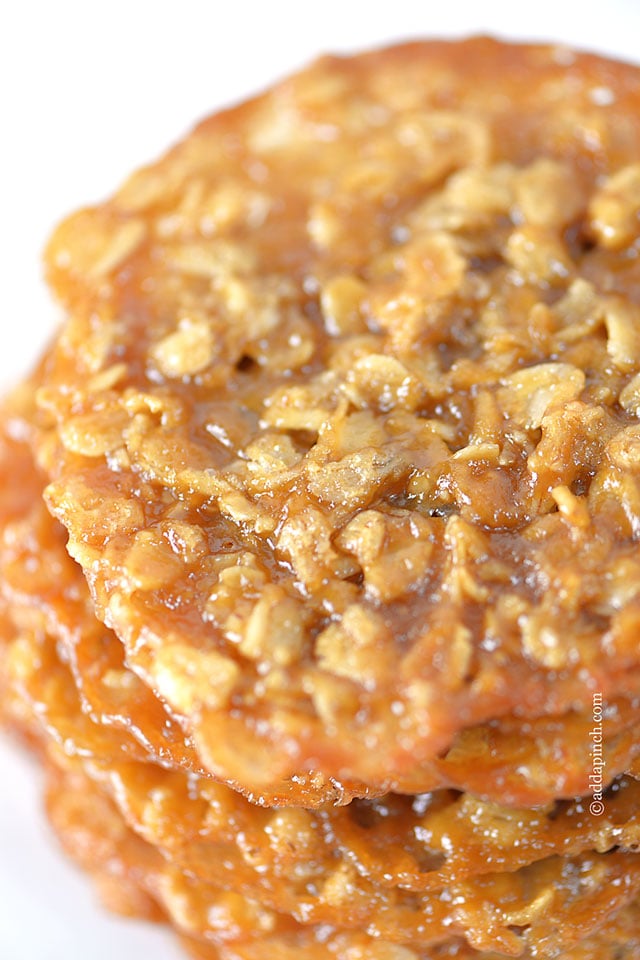 So, back to her oatmeal lace cookies. Lace cookies get their name because as they bake, they spread and bubble and bubble and bubble which then forms little holes in the cookies.
There are so many recipes for lace cookies, but my mother-in-law's recipe actually originated from a local restaurant where special parties and luncheons were often held. They've since closed, but thankfully had given my mother-in-law the recipe before they did so.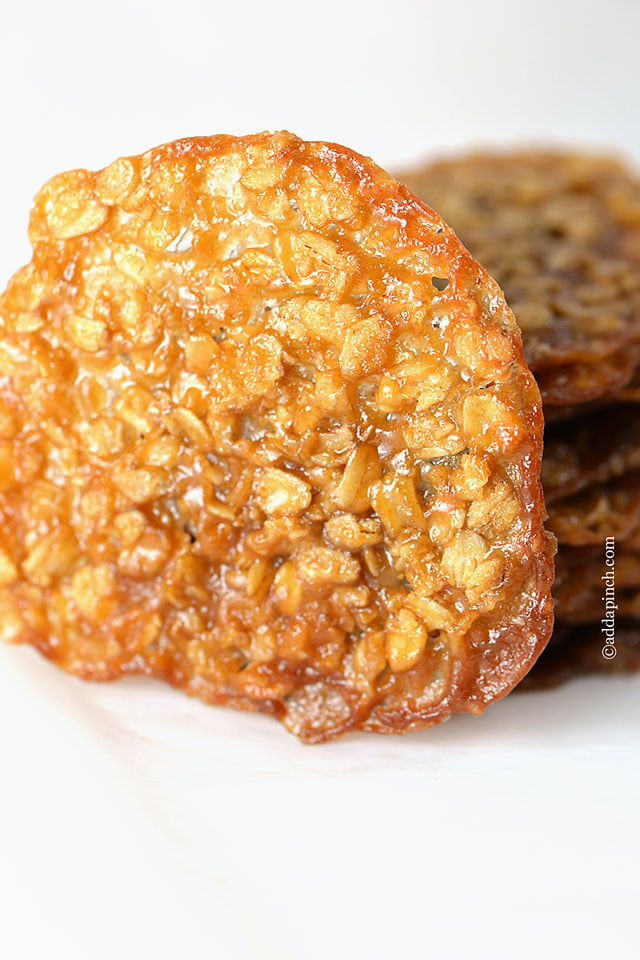 This oatmeal lace cookie recipe makes a whole lot of cookies. I mean a whole lot of cookies, close to six dozen. That's what makes this lace cookie recipe so perfect for Christmas cookies. There are plenty to share and still have a few to enjoy!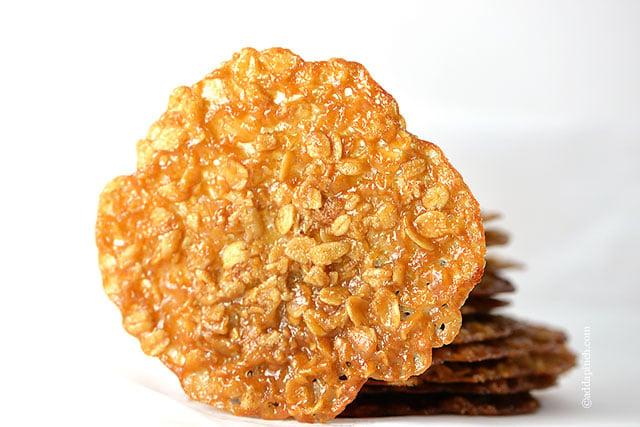 Come to think of it, maybe that's why my mother-in-law makes them each year for her huge family.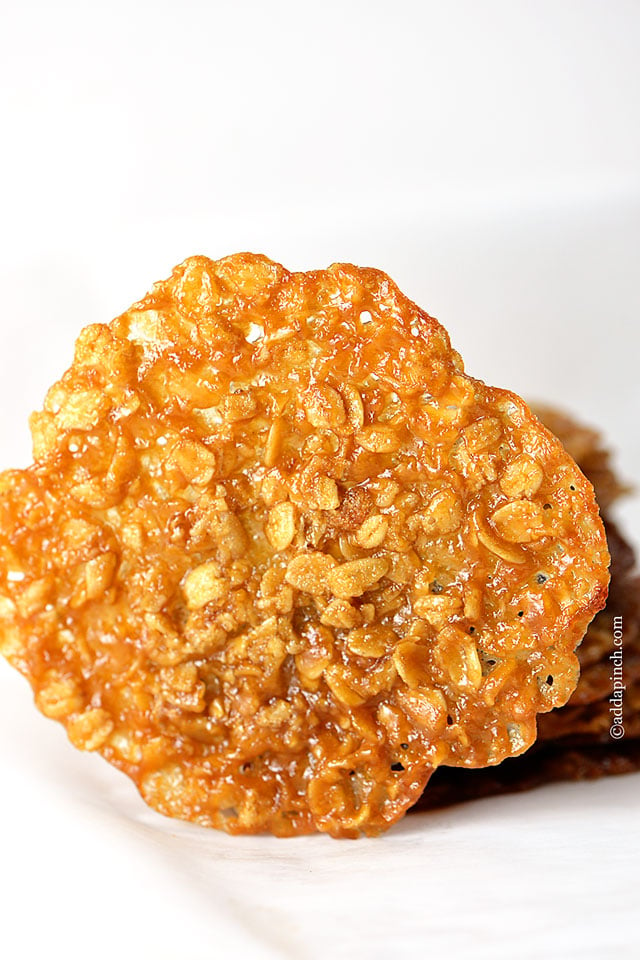 Here's the Oatmeal Lace Cookie recipe my family loves. One warning though, they are buttery and oh so addictive.

Oatmeal Lace Cookies Recipe
Oatmeal Lace Cookies are thin, crisp, delicate and buttery cookies. This lace cookies recipe is a family favorite.
Author: Robyn Stone | Add a Pinch
Serves: 60
Ingredients
1 cup (2 sticks) butter
2¼ cups light brown sugar, packed
2¼ cups rolled oats
3 tablespoons all-purpose flour
1 teaspoon salt
1 egg, lightly beaten
1 teaspoon vanilla
Instructions
Preheat oven to 375º F. Line baking sheets with parchment paper or silicon baking mats. Set aside.
Heat butter and brown sugar in a 2-quart saucepan over medium heat, stirring frequently with a wooden or silicon spoon, until butter has melted and mixture is smooth. Stir in oats, flour, salt, egg, and vanilla.
Drop cookie batter by the teaspoon onto prepared baking sheets, leaving at least 2 inches between each cookie to allow them to spread.
Bake for 5 -7 minutes, watching closely to prevent them from over-baking. The lace cookies should be golden brown.
Allow to cool on the cookie sheet for 30 seconds and remove onto racks to cool completely.
Store in an airtight container.
Notes

Make sure to use real butter and not margarine as it will impact the results of the cookies.

Make Ahead Tips
You can prepare the dough and store in an airtight container in the refrigerator for 3 to 5 days. When you are ready to bake, drop the dough by teaspoons onto parchment lined baking sheets 2 inches apart and follow the recipe baking instructions.

Freezing Oatmeal Lace Cookie dough: Drop dough by teaspoons onto a parchment covered baking sheet. Cover and place in the freezer for 1 hour or until the dough is frozen. Remove from the freezer and place the cookie mounds into airtight containers or freezer bags. Label the bag with the date and name of the cookies.

When you are ready to bake the cookies, remove the container from the freezer. Remove the number of cookies from the container that you wish to bake and place them at least 2 inches apart on a parchment lined baking sheet. You will not need to thaw the dough before baking. Bake as directed in your recipe but you will probably need to add a couple of extra minutes to the baking time.

Storing baked cookies: Cool the baked cookies thoroughly. Layer cookies between pieces of parchment of waxed paper and place into an airtight container. These cookies should keep up to 1 week.


Enjoy!
Robyn xo