When the days are cooler, I start thinking of heartier meals for supper. The other night, I threw together this one pan chicken with thyme biscuits dish. Oh my gracious was it amazing.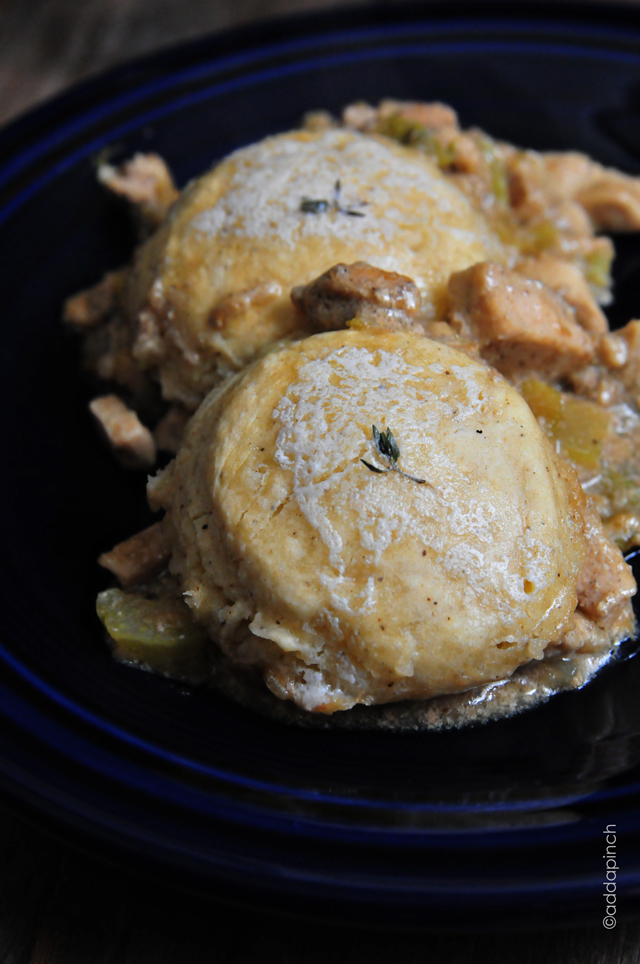 Even my pickiest little eater tried it without it throwing his nose completely out of joint. I'm thinking it had something to do with the biscuits. Biscuits are always a good thing in his book and I've learned that making them is a great way to get him to try new things.
In making this dish, I decided to chop the chicken to reduce the cooking time. Of course, if you plan ahead better than I did that day, you could easily just use the whole chicken breast in this recipe. It will just increase your cooking time to make sure the chicken breast is cooked through.
Making this chicken dish in one pan, or skillet in my case, is so easy. Once the chicken and vegetables have cooked, you push them to the sides of the skillet as you make the 'gravy' for the dish. Then you layer on the thyme biscuits and pop the skillet in the oven to bake your biscuits and marry all the flavors together.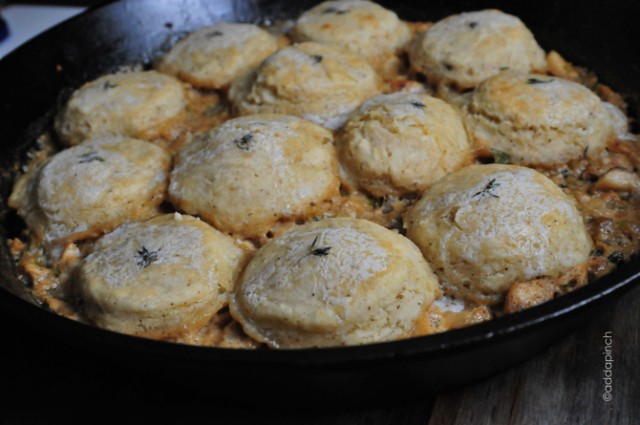 You can serve this with additional cooked vegetables on the side if you like, or even ladle it into shallow bowls as a very chunky soup type dish.
Anything really goes.
But one thing that I added to the top of my biscuits just to dress them up a tad was a touch of thyme. I'm sort of a nerd.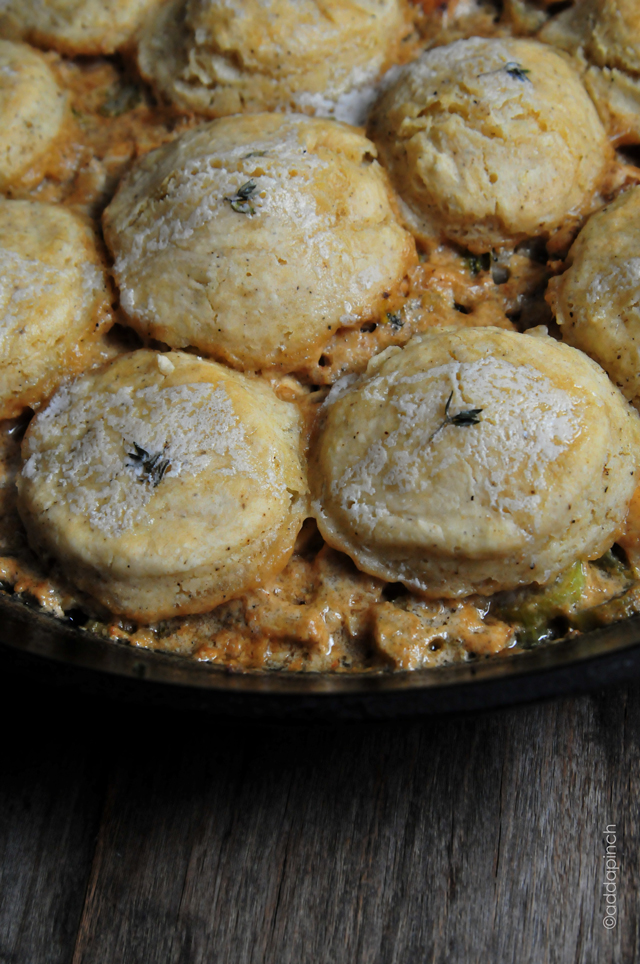 Here's my one pan chicken with thyme biscuits recipe. I hope you love it, too!
One Pan Chicken with Thyme Biscuits Recipe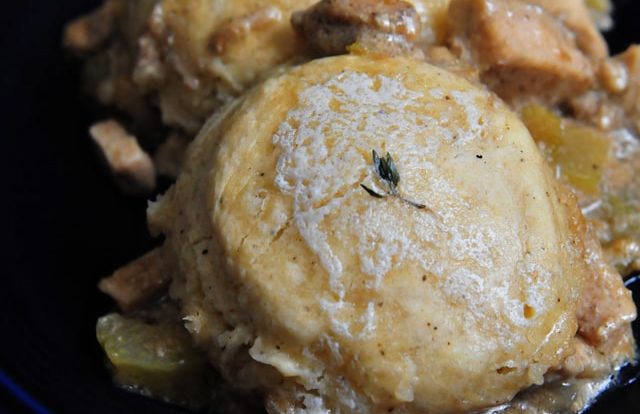 This easy recipe for chicken with biscuits is a definite family favorite!
Ingredients
2

tablespoon

olive oil

4

skinless

boneless chicken breasts, chopped

1/2

medium onion

diced

2

celery stalks

chopped

2

cloves

garlic

chopped

4

tablespoons

butter

1/4

cup

all-purpose flour

2

cups

chicken stock or broth

1/2

cup

heavy cream

1

teaspoon

fresh thyme

salt and pepper

to taste

For the Thyme Biscuits

2

cups

all-purpose flour

2

teaspoons

baking powder

1

teaspoon

baking soda

1/2

teaspoon

salt

1/4

teaspoon

black pepper

1/2

teaspoon

fresh thyme + 6 pieces

optional

1

cup

milk

2

tablespoons

butter

cut into pieces
Instructions
Preheat oven to 375º F.

Drizzle olive oil into skillet over medium heat. Add chopped chicken and cook for 10 minutes, stirring occasionally. Add onion, celery, and garlic; cook until onion has become translucent, about 3 minutes. Move chicken and vegetable mixture to the side of the skillet.

Add butter to the skillet and melt. Sprinkle flour into the melted butter, 2 tablespoons at a time, stirring. Add 2 cups chicken broth to the flour mixture, stirring until thickened. Add heavy cream, continuing to stir. Stir in with chicken and vegetables. Add thyme and salt and pepper, to taste.

For the Thyme Biscuits:

Whisk together flour, baking powder, baking soda, salt and black pepper in a medium bowl. Stir milk into flour mixture just until combined. Pour onto a floured surface, sprinkle thyme onto dough and lightly knead together. Using a 2-inch biscuit cutter, cut out biscuits. Gather together any scraps and cut biscuits until all dough has been used. Place all biscuits on top of chicken in the skillet, leaving about 1 inch between each biscuit. Top each biscuit with a piece of thyme (optional) and a piece of butter.

Place skillet into preheated oven and bake 20-25 minutes until biscuits have turned lightly brown.

Serve warm.
Enjoy!
Robyn xoxo