Learn how to make Salt Dough Ornaments. They make a great tradition for the holidays and throughout the year.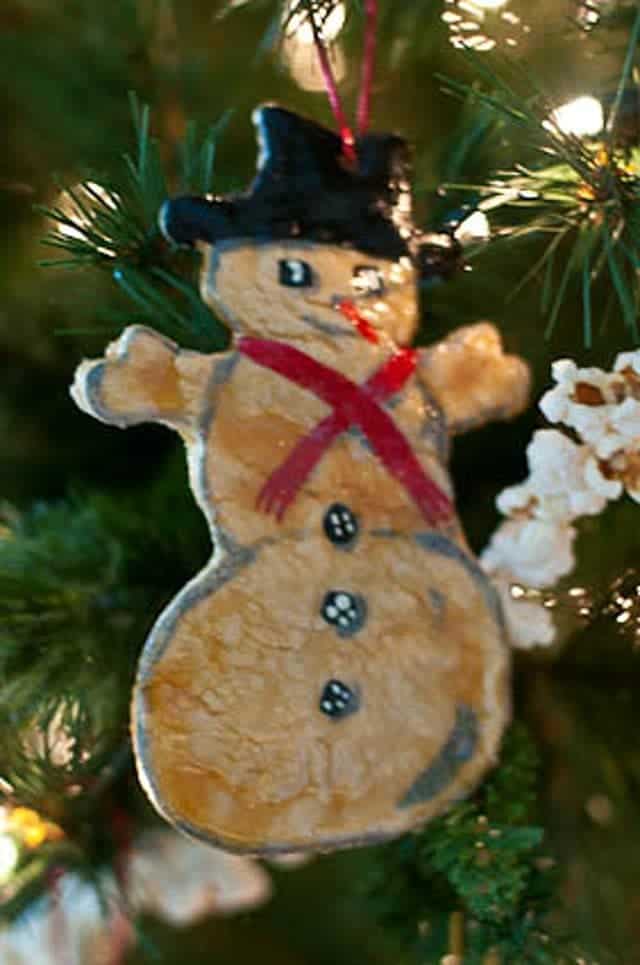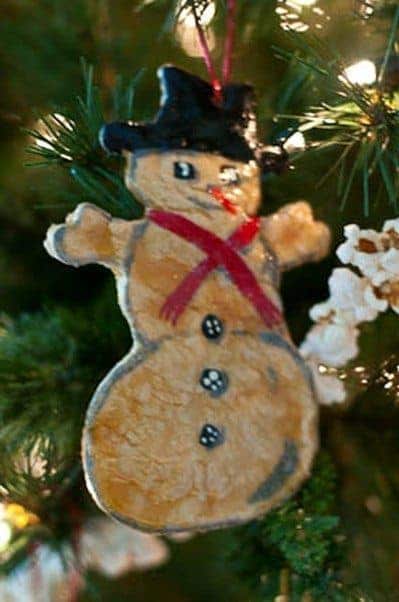 One of my favorite things to make with my family during the holidays is salt dough ornaments.
It's a simple craft using materials we already have at home without the temptation of eating any of the dough. Great for when you're trying to keep your calories in check.
But seriously, making salt dough ornaments is a great way to spend time with your children making precious memories for the holidays. You may even want to save this craft for a rainy afternoon to keep all boredom at bay! The giggles and smiles will take over in no time.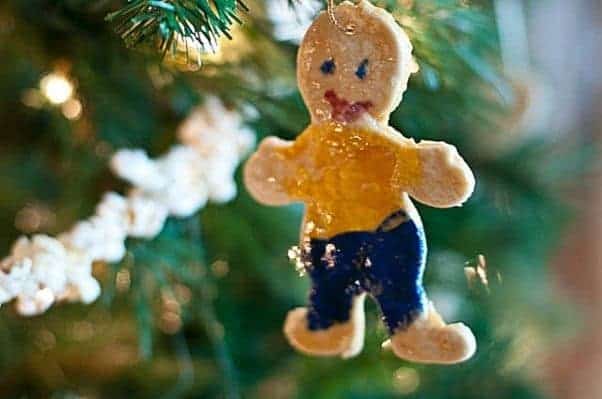 Here is how I make them.
Salt Dough Ornaments
Learn how to make Salt Dough Ornaments. They make a great tradition for the holidays and throughout the year.
Equipment
Cookie Cutters

your favorite shapes

Straw

Paint

Glitter

Markers

Varnish
Instructions
Preheat oven to 250º F.

Mix together all ingredients in a large bowl until dough is formed. Remove from bowl and place on a lightly floured surface. Knead until dough is smooth. Lightly dust with flour if dough is sticky. Take care not to over flour as it will cause the ornament to be over dry.

Roll dough to 1/4″ thick with a rolling pin. Use favorite cookie cutters to cut out shapes for ornaments. Punch a hole in the cutout with a plastic straw for inserting a ribbon when finished.

Place cutouts onto parchment lined cookie sheets. Bake for 2 hours. Remove from oven and cool completely before decorating.

Paint your ornaments in your favorite colors, patterns, etc. Allow to air dry and then apply a thin coat of sealer such as varnish, shellac or epoxy.

Allow to dry overnight and then insert ribbon or string into pre-punched hole for hanging.

Additional options: rather than punching a hole and hanging your creations as ornaments, you can glue pin backs onto the back of your ornaments for festive holiday pins to wear and give as great gifts.
Now, I want to share with you my very favorite salt dough ornament we've made.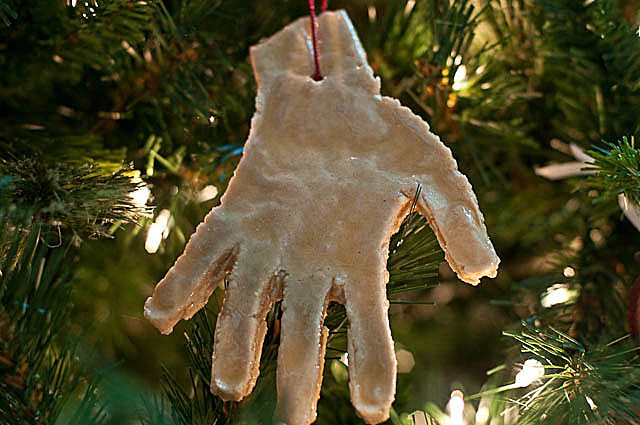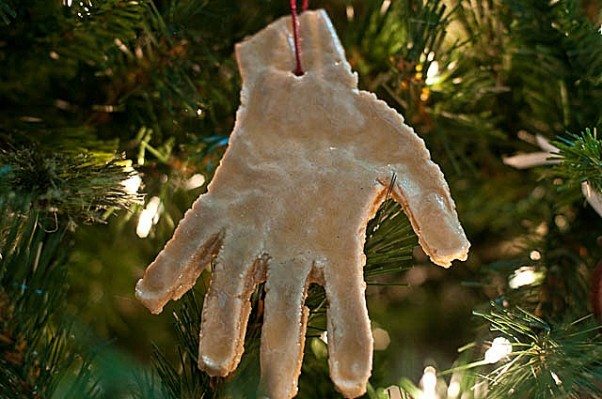 It's Little Buddy's hand cutout. Basically, Little Buddy placed his hand onto the salt dough and I carefully traced his hand with a regular pencil. After he lifted his hand, I used a knife to cut out the final shape, punched a hole, baked the cutout, and then sealed it with epoxy.
Salt dough ornaments make wonderful gifts for friends, teachers, and especially relatives, but the time making them with your children is absolutely the best gift of all.
Enjoy!
Hey y'all, a reader sent me a great question about how to make the hand ornaments brown. What a great question! So, my sweet husband had a great idea of using a stain and polyurethane. We tested with Mixwax PolyShades which is a stain and shade mix. The stain colors we used were pecan, olde maple, and antique walnut. Great for being able to create the perfect shades needed.