Shrimp Boil Recipe – This classic shrimp boil recipe is a family favorite! Made with fresh shrimp, potatoes, sausage and corn!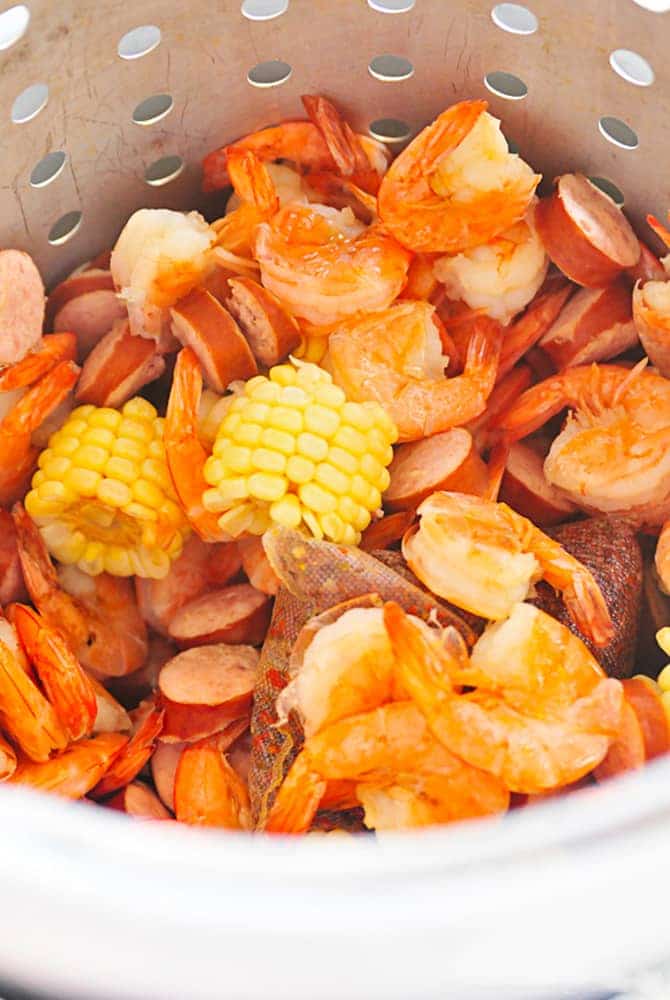 There's just something about a shrimp boil that seems to bring everyone together. I'm not sure if it's the way that it is served, all tossed together in the pot or poured out over a large picnic table covered with newspapers or butcher paper. Either way, it's a definite warm-weather favorite for us. When we go camping, especially near the coast, we love to pick up fresh shrimp from a local fish market and plan out the meal. It's one that everyone seems to always love.
With a shrimp boil, our basic ingredients are potatoes, corn, sausages, and lots and lots of shrimp. You just can't have to much shrimp for a shrimp boil! Although for this boil, we left out the potatoes. Can you say, "Robyn forgot a major ingredient?"
We really didn't miss them too much though with all that other deliciousness in the pot!
My husband is usually in charge of the cooking, pulling out his large turkey fryer with basket to make easy work of it. Since the sides are included in the pot, I only have to take care of any appetizers, condiments, drinks and of course – desserts!
But whatever you do, be sure to make my cocktail sauce to go with this shrimp boil. You'll understand with that first bite!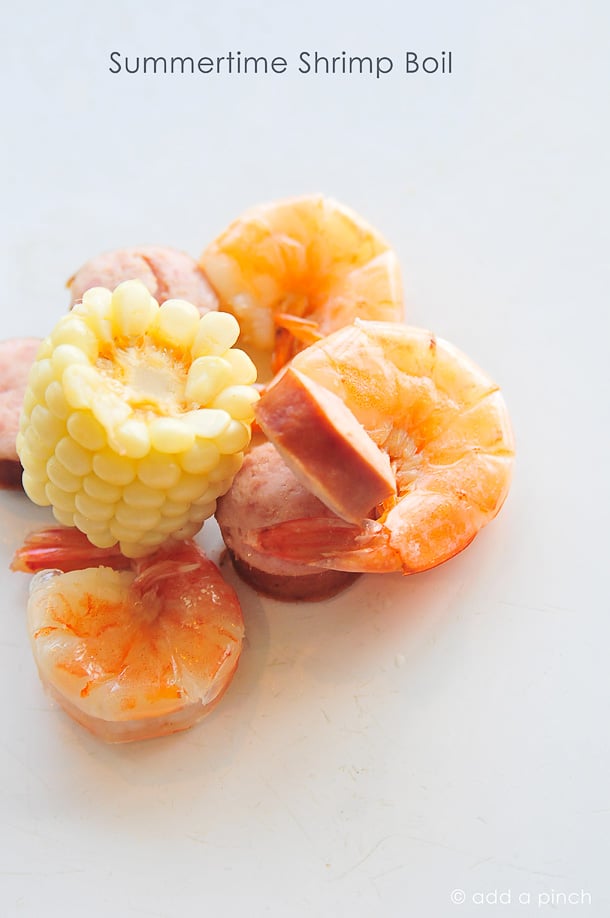 Just imagine there is a potato in that photo, umkay?
You can also toss in crawfish if you'd like. It peps up the color of the shrimp boil considerably and makes it extra festive!
Here's how we make our shrimp boil. I've written the recipe so that it is per person to be served. That way, you can scale the recipe for a family of 4 or to serve a party of 100!
Shrimp Boil Recipe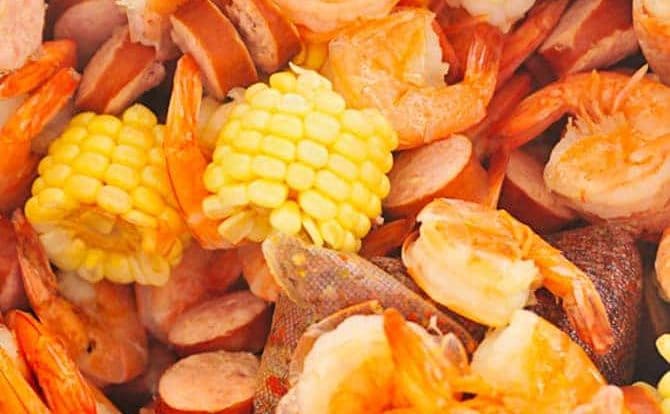 Summertime in the South always means it's time for a Shrimp Boil! Perfect for outdoor entertaining or even when camping, this recipe is written based on how much per person you'll need for a successful shrimp boil.
Ingredients
1-2

bags

crab boil

per pot

1-2

small

small red-skinned potatoes

per person

1/2

pound

smoked or polish sausage

per person

1

ear

corn on the cobb

per person, cleaned and cut into 2 inch pieces

1/2

pound

raw deveined shrimp

per person

1/4

pound

crawfish

per person, optional
Instructions
Fill a large pot 2/3 full with cold water. Add the bag(s) of crab boil and bring to a rolling boil. Turn down heat if needed to maintain a low to medium boil. Add in potatoes and sausage and allow to cook for about 20 – 25 minutes, add in corn. When potatoes have softened to fork tender, add in shrimp and crawfish (optional) and cook to taste, for about 3-5 minutes until shrimp are pink throughout and done.

Remove all from the boiling water and serve warm.
I hope you enjoy it as much as we do!
UPDATE:
I've gotten so many emails asking me what kind of "crab boil" we use, where I find it, etc. I thought I would update this recipe post to provide that information as well.
We use a product by Zatarain's that is in a bag. I have been able to find it at my local grocery stores. Please note that I am not affiliated with Zatarain's, nor is this a sponsored post. This is just the product that we love and use faithfully!
Enjoy!