Summer is finally upon us and with that comes outdoor entertaining. A fun cookout is a favorite way to spend time with friends and family during the summer. Plan a simple summer cookout that will be sensational in just a few stress-free steps!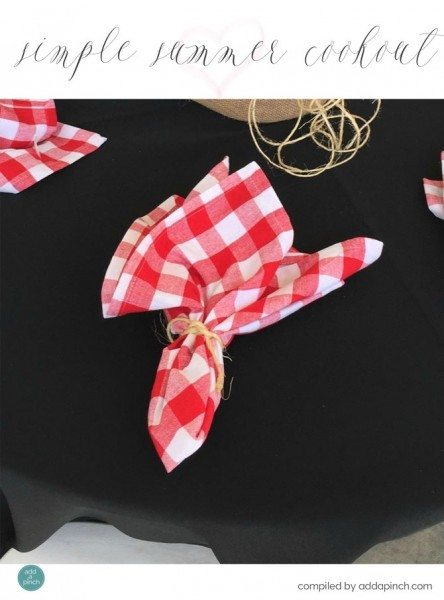 The "unofficial" start to summer is finally here this weekend – and I am some kind of happy about that!
My family enjoys celebrating Memorial Day and all of the summer holidays – but don't we all? Whether we go to the lake or have a fun weekend at home, we most definitely enjoy the summer with family and friends. And let's just say that outdoor entertaining is one of our favorite ways to do that.
If you are thinking of having a cookout this Memorial Day Weekend or even later this summer, you want it to be great – and you don't need to stress over the details. You can have a great cookout and party with a few simple steps – one your friends and family will be talking about until next summer!
The Invitations
After all, your guests need to know a few things like the time and place. If you are having a cookout this weekend, chances are you've already told your guests, but if you suddenly feel the urge to have one after reading this, then you probably want to just call them…or text them. But if you plan one for later in the summer, send invitations. You can print them at home with your own design software or easily order colorful invitation stock so you just fill in the details. The invitation to your cookout sets the tone of your party. It also helps you plan how many racks of ribs to cook since you ask for RSVP's.
The Decorations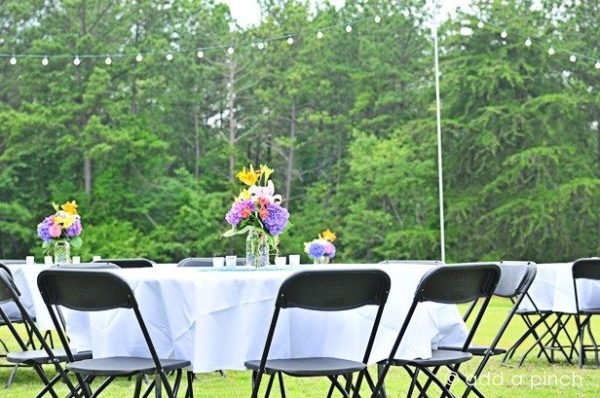 I like to keep my decorations simple but beautiful.
Memorial Day and July 4th are some of our most beloved patriotic holidays. For those times, I say go stars & stripes, red, white and blue all the way!
But for other times in the summer, I like to keep it simple. Since I love to entertain outside often, I tend to use multipurpose items for decorations. I decorate with lanterns and hurricanes, as well as vases or mason jars full of flowers – usually flowers in bloom on the farm at the time. I enjoy using burlap table runners atop neutral color table cloths and pull in color from my flowers or napkins.
If I have several children coming, a favorite way I like to decorate is by getting large rolls of butcher paper or kraft paper to roll out on the tables. Then I just set mason  jars full of crayons as the centerpiece for each kids' table and let the drawings they create become decorations.
The Tables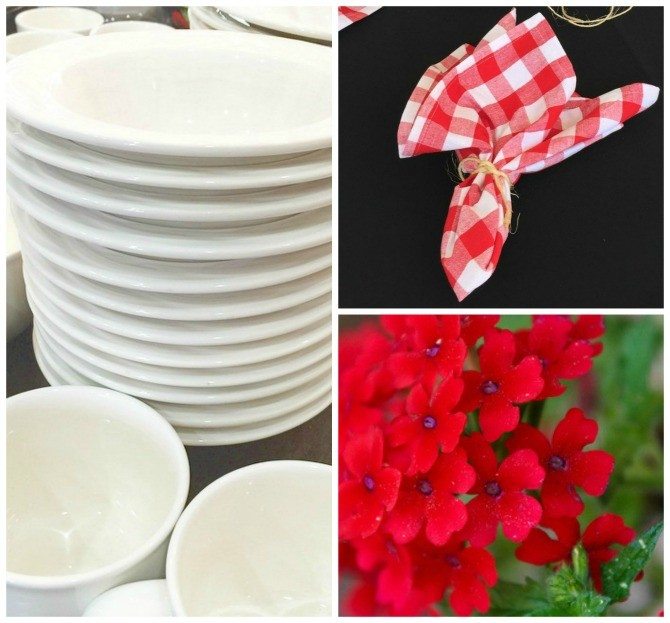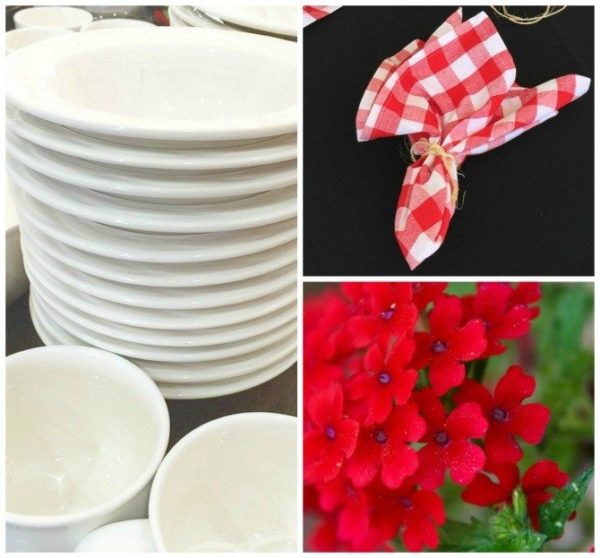 If you like lots of color, this is an opportunity to infuse your setting with color and add to the party theme. I personally like to keep my plates neutral so I can use them again and emphasize my party theme and colors in my napkins and flowers like I mentioned.
The Food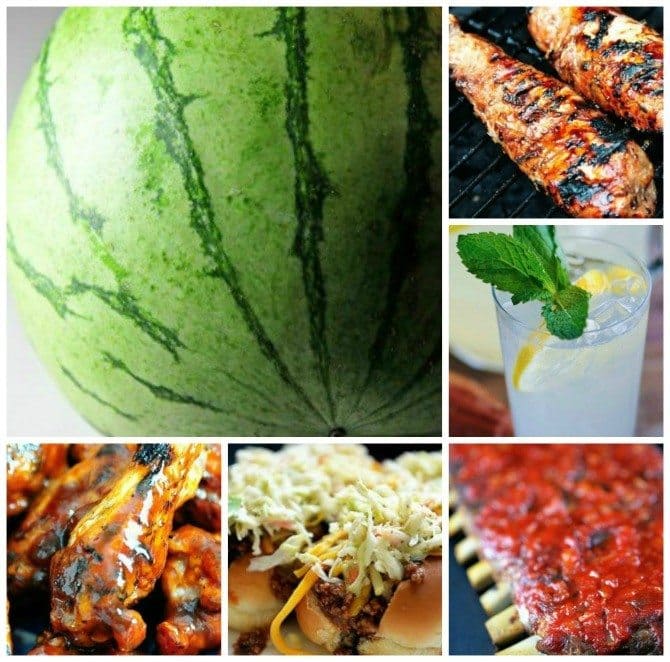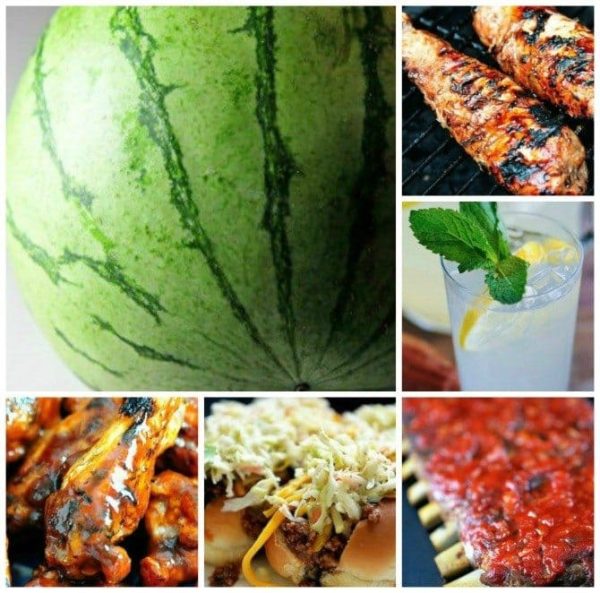 Your guests will be spending their time outside since this is a cookout. Plan a menu that can mostly be cooked and served easily outdoors – either chicken, bbq, hamburgers and hotdogs for the kids, baby back ribs, or steak and shrimp kebabs, as well some delicious side dishes and desserts. A couple of signature drinks in dispensers and maybe a cooler full of soft drinks and water makes it simple. Some extra touches I like to add are a chalkboard or sign with the menu. Even name cards beside each dish and drink looks special – especially for foodies like me where I may want to give the name of a special dish I've made.
These touches don't take a lot of time on your part, but they leave an impression on your guests. Sometimes the smallest details help bring your party together in the mind of your guest.
The Fun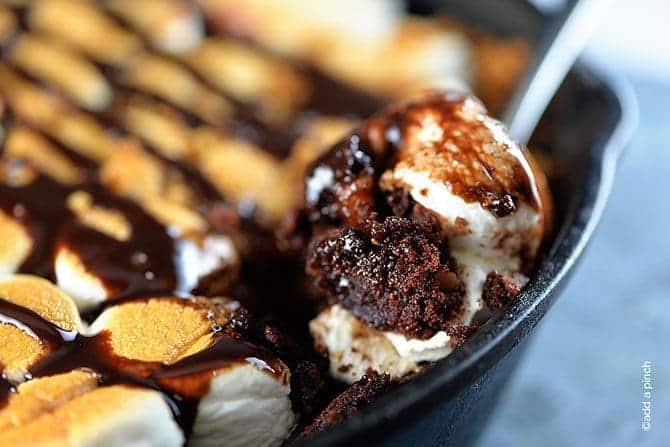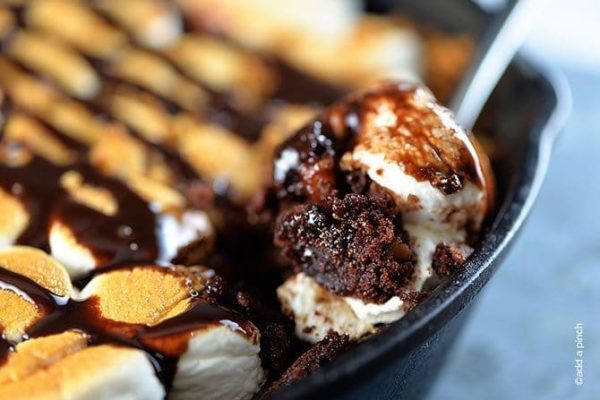 You definitely want your guests to have a great time after you've put so much planning into your cookout. Music – whether I ask a friend to play or I crank up my library of songs on a party play list – adds to the festive atmosphere. Outdoor games such a corn hole and horseshoes are fun during daytime parties. For patriotic holiday cookouts, sparklers or fireworks (if legal in your area) may be an option for adults. As my crowd dwindles down to a very few of my close family or a very few friends, I love to have a fire in our outdoor fire pit so we can roast marshmallows for s'mores – one of my favorite parts of the night!
Relax & Enjoy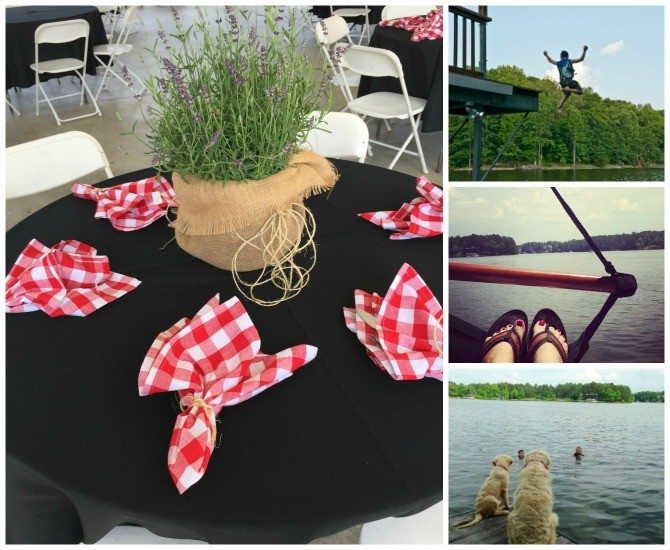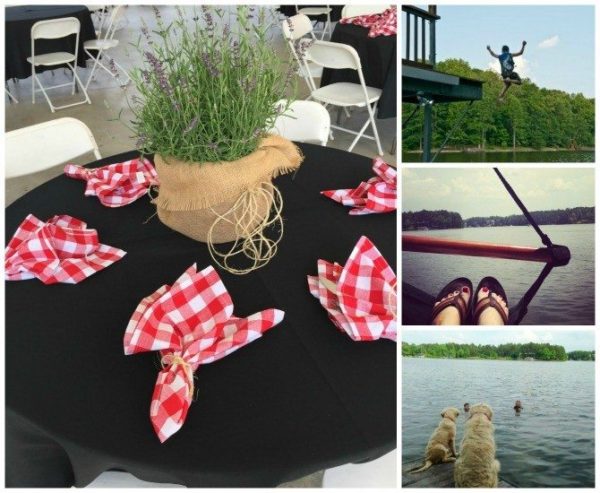 You may not be able to see every funny thing that happens at your cookout so ask someone to take a few pictures during your party.
You need to enjoy your guests and your party – and  don't stress so much. I still have to remind myself sometimes so I don't worry about a hundred small things. It seems minor things usually have a way of happening no matter how much you plan – but sometimes those things are the funniest! So decide ahead of time that you are going to enjoy your party, have fun spending time with friends!
Now go plan and have fun at your most memorable cookout – your guests certainly will!
Robyn xo