Skinny Orange Chicken Recipe
Orange Chicken has to be one of my favorite Chinese dishes that I order when we order takeout or visit a Chinese restaurant that I love when we happen to make it into the big city. I've made it a few times at home, but decided the other day that I wanted to try a skinny orange chicken.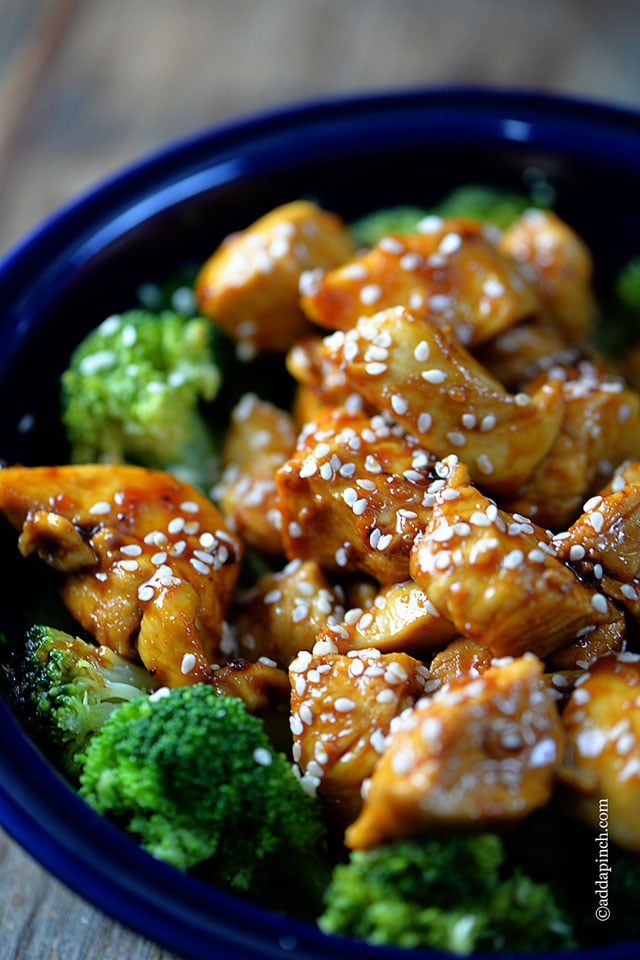 You know, the first of the year, that's what seems to be on our minds and this recipe seemed just ripe for a little reworking.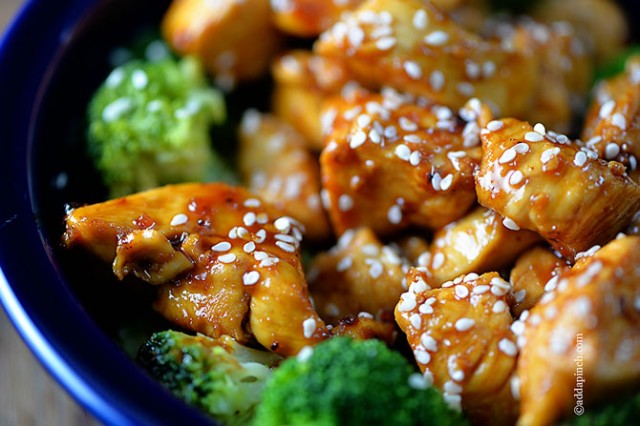 I began with four skinless, boneless chicken breasts that I sliced in half lengthwise and then cut into bite-sized pieces. I find that they cook a lot more evenly that way and it saves a ton of time when cooking chicken in recipes like this. You'll definitely want to make sure you are using a very sharp knife and I like to pop my chicken into the freezer for about 15 minutes as it makes them perfect for cutting, in my opinion.
I tossed my chicken into a skillet with a bit of oil. I used coconut oil as I was trying to make this recipe as Paleo-friendly as possible, but you can use olive oil, butter, or a combination of the two for great flavor.
While my chicken was browning, I mixed together the sauce for the chicken. While traditional orange chicken always calls for frying the chicken bites in a cornstarch batter. I omitted that part to reduce a few calories. Believe me, you won't miss it once you taste the sauce on this chicken!
Once the chicken was browned, I removed it from the skillet as I cooked the sauce to reduce it for the dressing. You are going to love the substitutions I made. It tastes so fresh and delicious!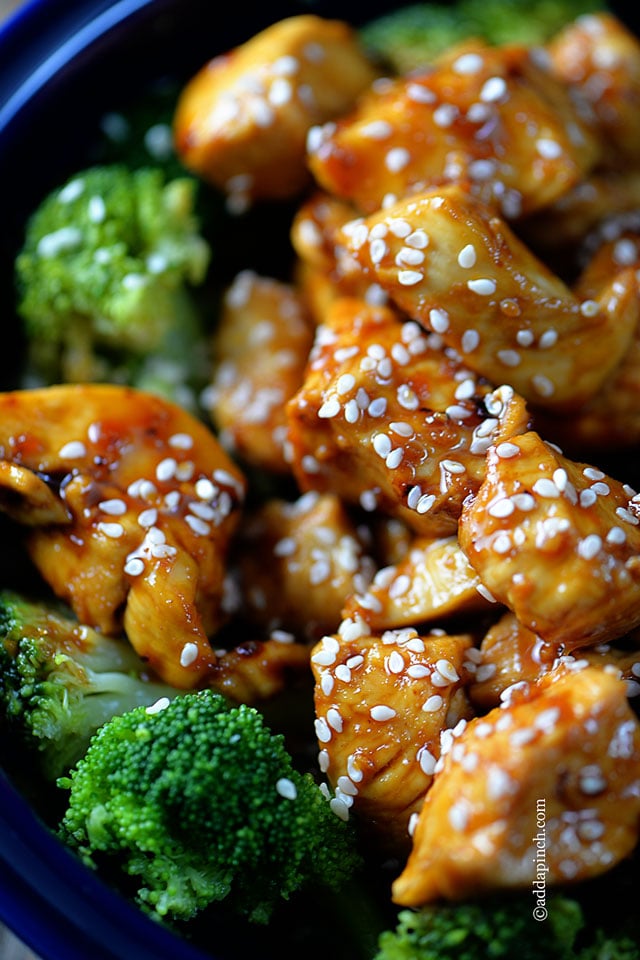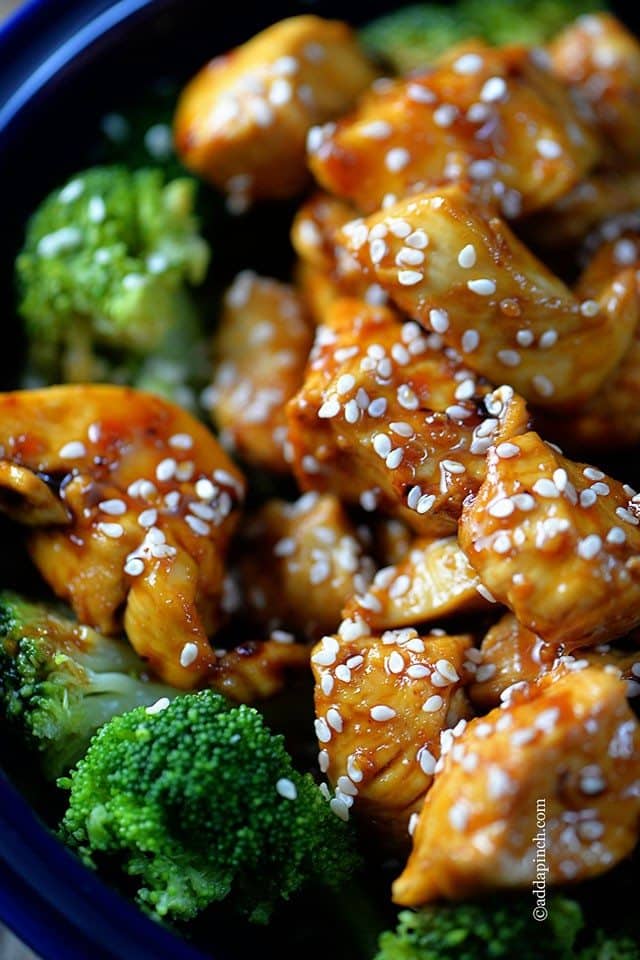 Here's my Skinny Orange Chicken Recipe. I think you are going to love it. I know we sure do!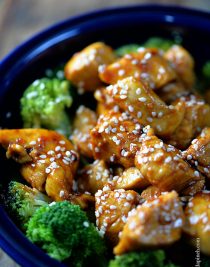 Skinny Orange Chicken Recipe
Total Time 25 minutes
Prep Time 5 minutes
Cook Time 20 minutes
Orange Chicken makes a favorite Chinese dish. Get this lightened up Skinny Orange Chicken recipe which is Paleo-friendly, gluten-free, and grain-free, but definitely not free of flavor!
Ingredients
4 skinless boneless chicken breasts cut into bite-sized pieces
1 tablespoon coconut oil
1/4 cup chicken stock
3 tablespoons honey or maple syrup
2 cloves garlic minced
1 tablespoon orange zest
1/4 cup fresh orange juice
3 tablespoons coconut aminos
1 1/2 teaspoons Sriracha sauce
1/4 teaspoon ground ginger
1 pinch red pepper flakes
1 teaspoon sesame seeds for garnish optional
Directions
Melt coconut oil in medium skillet over medium heat. Add in chicken pieces and cook until cooked through and browned, about 8-10 minutes. Remove from skillet and set aside.

While chicken is cooking, stir together chicken stock, honey or maple syrup, garlic, orange zest, orange juice, coconut aminos, Sriracha sauce, ginger and red pepper flakes. Pour into heated skillet once chicken has been removed and reduce to low heat. Cook, stirring often, until sauce has been reduced and coats the back of a wooden spoon. Remove from heat and pour over chicken.

To serve, spoon chicken over a bed of broccoli and then spoon on additional sauce. Top with sesame seeds, if desired.
Notes
If not concerned with making this recipe Paleo-friendly, use the following substitutions:
For 1 tablespoon coconut oil, use butter or olive oil or a combination of the two
For 1/4 cup coconut aminos, use 1/4 soy sauce
If your sauce does not thicken as desired, you may add the following to assist in the thickening:
Mix 1 - 2 teaspoons of tapioca flour or arrowroot powder, if Paleo OR cornstarch, if non-Paleo, with the same amount of water to form a paste. Stir into the sauce well to thicken.
All images and text © Robyn Stone for Add a Pinch
Are you interested in more lightened up favorites? Are you looking for more sugar-free, grain-free, or Paleo-friendly recipes? Please send me an email letting me know and I'll be sure to include more of what you are looking for this year.
Love to you all!
Robyn xo