Slow Cooker Hot Crab Dip Recipe
Slow Cooker Hot Crab Dip Recipe – A delicious hot crab dip recipe made even easier with the slow cooker! Serve with butter crackers or toasted bagels! Always a party favorite!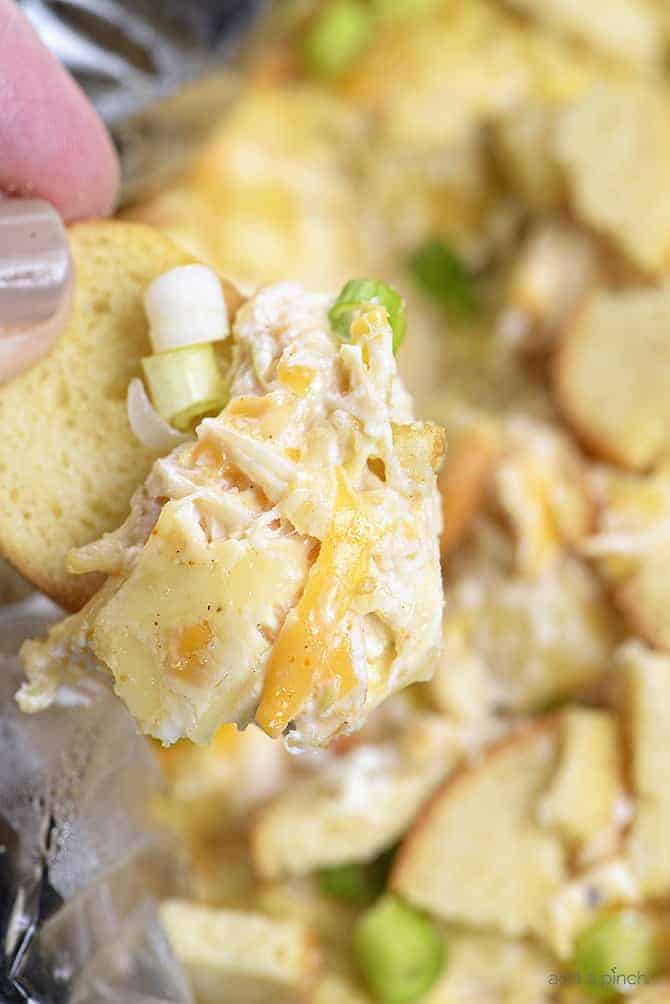 One of my favorite appetizers to share throughout the fall and holidays is this scrumptious hot crab dip recipe. Creamy, cheesy, and oh so delicious, it is always one of the appetizer recipes that friends, family and guests always love!
I've learned through the years that even though it disappears so quickly, it is one of those appetizers that is definitely best kept warm! Now, with this slow cooker recipe, making (and serving!) this fantastic appetizer is even easier!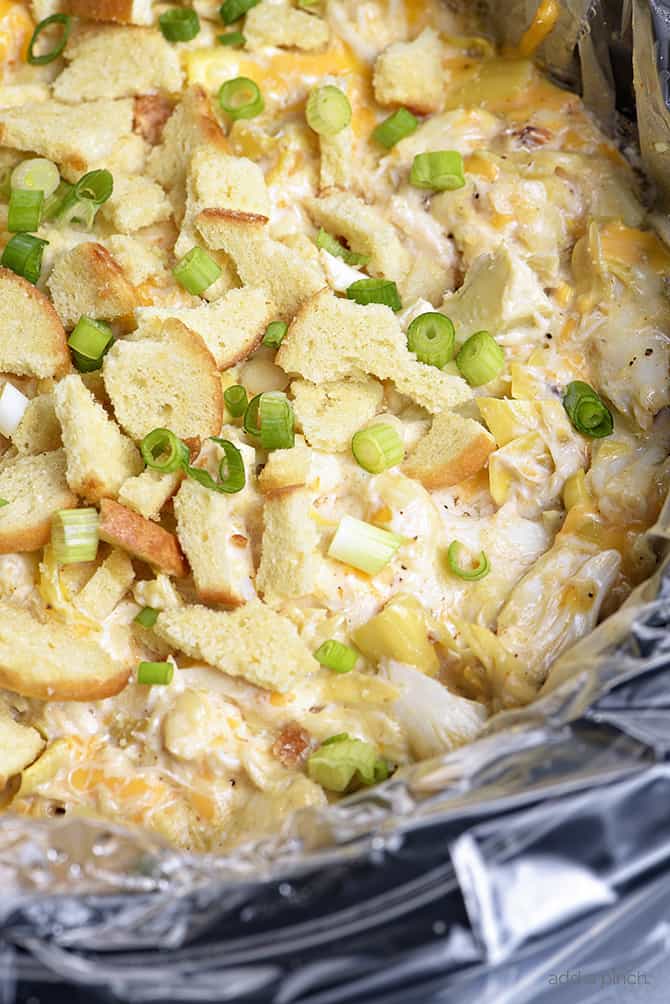 This dip is a delicious combination of lump crab, cream cheese, cheddar cheese, parmesan, onions, and garlic, mingled with a hint of Worcestershire and hot sauces. I also love to include chopped artichoke hearts in my hot crab dip recipe, but it is one of those ingredients that if you don't care for artichokes or have them on hand, you can definitely omit.
I like to mix all of the ingredients together for this hot crab dip and then fold in the lump crab right before transferring it to the slow cooker. That way, I am able to keep the large pieces of crab together as much as possible within the dip!
And through the years, I've found that this dip recipe is one that definitely needs to stay warm while serving. During a particularly busy college football weekend, I decided to toss the mixture into my slow cooker up at the Barn so that the dip stayed warm while we watched the game and snacked. It was absolutely life-changing and I've not made it any other way since!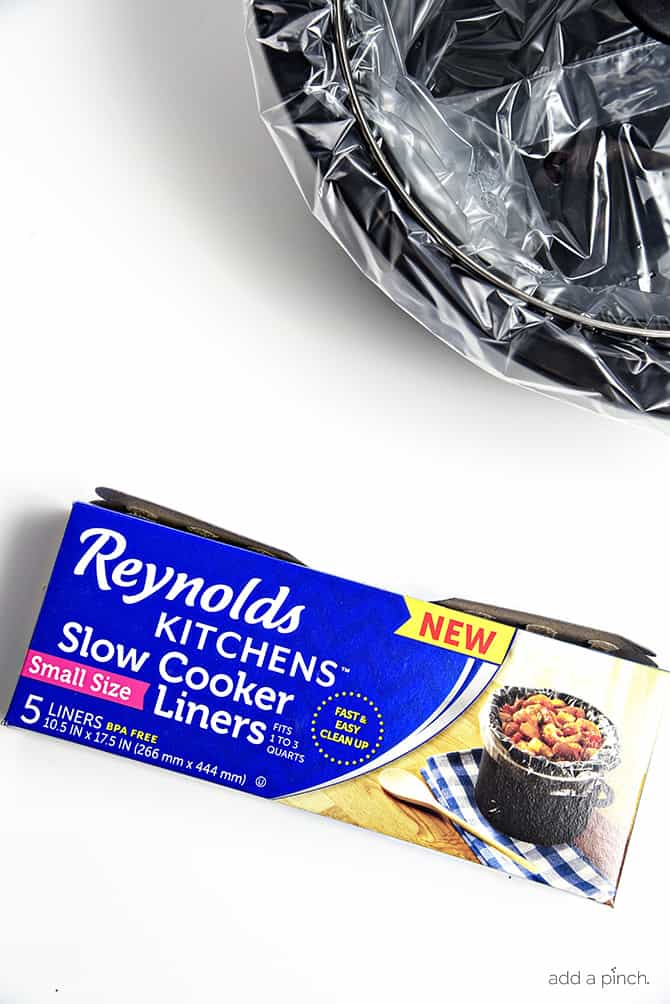 With one exception.
I've also discovered using these amazing Reynolds® Kitchens Slow Cooker Liners. After using them one time and seeing how fast and easy they make clean up of something like this hot dip staying warm for hours on end, I absolutely keep a supply of them on hand! I've always used the larger size, but love that they now have one that will fit 1 to 3 quart slow cookers! The perfect size for this dip!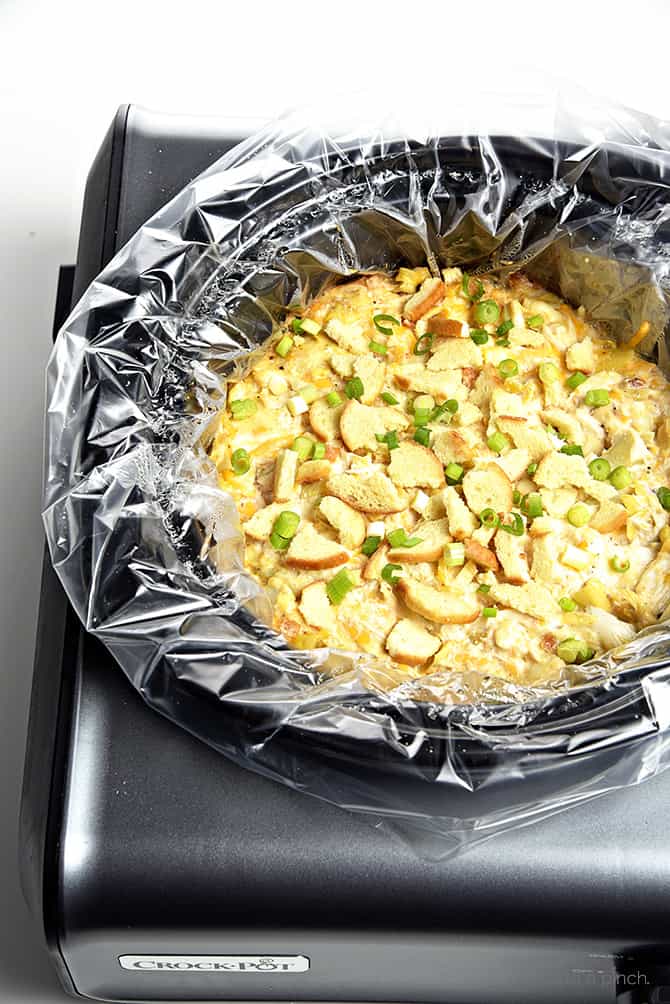 Once the hot crab dip has cooked through, I like to top it with pieces of whatever I'm serving it with – either butter crackers or toasted bagels. Then, I add a sprinkle of chopped green onions on top as well for serving.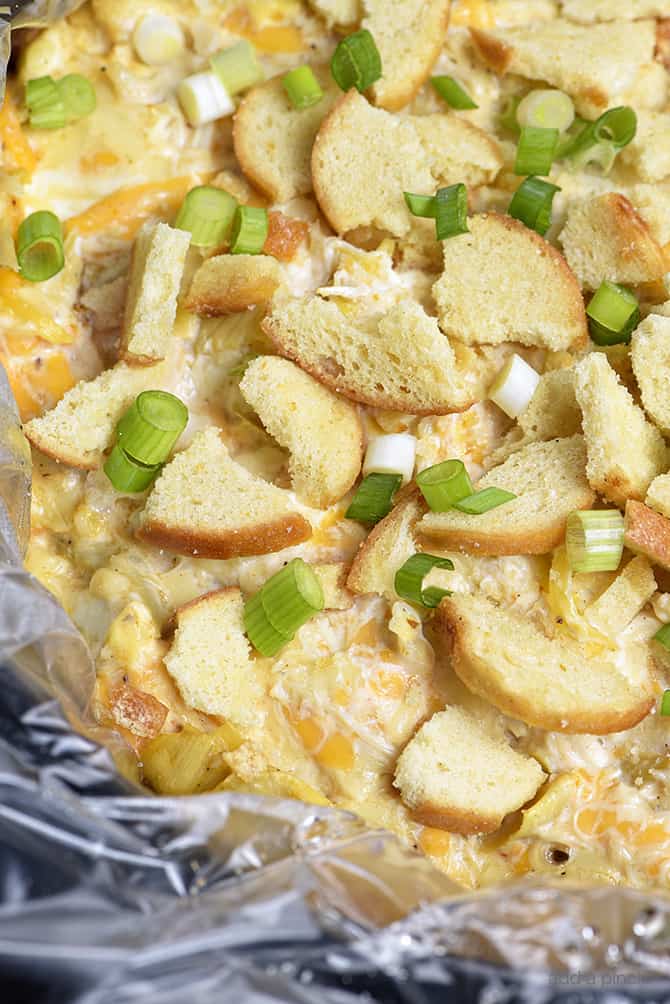 Here's my Slow Cooker Hot Crab Dip Recipe. I hope you love it as much as we do!
Slow Cooker Hot Crab Dip Recipe
Prep Time5 mins
Cook Time3 hrs
Total Time3 hrs 5 mins
Ingredients
1 pound lump crab meat
1 8-ounce package cream cheese, softened
1 14-ounce can artichoke hearts, chopped (optional)
1/4 cup mayonnaise or sour cream
1 tablespoon fresh lemon juice
1 teaspoon Worcestershire sauce
1 teaspoon hot sauce
2 cloves garlic minced
1/2 teaspoon dry mustard
1 cup shredded cheddar cheese
1/2 cup grated Parmesan cheese
3 green onions chopped and divided
butter crackers or toasted bagels for serving
Instructions
Pick through crab meat to remove any cartilage or shells. Set aside

Stir together cream cheese, chopped artichoke hearts, mayonnaise or sour cream, lemon juice, Worcestershire sauce, hot sauce, garlic, dry mustard, cheeses, and 1/2 of the green onions. Carefully fold in the crab meat, taking care not to break apart all of the large pieces of crabmeat.

Line a slow cooker with a Reynolds Slow Cooker Liner or lightly spray with nonstick cooking spray.

Transfer the crab mixture to the slow cooker, cover and cook on high setting for 3 hours or low setting for 6 hours.

Top the cooked crab dip with 6 roughly crushed butter crackers or about 1/4 cup of broken toasted bagel pieces. Top with remaining green onions and serve with crackers or bagels.
Enjoy!
Robyn xo

I am excited to partner with Reynolds® Kitchens for this post.