Homemade turtle candies make a delicious treat! This simple recipe uses five ingredients and comes together quickly! Great for gifts!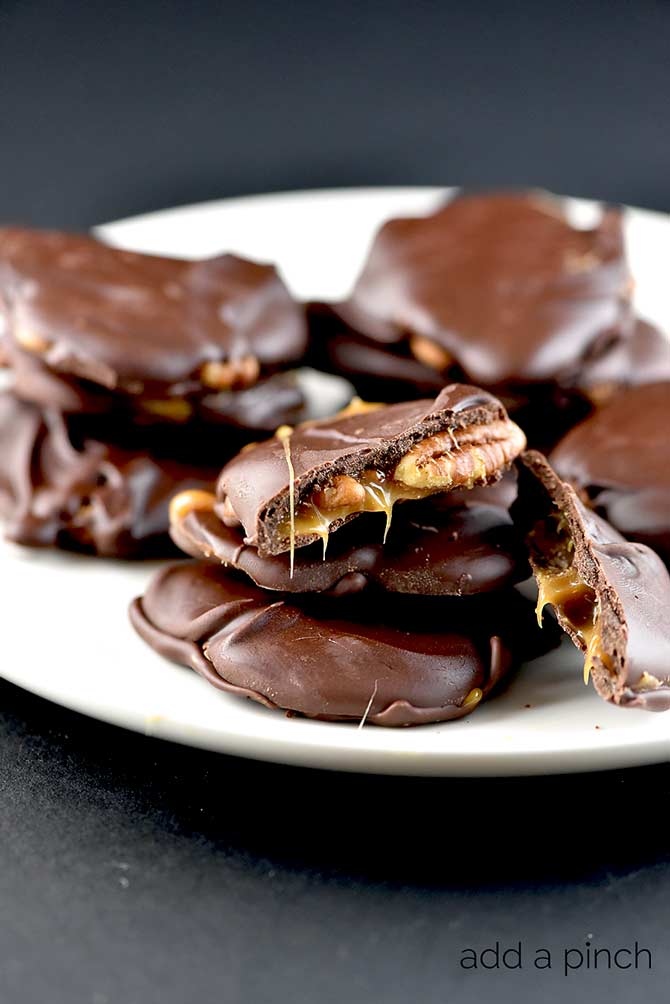 It's the last week of our homeschool co-op until after the first of the year and I think we are positively, without a doubt, absolutely ready for the break! Studying for midterms, finalizing projects, and preparing for a mock trial has definitely kept Little Buddy busy over the last few weeks and has had me worrying one day that he's studying too much and the next day worrying that he's not studying enough.
I remember when I was in eighth grade, I studied and studied for my Georgia History test for weeks. Coach Prater had drilled in our heads the importance of the test for our overall grades. He stressed it at such a level that I believed being able to label all 159 counties correctly would impact my ability to graduate high school, go to college, find a husband, have children, and everything else in life! The night before the big test, I stayed up with a small flashlight in my room studying until the wee hours of the morning.
I knew my Georgia History facts backwards and forwards. I could rattle them off without hesitation – founded by James Oglethorpe, had three signers to the Declaration of Independence, major economy in agriculture, etc, etc. I was going to ace that test. I just knew it!
And then, as I sat down at my desk to take my exam the next morning, I turned over the test when Coach Prater announced, "begin," and just then, without any prior warning, my mind went completely blank! Completely, without a doubt, like a big white sheet of paper blank! Needless to say I didn't ace that test. Not even close.
So, yesterday to drive those memories as far as possible from my mind, I got busy making these turtle candies to take and share with the other parents at co-op to celebrate the upcoming break from school, a break from the crazy studying as of late, and to – most importantly – wish them a Merry Christmas!
There's just something about the combination of chocolate, caramel, and pecans that is perfect for celebrations, I think.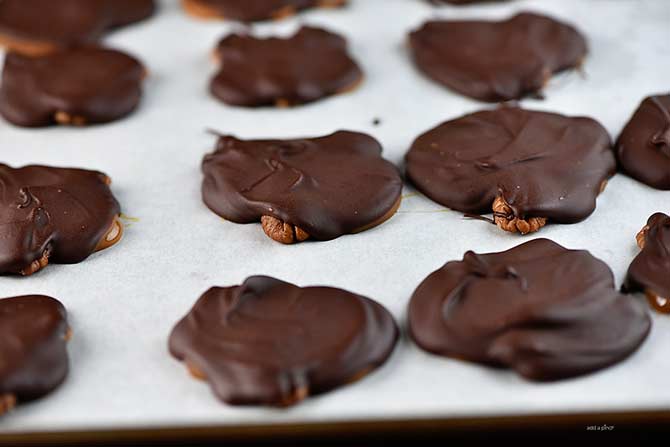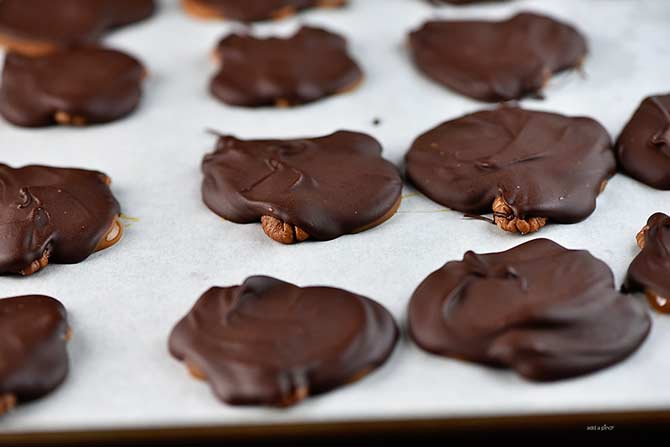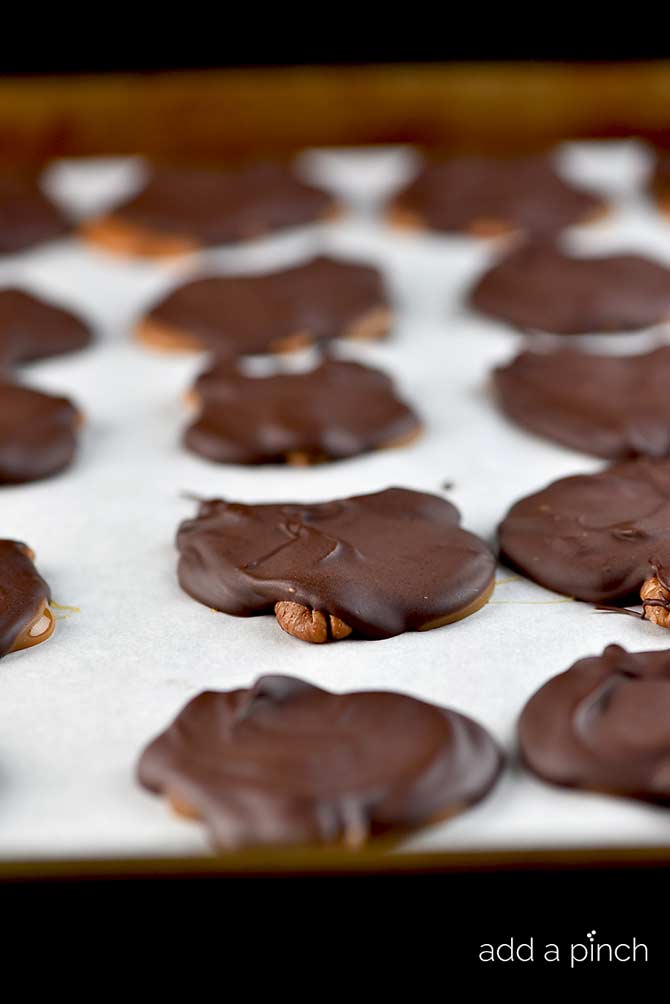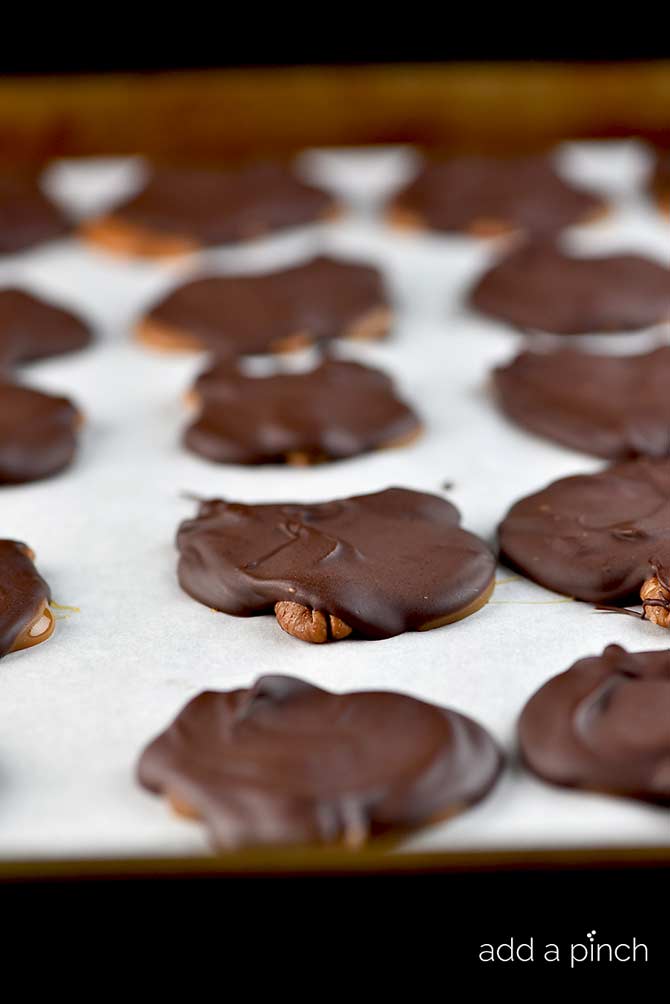 Turtle candies make a delicious chocolate candy treat during the holidays and special occasions. With just a few ingredients, they come together fairly quickly and always make a wonderful present to share! These remind me of the chocolate candies we had while we were on the cruise in October and that I brought home to Bart and Sam from the trip! Talk about delicious!
Make these turtle candies soon! I think you'll love them!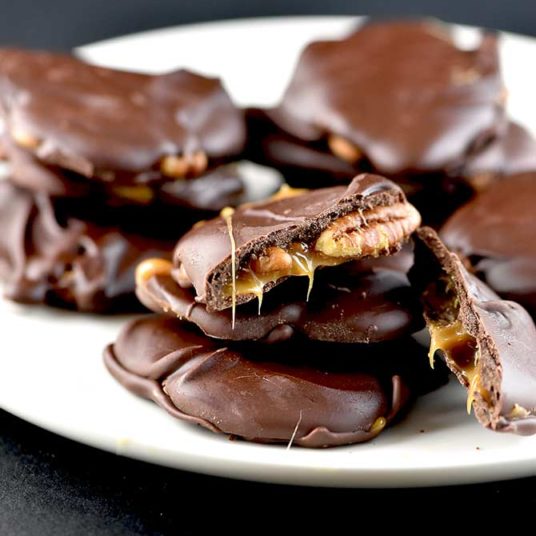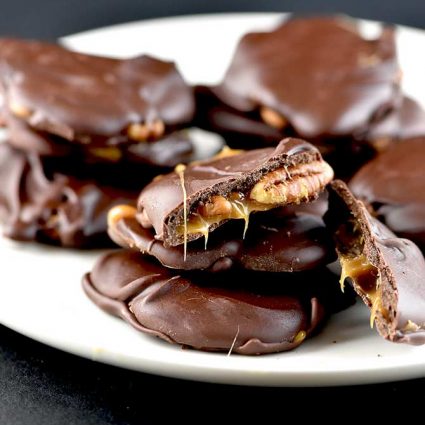 Turtle Candies Recipe
Homemade turtle candies make a delicious treat! This simple recipe uses five ingredients and comes together quickly! Great for gifts!
Ingredients
1 1/2

cups

chocolate chips

2

tablespoon

coconut oil

1

cup

pecan halves

,

plain or roasted

36

caramels

,

unwrapped

1

tablespoon

heavy cream

,

half and half or milk
Instructions
Line a rimmed sheet pan or cookie sheet with parchment paper.

Add chocolate chips and coconut oil to a microwave-safe bowl. Stir together and then microwave in 30-second increments until the chocolate chips have completely softened. Remove from microwave and stir together until smooth.

Spread 1/2 teaspoon drops of chocolate onto parchment paper, spaced about three or four per row. This will be the bottom of your turtle candy and will prevent the caramel from sticking.

Next arrange you pecan halves onto the warm chocolate.

Add caramel and heavy cream to a microwave-safe bowl. Microwave in 30-second intervals until the caramel has melted. Remove from the microwave and stir until smooth. Spoon about 1/2 teaspoon of caramel on top of the pecan halves.

Top caramel with a teaspoon full of melted chocolate and spread with the back of the spoon to cover the pecans and caramel as much as possible.

Refrigerate for 30 minutes to set completely before serving.
Notes
Package with parchment paper separating the turtles to prevent them from sticking together, if needed.
Nutrition
Calories:
103
kcal
|
Carbohydrates:
13
g
|
Protein:
1
g
|
Fat:
5
g
|
Saturated Fat:
2
g
|
Polyunsaturated Fat:
1
g
|
Monounsaturated Fat:
1
g
|
Trans Fat:
0.01
g
|
Cholesterol:
2
mg
|
Sodium:
30
mg
|
Potassium:
33
mg
|
Fiber:
0.5
g
|
Sugar:
11
g
|
Vitamin A:
29
IU
|
Vitamin C:
0.1
mg
|
Calcium:
25
mg
|
Iron:
0.2
mg
Nutrition information is automatically calculated, so should only be used as an approximation.
Enjoy!
Robyn xo
Disclosure: I was a guest of Princess Cruises.