Sharing our Weekly Meal Plan with make-ahead tips, freezer instructions, and ways make supper even easier!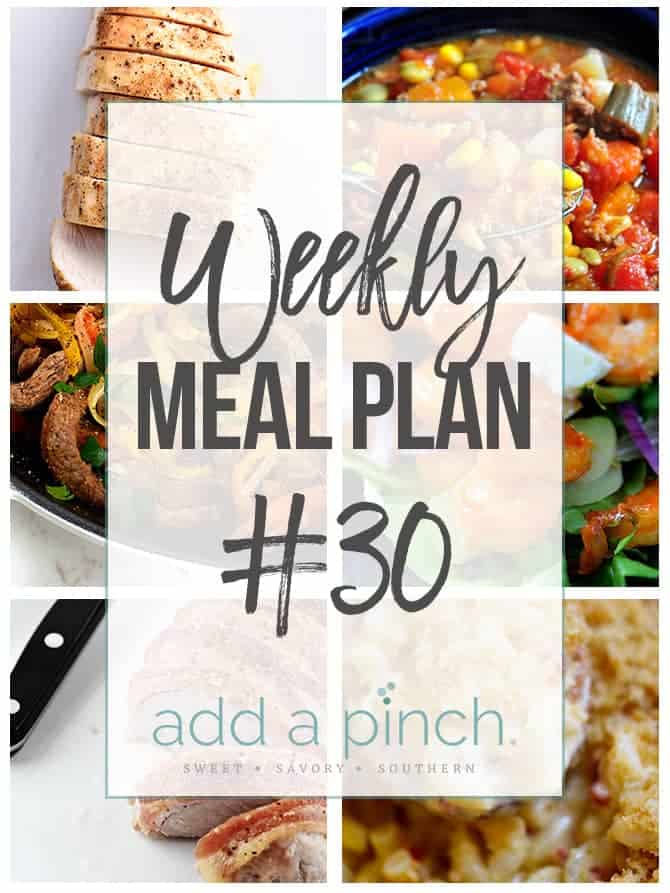 Saturday: Plan for Family Night Out
Sunday: Baked Chicken, Broccoli, Macaroni & Cheese + Apple Crisp (Make Ahead)
Monday: Slow Cooker Vegetable Soup + Cornbread (Slow Cooker + 30 Minutes)
Tuesday:  Steak Fajitas + Guacamole + Restaurant Style Salsa (30 Minutes)
Wednesday: Buffalo Shrimp Salad (15 Minutes)
Thursday: Sheet Pan Brown Sugar Salmon and Vegetables (from the Add a Pinch Cookbook) (30 Minutes)
Friday: Bacon Wrapped Pork Tenderloin+ Green Beans + Roasted Carrots
Meal Plan Tips:
While my family is out of town this week in Alaska, I'm sharing what I would be preparing if we were in town since I like to make my meal plans in advance. 🙂 You can definitely follow along on our Alaskan trip on Instagram, if you'd like!
Sunday:
Mac & Cheese: Make Southern Macaroni and Cheese up to 3 days ahead and store in the refrigerator. If not serving a large crowd, divide the recipe into two containers – one for now and one for later! Spread the macaroni and cheese into two 8 x 8 containers. Do not add the buttery cracker topping. Wrap one for the refrigerator to bake within 3 days and the other for the freezer for up to a month!
Monday: 
Slow Cooker Vegetable Soup: Add all of your ingredients to the slow cooker insert, cover with the lid and store in the refrigerator overnight. Then, before heading out the door on Monday morning, grab your insert out of the fridge and let it come to room temperature as you have breakfast. Then, start it as you head out the door!
Tuesday:
Steak Fajitas: To get a head start and reduce time even more, go ahead and prep all the veggies and store in airtight containers in your refrigerator. You can also make your salsa earlier in the week as you have time. It keeps well. I do recommend making your guacamole fresh before serving for best results!
Wednesday:
Buffalo Shrimp Salad: Even though this recipe comes together quickly, you'll want to make your buffalo sauce ahead of time. I love my homemade version, but you can always use store-bought if you like.
Thursday:
Brown Sugar Salmon and Veggies: Another easy and delicious recipe from the cookbook that my family enjoys! Everything cooks in one pan for easy cooking AND cleaning!
Friday:
Bacon Wrapped Pork Tenderloin: To get a head start on this one, you can go ahead and wrap the pork tenderloin ahead of time and then wrap tightly and store in the refrigerator. Then, just remove the wrapping and cook as directed.
Have a great week!
Robyn xo