There are days when 30 minutes is about all I have available to prepare a healthy meal for my family. I want to make sure to provide them with delicious, nutritious meals even on the evenings when I am pushed for time.
This week, I discovered a dish that fits perfectly into this category – Honey Ginger Salmon.
My husband had just returned from a fishing trip in Alaska with his father, his brothers, and a few friends.
Each of the fishermen brought home 70 pounds of fish – halibut, salmon, and some red snapper. I was beyond excited! I not only love to prepare fish, I love to eat it! Luckily so does Little Buddy. It's a favorite around my house.
This is the 167 pound halibut my husband caught. The day he caught this, another one of the people in his boat caught one weighing 198 pounds. Um, that's a whole lot of fish!
I'm sure I'll be sharing halibut recipes soon, but for this meal – it's all about the salmon baby. My favorite.
Honey Ginger Salmon Recipe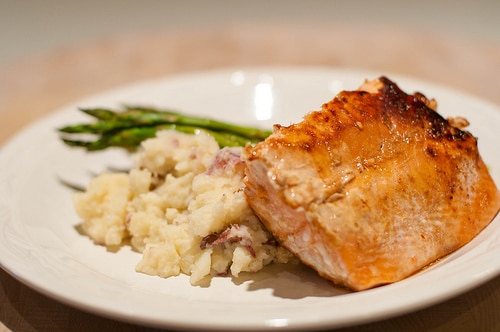 Family-favorite recipe for honey ginger salmon.
Ingredients
Olive Oil

4 3-

ounce

salmon filets

Honey

2

Tbs

Soy Sauce

1/4

tsp

ground ginger
Instructions
Heat skillet or saute pan to medium heat and lightly coat with olive oil.

Place salmon skin side down in skillet.

Drizzle with honey until well coated.

Mix soy sauce and ginger and pour over salmon.

Allow to cook for 5 minutes. Turn gently.

Cook another 3-5 minutes depending on thickness of piece of fish.

To plate, my family prefers for the skin to be removed.

Spoon some of the yummy honey, soy and ginger sauce over each piece of fish before serving. It has a ton of flavor.
This dish is perfect when served with smashed potatoes and asparagus or even on a fresh salad. Good, fresh salmon prepared well is really good with anything. Or even by itself.
Oh I'm so glad my husband had good luck on his fishing trip!