Caramelized Onion and Thyme Flatbread recipe makes a wonderful appetizer or side to a large salad.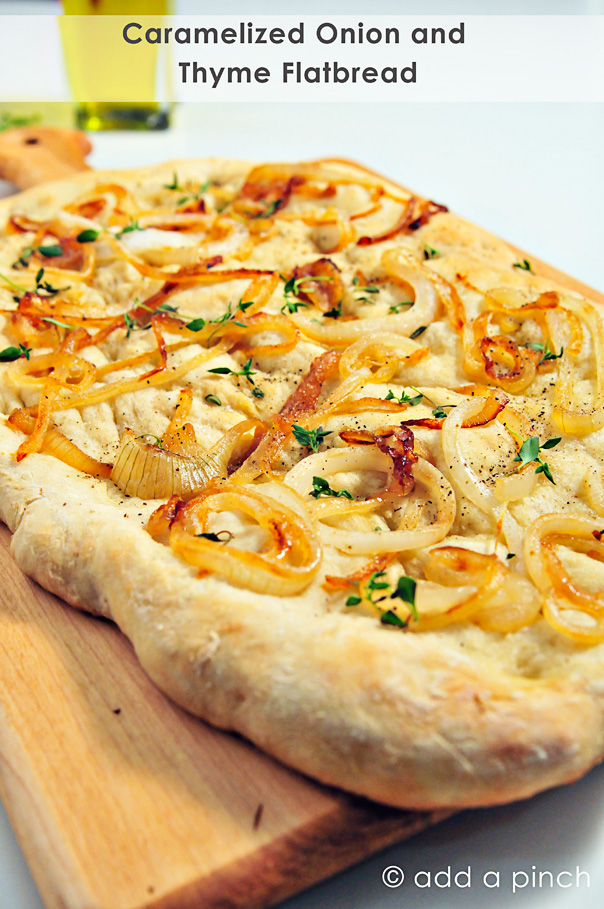 Caramelized Onion and Thyme Flatbread. Doesn't the name alone just make your mouth water? This past weekend we celebrated the last day of school with a fun pizza and movie night. Little Buddy chose the pizza toppings and the movie, but I made a quick appetizer to munch on as our pizzas were coming together.
I already had plenty of pizza dough rising in bowls on my counter and onions caramelizing to add to the endless topping options I was preparing, so I decided to pull off a portion of the dough for this quick flatbread.
As I cut it into pieces we could easily hold in our hands as we meandered around chatting about what we wanted to do this summer, Little Buddy asked me this question,
"So, what's the difference between flatbread and pizza anyway?"
At first I answered that although it uses pizza dough, it doesn't include cheese which is the major difference. He replied that his friend Ben couldn't eat cheese and ordered cheeseless pizzas all the time.
Then, I said that maybe it was because pizzas are usually round and flatbreads are not. He reminded me that my pizzas are rarely ever round and asked if that meant we had been eating flatbreads all this time.
It was a lot to consider. Had my pizza-making-life all been wrong? Was I really making flatbread all this time? Or, are flatbreads and pizzas really the same thing after all?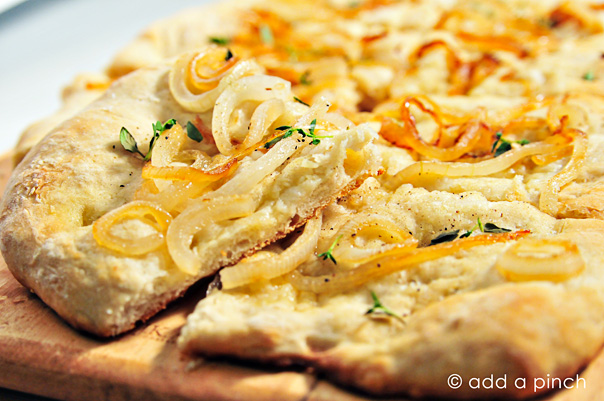 Here's the recipe for my Caramelized Onion and Thyme Flatbread… errr… Pizza…. err… Flatbread.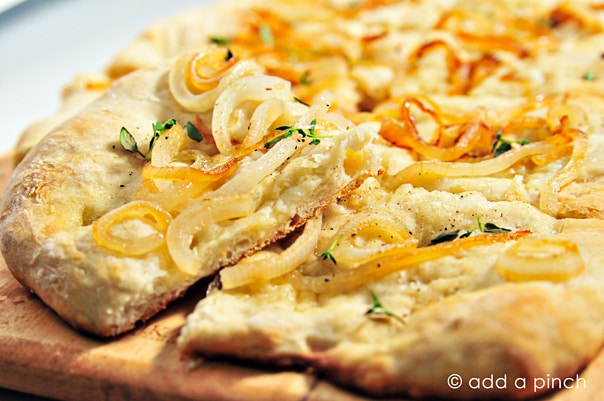 Caramelized Onion and Thyme Flatbread Recipe
Caramelized Onion and Thyme Flatbread makes a wonderful appetizer or side to a large salad.
Ingredients
2

large

onion

,

thinly sliced

3

tablespoons

olive oil

fresh thyme

ground black pepper
Instructions
Preheat oven to 425º F.

Prepare pizza dough according to recipe directions. Spread dough onto a baking pan lightly coated with olive oil. Make indentions into dough with finger tips and lightly drizzle crust with olive oil.

Drizzle olive oil into a large skillet over medium heat. Add onion slices and allow to cook until caramelized and tender, about 10 minutes. Watch onions closely so they do not overbrown. Arrange onions onto pizza dough and bake for 15-20 minutes until golden brown.

Remove from oven and immediately top with fresh thyme leaves that have been removed from the stem.

Sprinkle with salt and pepper, slice, and serve warm.
Notes
To reduce time, you can prepare pizza dough and store in an airtight container in the refrigerator for a few days until ready to use. Additionally, you could use prepared pizza dough purchased at your grocery store.
Nutrition
Calories:
235
kcal
|
Carbohydrates:
32
g
|
Protein:
4
g
|
Fat:
10
g
|
Saturated Fat:
1
g
|
Polyunsaturated Fat:
1
g
|
Monounsaturated Fat:
7
g
|
Sodium:
99
mg
|
Potassium:
77
mg
|
Fiber:
1
g
|
Sugar:
3
g
|
Vitamin A:
1
IU
|
Vitamin C:
2
mg
|
Calcium:
12
mg
|
Iron:
2
mg
Nutrition information is automatically calculated, so should only be used as an approximation.
I'd love to know what you think on this flatbread versus pizza discussion.