Chicken Artichoke Pizza made with homemade pizza crust, cheese, chicken and artichoke hearts makes a pizza recipe everyone loves!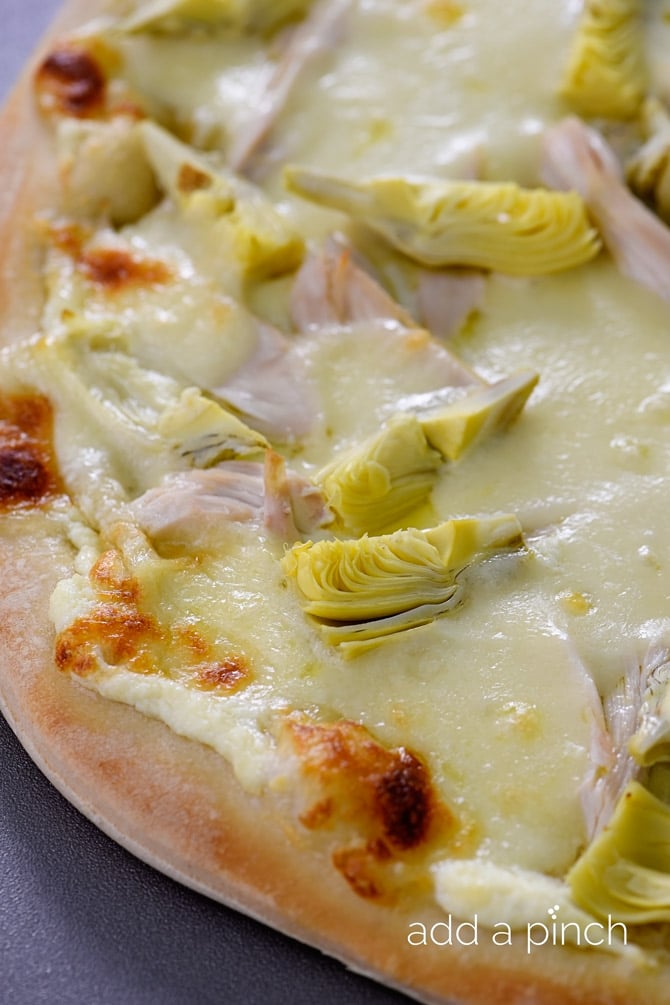 A few years back, we started a tradition of making homemade pizzas and watching movies to celebrate the weekend. Some weekends, other things come along and we aren't able to make it, but when we do, it is a pure and complete joy.
We installed a pull down projection screen onto one end of the porch that we can pull down and project movies onto when the weather cools off. We grab blankets, our plates and drinks and settle in to watch movies on our own little homemade "big screen". It doesn't matter what we watch or if we've seen it 11-billionty times before, when we head out to the porch for pizza/ movie night, we don't care a bit.
Last week as we were talking about planning to start up our porch pizza/ movie nights again, I mentioned that we needed to start making a list so we could plan our movies. I named some of my favorites – Gone with the Wind, Pride and Prejudice, Steel Magnolias to which I didn't receive any reaction (which, by the way, since I was the note taker it meant they made the list! Ha!). Finally, I said, "how about Top Gun?" Bart immediately perked up and Sam said, "I've never seen it."
"Whoa. Wait. What did you just say? Are my ears deceiving me? Did you just say, "I've never seen it?"
"I've never seen it. Is it good?"
Even though it was 10:30 pm and Bart had a long day ahead the next day for work and I was just out of my self-imposed, yet totally necessary in my mind quarantine, I wanted to go pop a bowl of popcorn and snuggle in to watch it right then and there. To heck with bedtimes and schedules.
Smarter, more routine-oriented minds prevailed – Bart's and Sam's – and we decided it would be first on the list for pizza/ movie night.
Can you even venture to guess how long it took for me to get that baby planned?
Right. Less than 24 hours later, pizzas were made and Tom Cruise and Kelly McGillis were bigger than life right there on our back porch. Thank goodness for fans and a cool front.
Here's my Chicken Artichoke Pizza recipe. I hope you love it, too!
Chicken Artichoke Pizza Recipe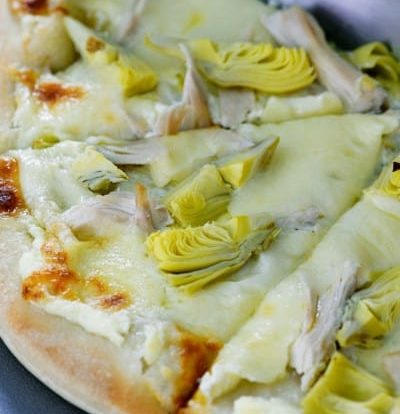 Chicken Artichoke Pizza made with homemade pizza crust, cheese, chicken and artichoke hearts makes a pizza recipe everyone loves!
Ingredients
olive oil

4

ounces

Ricotta cheese

2

cups

roasted, shredded chicken breast (about 2 breasts)

1

(14-ounce) can

artichoke hearts, drained and quartered

4

ounces

Mozzarella cheese

sliced

4

ounces

Parmesan cheese

grated
Instructions
Preheat oven to 500º F. Drizzle olive oil onto a rimmed baking sheet pan or a pizza pan, enough for a 14-inch pizza. Work pizza dough onto the pan. Drizzle additional olive oil on top of the pizza dough. Using a rubber spatula or the back of a spoon, spread the ricotta cheese over the crust, leaving an edge to the dough for the crust. Then top with shredded chicken, artichoke, mozzarella slices and finally with Parmesan cheese.

Place into the preheated oven and bake for 13 to 15 minutes, until the pizza crust is golden brown and the cheeses have all melted and begin to slightly bubble.

Remove from the oven, slice and serve.
Notes
Prep time does not include time for the pizza dough to rise or the chicken to roast.
You may use rotisserie chicken as a time-saver as well.
Nutritional Information
Calories:
286
kcal
|
Carbohydrates:
25
g
|
Protein:
22
g
|
Fat:
11
g
|
Saturated Fat:
6
g
|
Polyunsaturated Fat:
1
g
|
Monounsaturated Fat:
3
g
|
Trans Fat:
0.01
g
|
Cholesterol:
52
mg
|
Sodium:
725
mg
|
Potassium:
177
mg
|
Fiber:
1
g
|
Sugar:
3
g
|
Vitamin A:
281
IU
|
Vitamin C:
0.5
mg
|
Calcium:
271
mg
|
Iron:
2
mg
Enjoy!
Robyn xo