Jump to Recipe • Print Recipe
Chicken Parmesan has to be one of my very favorite dishes to order when we go out to certain restaurants. You know how Chicken Parmesan has that light, beautifully fried, herby crust, a touch of tomato sauce, and is then smothered in cheese? Well, my homemade Chicken Parmesan recipe didn't skimp on any of those facets of my favorite restaurant dish!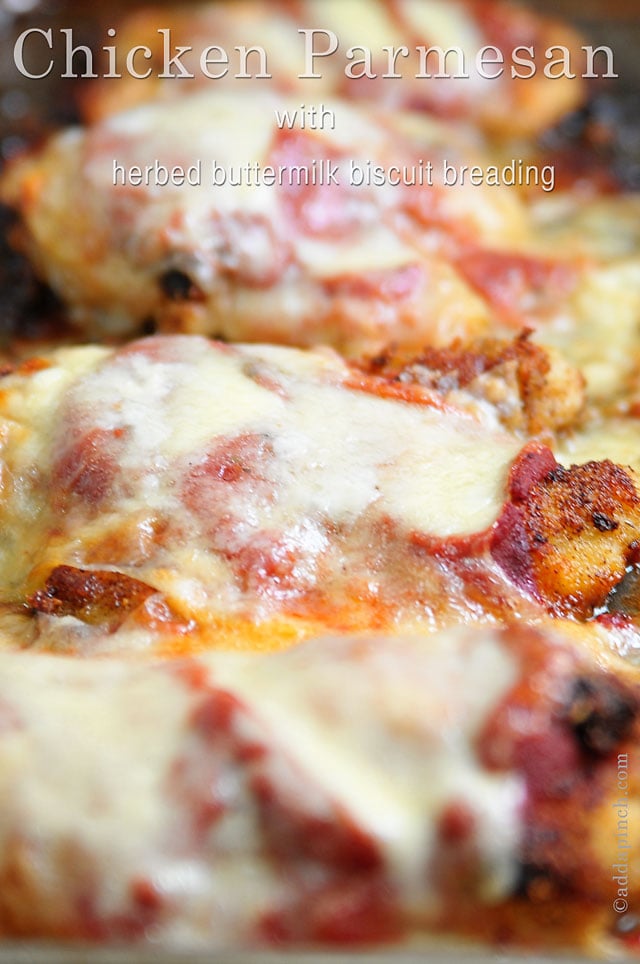 First, I do have to share that you want to make sure that your chicken is uniform in size. You can handle that by placing your skinless, boneless chicken breasts between two pieces of parchment paper or in a zip top bag and pounding it with an iron skillet or mallet, whichever you prefer. OR, you can (very carefully) slice your chicken in half lengthwise.
If you need to get any frustrations out of your system, I recommend the iron skillet method.
If you are good with a knife and short on time, I recommend the slicing method.
Your pick.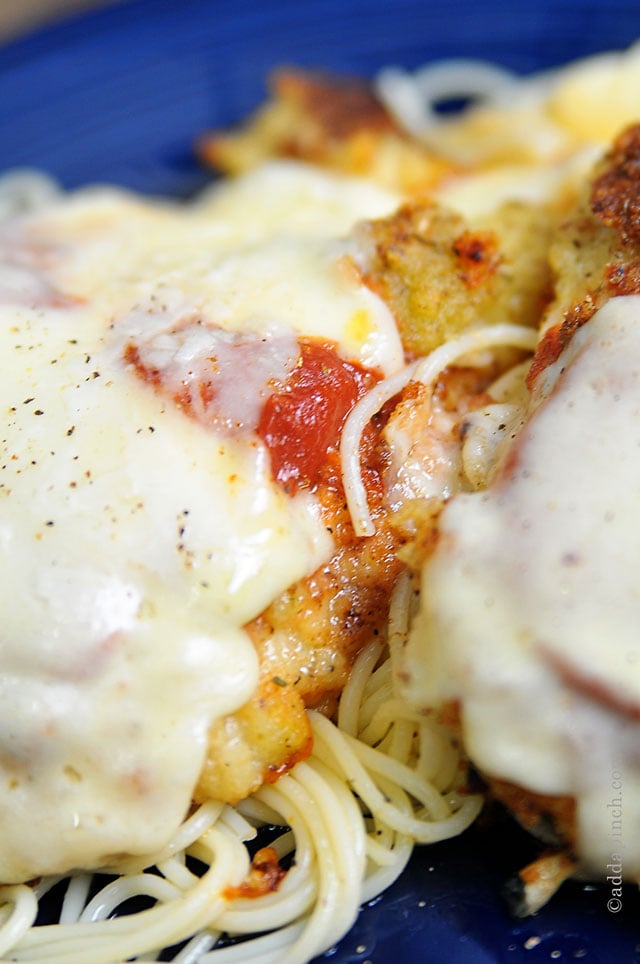 The next secret to my Chicken Parmesan is the herbed buttermilk biscuit breading. Yep. I went there.
I know that Panko works great and bread crumbs are fine, too. BUT, if you've not tried buttermilk biscuit crumbs as breading when frying, you are missing out. BIG TIME! You just save any biscuits leftover (or make a batch and hide them) from breakfast and let them get cold. Then, toss them into a blender or food processor along with your fresh basil, dried oregano, and some Parmesan cheese. Oh my word!
Give it a few whirls in the blender or food processor and then pour it into a large flat dish for dredging.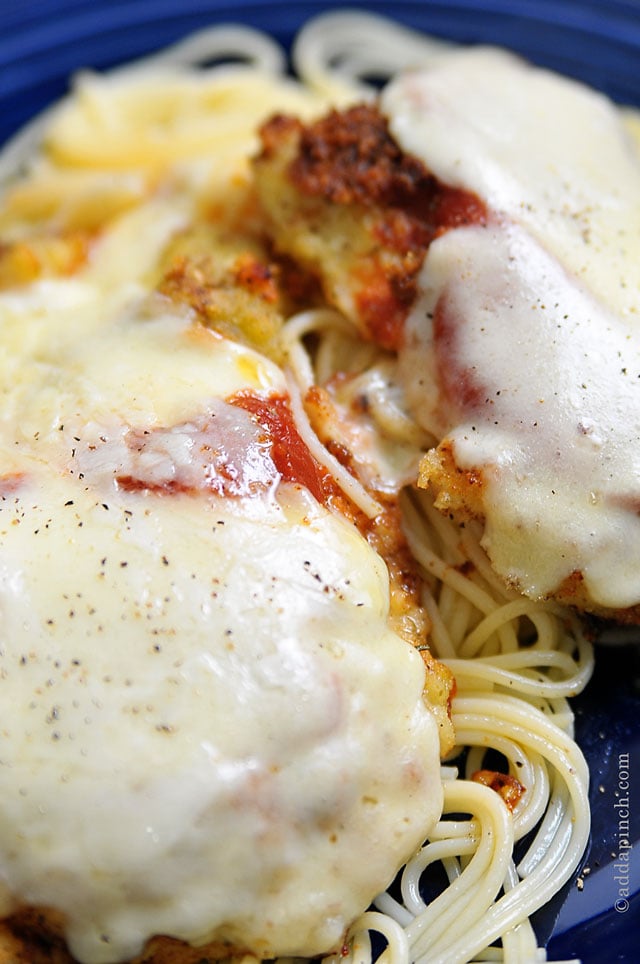 Basically, I set up a station as follows: Prepared chicken, then a large flat dish of buttermilk, the an large flat dish of buttermilk biscuit breadcrumbs, and then a 12-inch skillet ready to fry those babies. On the other side of the skillet, I have another kitchen sheet pan ready to receive the fried chicken so that I can pop it into the oven for baking.
Then, after they have baked a while in the oven, I add the tomato sauce and cheeses and let them bake a little bit longer until the cheese is all super-duper melty.
Goodness gracious, how I love this Chicken Parmesan.
But now, I only like it with this herbed buttermilk biscuit breading.
And you know what? My favorite restaurant's version doesn't taste nearly as good any more.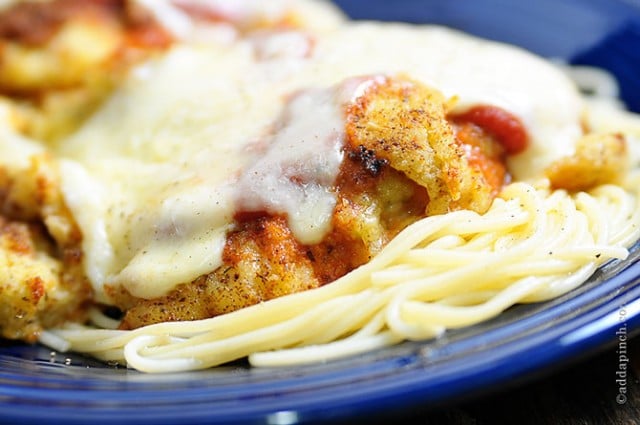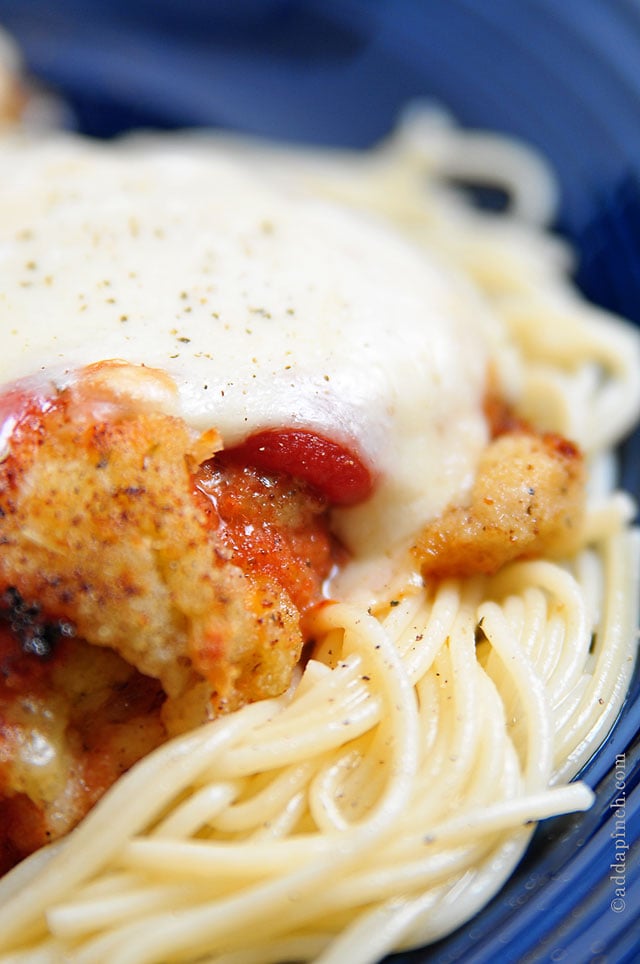 Here's my Chicken Parmesan with Herbed Buttermilk Biscuit Breading recipe. Make it one night when you need total comfort food. You'll love it!

Chicken Parmesan with Herbed Buttermilk Biscuit Breading Recipe
Chicken Parmesan becomes a homemade favorite with this recipe for Chicken Parmesan with Herbed Buttermilk Biscuit Breading.
Author:
Robyn Stone | Add a Pinch
Ingredients
6 skinless, boneless chicken breasts
¼ cup all-purpose flour
2 cups whole buttermilk
1 recipe herbed buttermilk biscuit breading
1 cup olive or vegetable oil
1½ cups prepared tomato sauce
1 teaspoon dried oregano
1 cup Mozzarella cheese, cut into thin slices
1 cup grated Parmesan cheese
1½ tablespoons olive oil
For the Herbed Buttermilk Biscuit Breading
1 recipe buttermilk biscuits
12 fresh basil leaves
1½ teaspoons dried oregano
½ cup Parmesan cheese
½ teaspoon salt
½ teaspoon ground black pepper
Instructions
Preheat oven to 450º F.
Slice chicken in half lengthwise, taking care to keep both pieces of chicken uniform in size and about ½-inch thick. Alternately, place chicken between two pieces of parchment paper or inside of a zip top bag and pound with an iron skillet until the chicken is about ½-inch thick. Once all chicken has been prepared, place onto a piece of parchment paper and dust both sides liberally with all-purpose flour.
Pour buttermilk into a flat, deep dish for dredging chicken.
Prepare Herbed Buttermilk Biscuit Breading by placing all ingredients listed for breading into a food processor or blender and pulsing until fine bread crumbs have been made. Pour into another flat, deep dish for the next step in dredging.
Dredge the chicken by first dipping into the buttermilk, then into the biscuit breading. Place onto a sheet pan and repeat until all chicken has been breaded. Allow to rest for about 10-15 minutes before frying.
Heat 1 cup of olive or vegetable oil in a 12-inch skillet over medium heat. Once the oil begins to sizzle when you drop in a drop of water, it is ready to cook the chicken.
Fry chicken on each side for about 2-3 minutes, or until golden brown. Remove to a clean baking dish or sheet pan that will be placed in the oven. Once all chicken has been fried, place the sheet pan in the oven for 12 minutes. The chicken will finish cooking in the oven.
Remove the chicken from the oven and top each piece with about ¼ of a cup of prepared tomato sauce, a sprinkle of dried oregano, and pieces of Mozzarella cheese and grated Parmesan. Return to the oven to bake until hot and bubbly and the cheese has melted, about 5 more minutes.
Remove from the oven and allow to rest about 3 minutes before serving.
Notes
To freeze: Prepare Chicken Parmesan as directed, without adding cheese and baking the final 5 minutes. Allow to cool completely, cover tightly with aluminum foil and freeze. To reheat: Remove from freezer and place in the refrigerator to thaw overnight or for at least 6 hours. Preheat oven to 450º F and top chicken with cheeses. Place in oven for 15 minutes to heat throughout and melt cheese.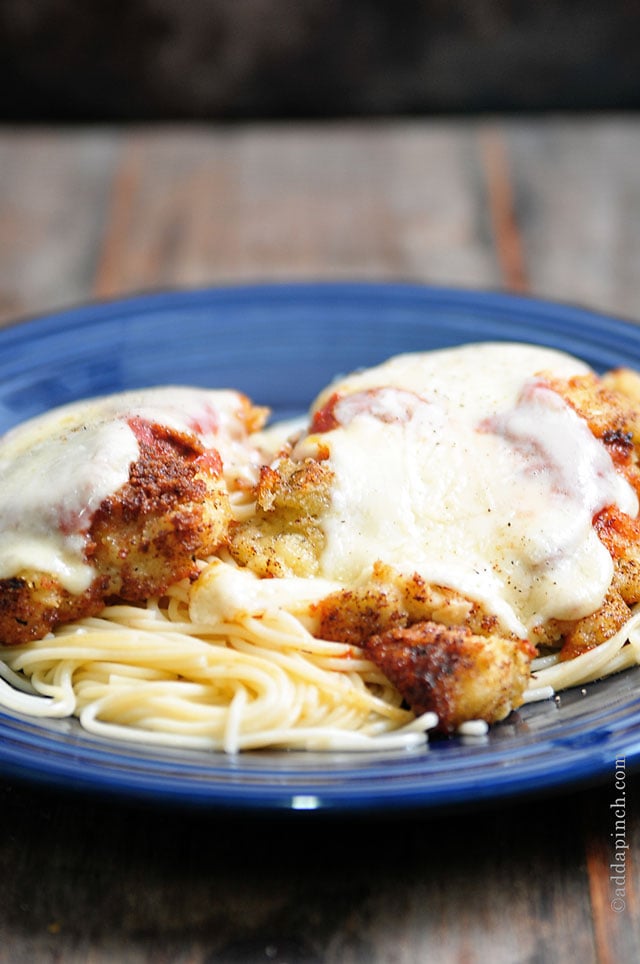 Enjoy!
Robyn xo