While I was in New York City for the BlogHer conference and other fun stuff, I was able to attend a cocktail party at the rooftop club, Salon de Ning, of The Peninsula New York.
The cocktail party was beautiful and fun and I loved being able to hang out with my friends and meet so many people I admire. The food served at the party was delicious, as you would expect at a food blogging event, and the conversation fun and lively. I tasted club's signature drink, the Lychee Sling, and think I probably sighed it was so tasty. So much so that I went right up and asked if I could have the recipe for the drink and get a couple of photographs of it to share on my blog.
Now, this is where real friends come in. I had my camera with me, but was sporting my travel lens (18-200mm) instead of my food lens (55mm). Luckily, Amy was there with the proper equipment and came to my rescue. And Erika stepped in to give me a hand since it was so dark on the rooftop to get the shot just perfect.
Great friends indeed.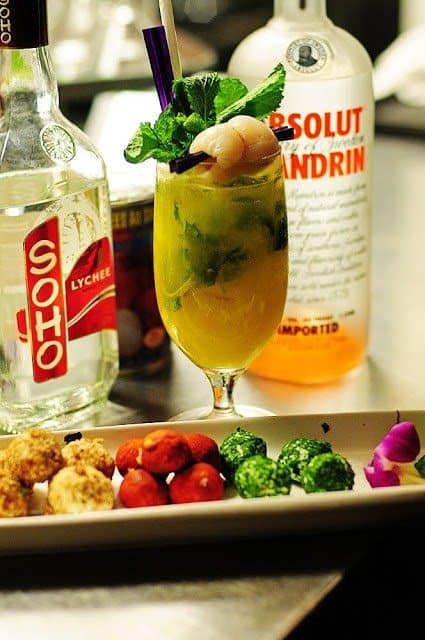 Just look how beautifully Terence of Salon de Ning styled the drink! I am still so impressed!
Cocktail Recipe :: The Lychee Sling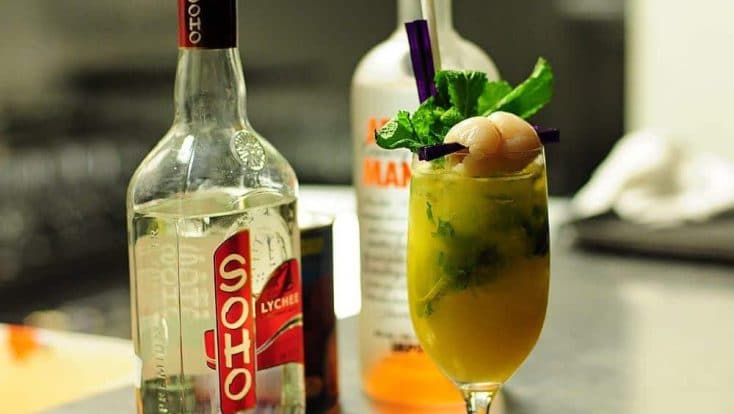 A delicious summery drink from the bar at The Peninsula Hotel in NYC.
Ingredients
2 ounces

Absolute Mandarin

1 ounce

Lychee Liqueur SOHO

Passion Puree Capfruit

Lychee Puree Capfruit

Garnish with fresh mint and a cocktail pick with lychee fruit
Instructions
Garnish with fresh mint and a cocktail pick with lychee fruit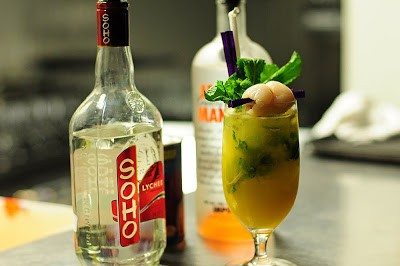 If you are ever in NYC, stop by The Peninsula New York and visit the Salon de Ning. The service is impeccable and the staff is excellent. When you go, be sure to try the Lychee Sling. And if you aren't headed to NYC anytime soon, this would make a great drink to try at your next cocktail party or event. It's a perfect summery cocktail that will impress your guests!
Enjoy!