Limeade makes a refreshing drink, especially in the summer. Made of limes, sugar, and water, this limeade recipe is a keeper!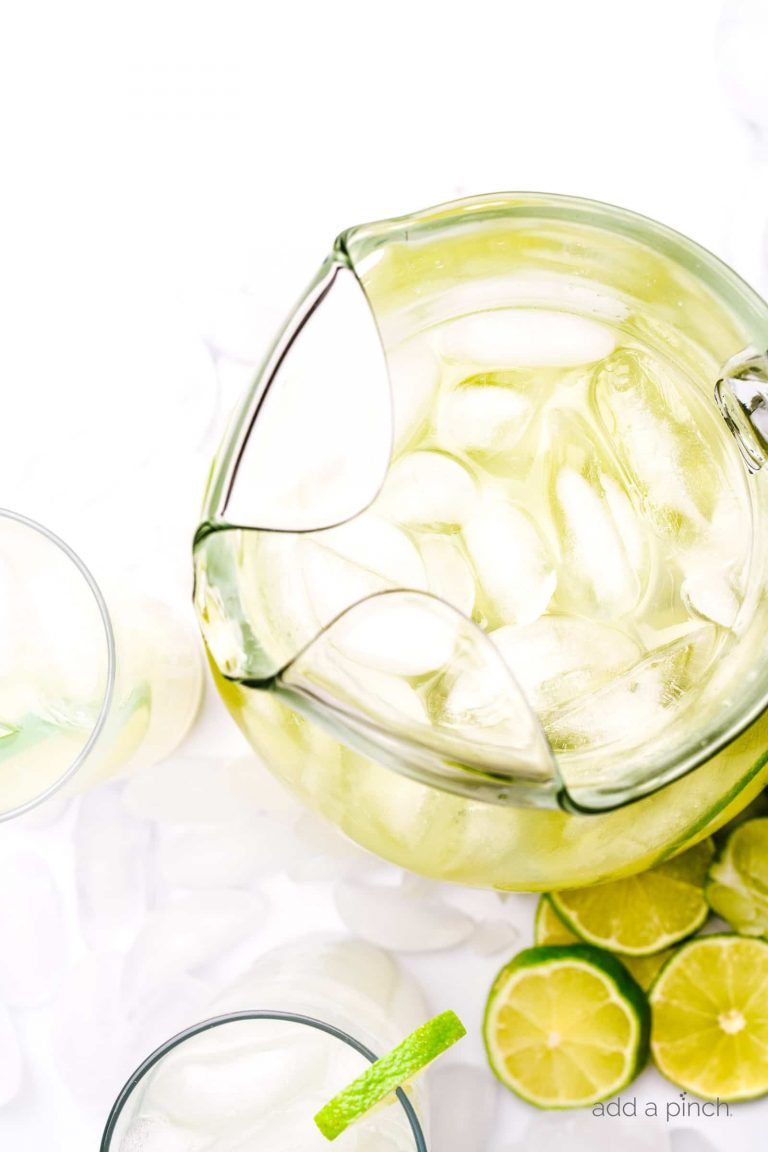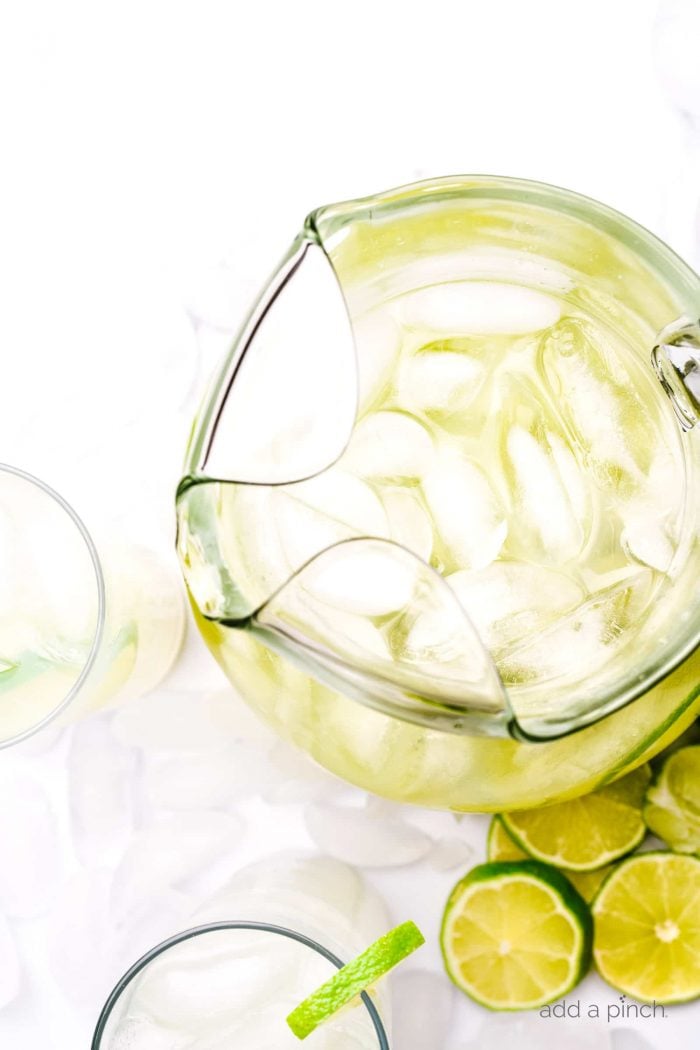 You just can't beat a refreshing citrus drink like fresh lemonade or limeade! Poured over a glass of ice and plop in a slice of lime? Oh my goodness, is it one of the best things ever! Thankfully, it is as simple as can be to make, too!
Easy Limeade
I used to always start my limeade with my simple syrup that I had made the night before and kept in the refrigerator. It always works beautifully and if you have some or are planning ahead, I definitely love to go that route.
But, lately, I've been making so much lemonade and limeade while we are at the lake house that I decided to update the recipe to make it how I am making it here.
It is definitely easy as can be!

How to Make Fresh Limeade Recipe
Limes
To start, I add my lime juice.
I prefer to use the juice of fresh limes, but if limes aren't in season or are way too expensive, you can easily use bottled lime juice instead.
If you use fresh lime juice, I like to make sure I get a little bit of the pulp from the lime into the juice as well. If you don't like pulp in your limeade, you can strain the juice through a fine mesh strainer or cheesecloth to remove it all. I also like to include the zest of one lime into the limeade. I think it kicks up the lime flavor even more.
Sweetener and Water
Then, I add my sugar and a cup of hot water. Stir the lime juice, sugar and hot water until the sugar has completely dissolved. Then, you'll fill up your pitcher the rest of the way with cold water.
For serving, toss in some fresh lime slices and serve over ice.
It is so refreshing!
How Much Juice is in One Lime?
One lime contains about 2 tablespoons of juice in it. There are different methods to try and help get as much juice as possible from limes. From microwaving them to rolling them on the counter. My preferred method is to buy them very ripe and then allow them rest on the countertop in a bowl.
If a standard lime provides 2 tablespoons of lime juice, then you would need approximately 8 limes for 1 cup of juice.
Can You Use Other Sweeteners in Limeade?
You can absolutely use your favorite sweeteners in your limeade. Just note that depending on the sweetener that you use, it may change the flavor profile a bit.
Honey – honey makes a great sweetener in this drink. Use 1 1/3 cups of honey in place of the sugar in this recipe. The honey will change the flavor of the limeade to a honey lime flavor. Yum!
Maple Syrup – maple syrup is also a great option. It will give the drink a definite maple flavor, which we surely love.
Other sweeteners – if you prefer to use another sweetener such as Splenda or stevia, I recommend you use the instructions for that sweetener.
Can You Make this Limeade Recipe Ahead?
For best results, keep your limeade refrigerated between servings. Not only does this make it more refreshing on a hot day, it keeps it fresher longer.
I've found that my limeade stays fresh for up to 5 days in the refrigerator. If making in advance for a party, simply wait about adding the fresh lime slices and lime zest to the pitcher until right before serving.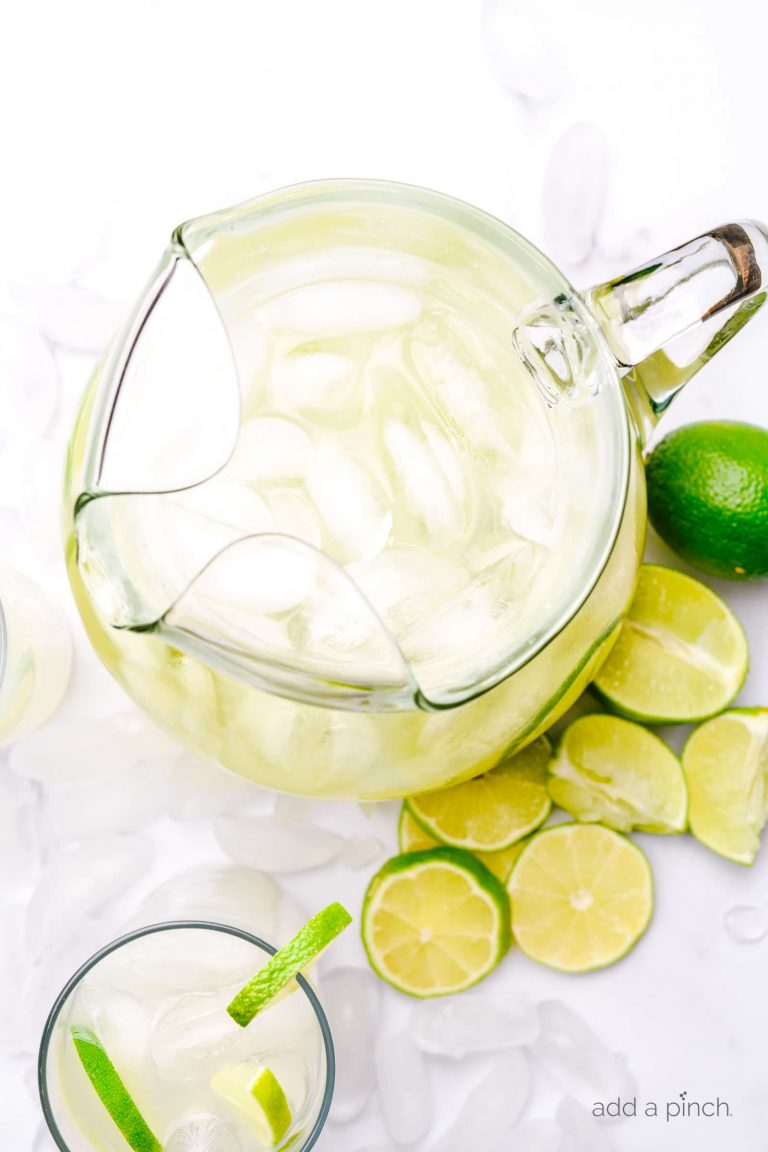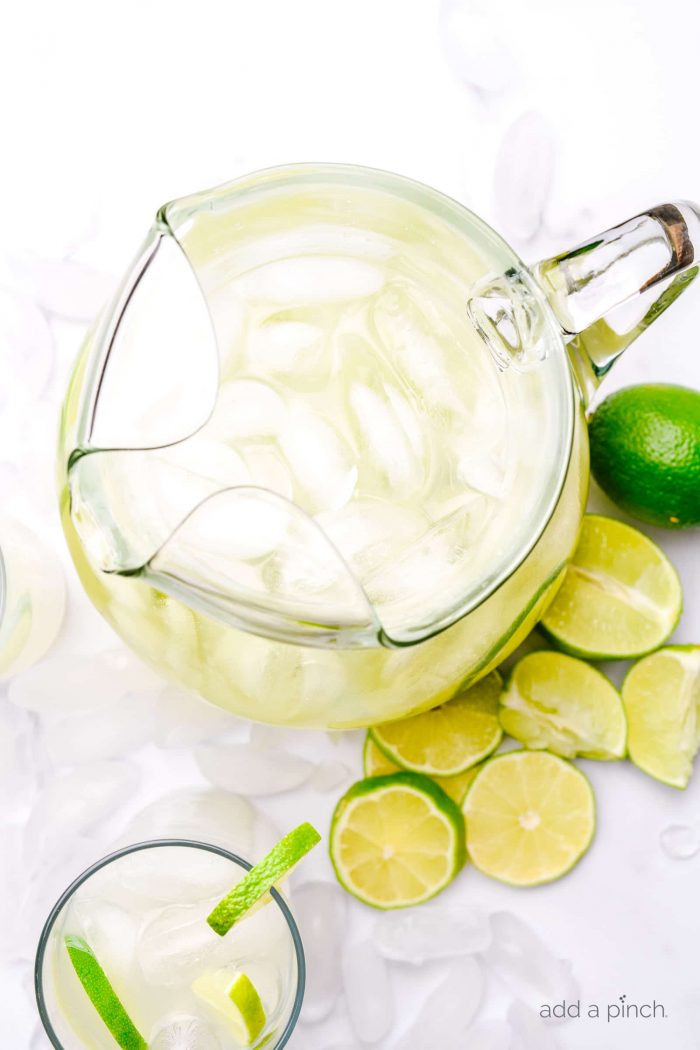 Here's my limeade recipe. I hope you love it as much as we do!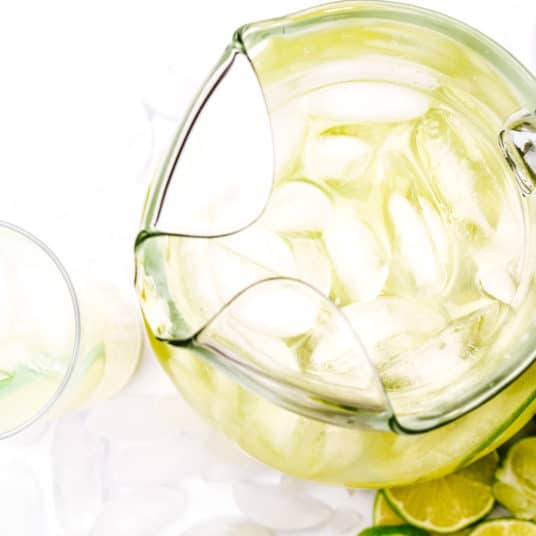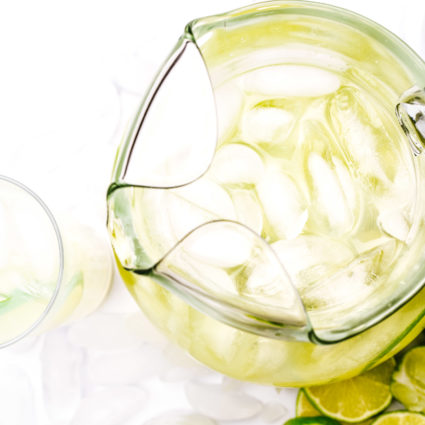 Limeade Recipe
Limeade makes a refreshing drink, especially in the summer. Made of limes, sugar, and water, this limeade recipe is a keeper!
Ingredients
2

cups

lime juice

2

cups

sugar

1

cup

hot water

1

tablespoon

lime zest

pinch

kosher salt

cold water

1

lime

,

sliced (optional)
Instructions
Add lime juice, sugar and hot water to a pitcher. Stir to combine until the sugar has melted. Then add the lime zest, and salt to a gallon pitcher. Fill the pitcher with cold water and stir well until combined. Add lime slices to the pitcher when ready to serve or serve in each glass, if desired. Store in the refrigerator.
Nutrition
Serving:
1
cup
|
Calories:
129
kcal
|
Carbohydrates:
34
g
|
Sodium:
7
mg
|
Potassium:
39
mg
|
Sugar:
33
g
|
Vitamin A:
15
IU
|
Vitamin C:
10.4
mg
|
Calcium:
6
mg
|
Iron:
0.1
mg
Nutrition information is automatically calculated, so should only be used as an approximation.
Enjoy!
Robyn xo