Croque Monsieur makes a delicious toasted ham and cheese sandwich, that is topped with a bechamel sauce and even more cheese and then broiled to perfection.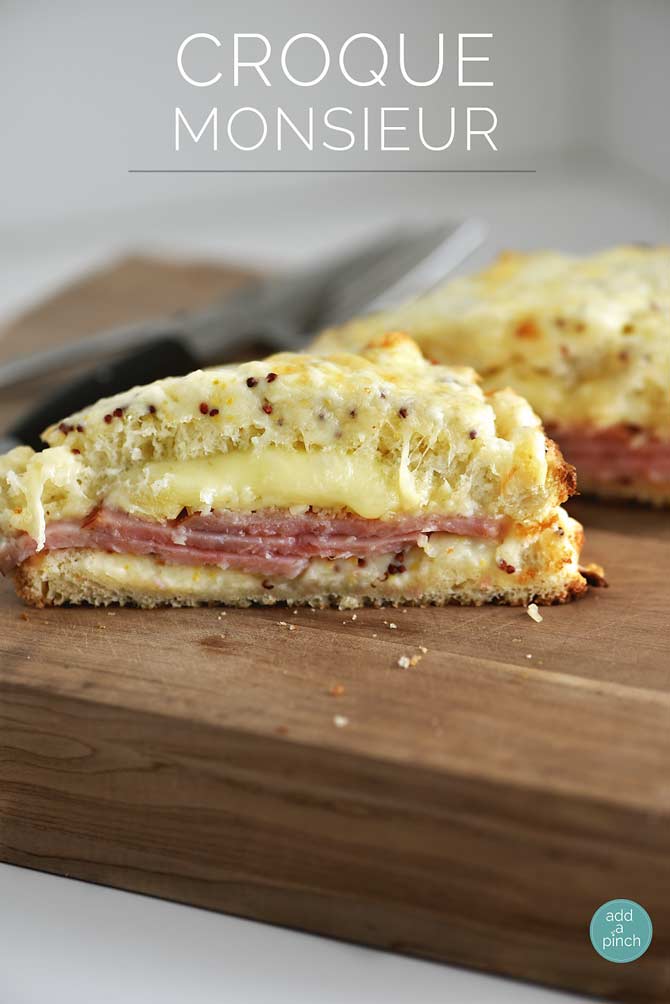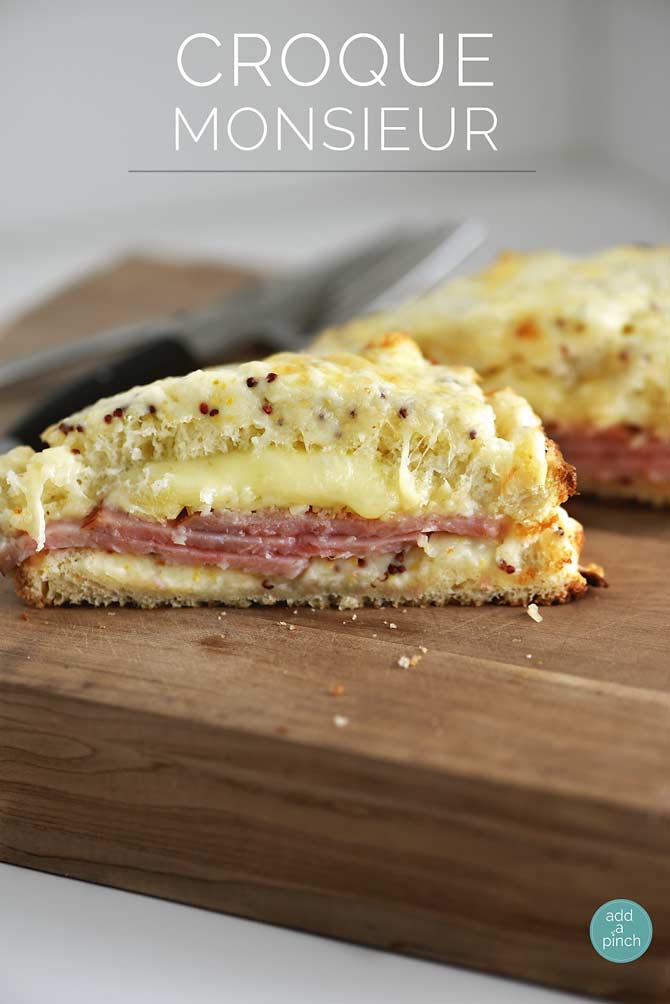 A few years ago – well, more than a few now, but let's not count – Bart surprised me with a trip to Paris for my birthday. Before you start thinking he is ultra-extravagant (even though he is the best person I know for doing above and beyond for others), there is a story to the trip.
It was when the site Priceline first became popular. Remember then?
How that site worked in those days (please don't say the olden days!) was you entered an amount that you would pay for airfare or hotel or whatever service you were interested in. If your price was accepted, you got it!
For some reason, the phrase, "I won a trip!" was usually the answer to getting a winning bid, even though you had still had to pay. It was really kind of comical if you think about it.
Anyway, I digress.
So, the week before my birthday that January, he entered the price of $150 for roundtrip airfare to Paris. And… he won!
I'm sure it was largely due to the time of year, the last minute nature of trying to make arrangements, and luck being in the stars, but still… he won.
So, for the week of my birthday, we stayed in a small flat near the Champs-Élysées.
It was one of my favorite birthday surprises ever.
While there, we ate fresh baked croissants and fruit in the mornings with coffee so strong it would force us awake and ready for the day. We strolled through the city soaking in as much of it as possible until we were hungry again in the afternoons and would stop into a small cafe to share a Croque Monsieur and pomme frites.
We loved them. Everything about them.
In reality, we loved everything about our trip and hated how quickly the days seemed to pass before it was over.
Back home, I've made Croque Monsieur for us on numerous occasions, but when Bart perfected his sandwich bread recipe, I knew just what sandwiches I wanted to make with it first.
These.
Boy, was I taken right back to that week and I didn't even have to enter a bid.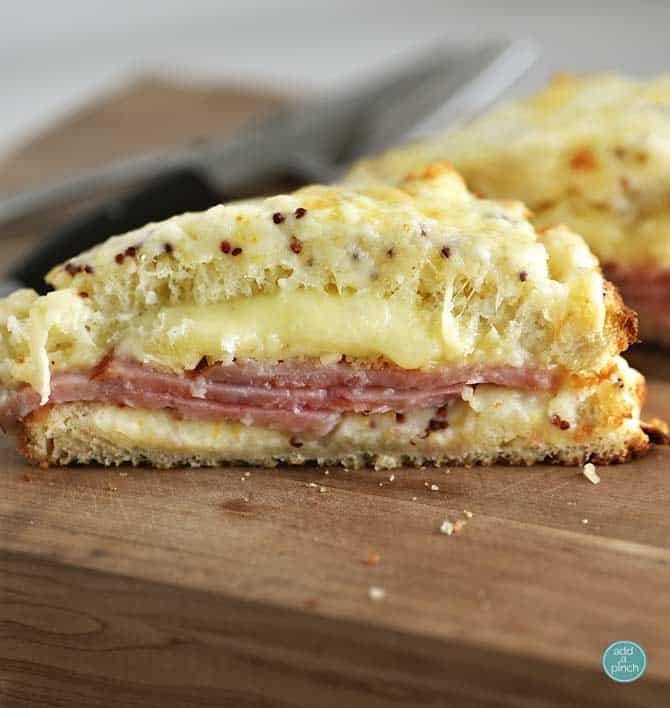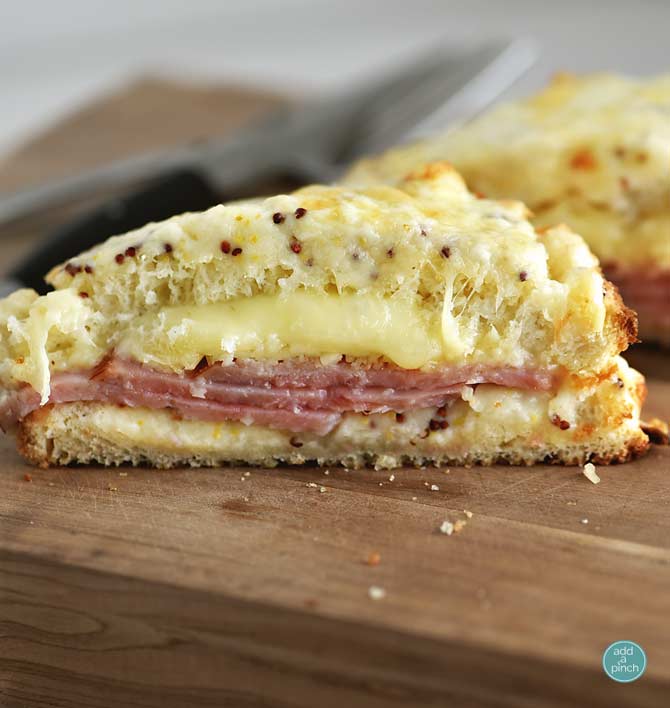 Here's my Croque Monsieur Recipe. I hope you love them as much as we do!
Croque Monsieur Recipe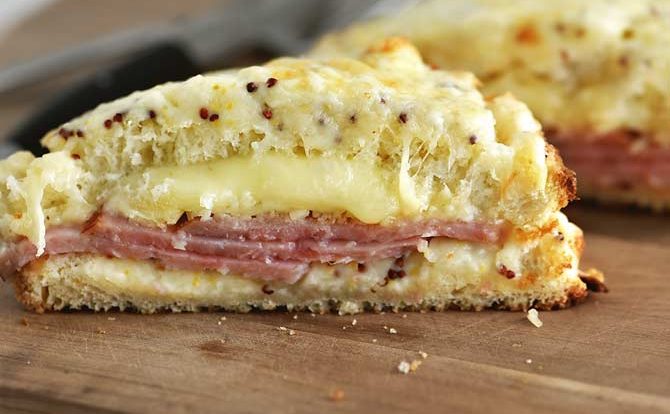 Croque Monsieur. A delicious toasted ham and cheese sandwich, Croque Monsieur is topped with a bechamel sauce and even more cheese and then broiled to perfection.
Ingredients
2

tablespoons

butter

2

tablespoons

all-purpose flour

1 1/2

cups

whole milk

1/2

teaspoon

salt

1/2

teaspoon

ground black pepper

pinch

nutmeg

1

tablespoon

whole grain Dijon mustard

8

slices

white sandwich bread

thick-cut sturdy

6-8

ounces

sliced ham

1

cup

grated Gruyère cheese

+ ½ cup for topping

1/4

cup

grated Parmesan cheese

1

tablespoon

melted butter
Instructions
Melt butter in small saucepan over medium heat. Whisk in flour and continue to whisk for 1 minute, slowly whisk in milk, salt, pepper and nutmeg. Continue to whisk constantly as the sauce simmers and thickens, about 2 – 4 minutes.

Preheat oven to 450º F.

Assemble sandwiches by spreading a thin layer of whole grain mustard and the sauce on piece of sandwich bread, top with a few ham slices, some Gruyere and Parmesan cheese and another slice of bread. Repeat until all sandwiches are assembled. Brush sandwiches with melted butter.

Place large skillet over medium heat. Place assembled sandwiches into the skillet and toast each side until lightly brown, about 2 minutes each.

Remove the skillet from the stove, spoon more sauce and cheese over top of the toasted sandwiches. Place in the oven until the cheese melts and begins to turn lightly brown, about 2-4 minutes. Remove from the oven and serve immediately.
Nutritional Information
Calories:
276
kcal
|
Carbohydrates:
8
g
|
Protein:
15
g
|
Fat:
20
g
|
Saturated Fat:
11
g
|
Polyunsaturated Fat:
1
g
|
Monounsaturated Fat:
7
g
|
Trans Fat:
0.3
g
|
Cholesterol:
65
mg
|
Sodium:
1048
mg
|
Potassium:
283
mg
|
Fiber:
0.3
g
|
Sugar:
4
g
|
Vitamin A:
467
IU
|
Vitamin C:
0.01
mg
|
Calcium:
176
mg
|
Iron:
1
mg
Enjoy!
Robyn xo