My Daddy's parents didn't smile in photographs and looking back at photographs of their grandparents and great-grandparents, it seems like they were carrying on a family tradition. But, their photographs draw me in even more than if they were.
This past weekend, I invited my aunt, uncle, and my cousins and their families to our house after my Grandmother passed away. I knew the weekend would be full of extended family and friends and we just needed a little bit of time together first.
We laughed and cried as we told stories we remembered of Grandmother and Granddaddy, heard new ones we'd never heard before from my aunt, and looked through old family photos of my Grandmother's.
I fell in love with this photograph of my Grandmother holding my Daddy when he was about two months old.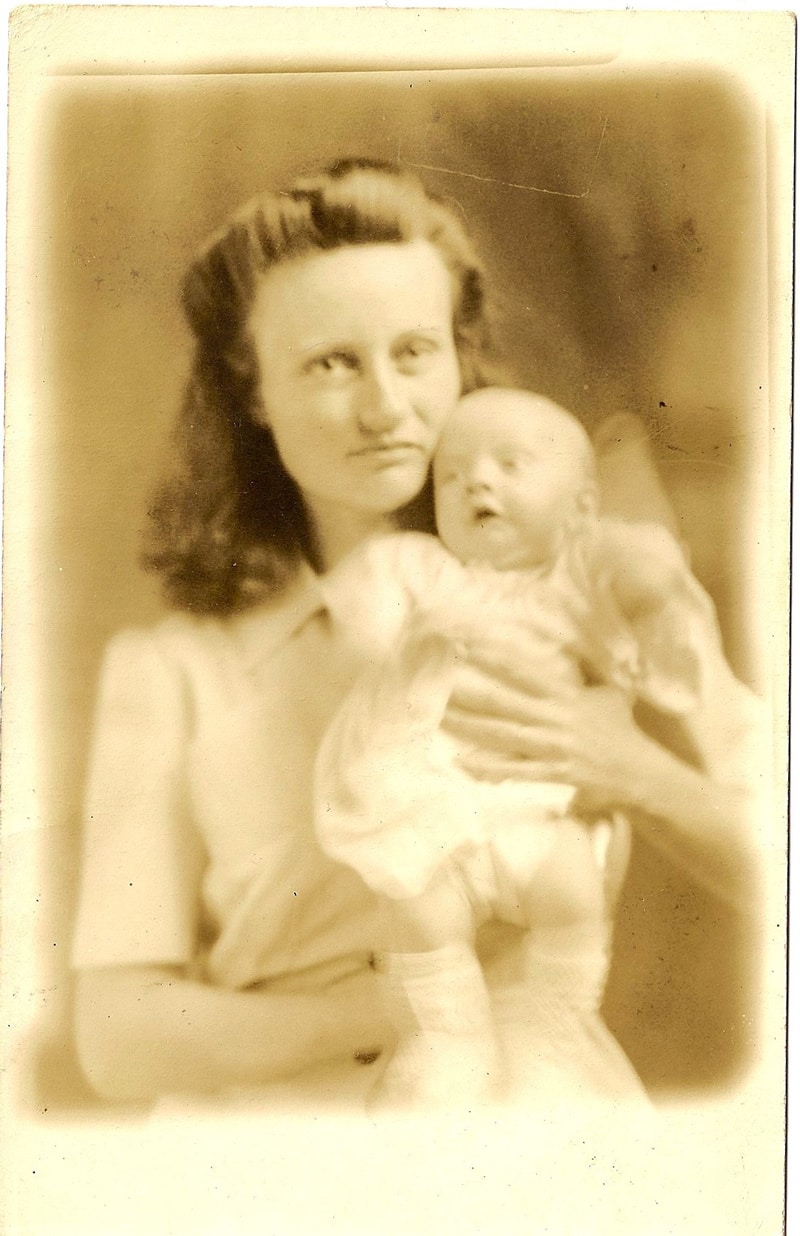 It is the only photograph I've ever seen of my Daddy as a baby. Most of the photographs I've seen of him as a child were taken at school, so this photograph is even more special.
My Grandmother looks so young in this photo and so very much like my sister. Her eyes make me wonder what she was thinking. Was she imagining what her new baby boy's life would be filled with? How he'd one day marry and have children of his own? Or was she just trying to keep his arms and legs still since you can tell in the photograph that he's kicking his feet and moving his arms around so fast that they are a blur in the photo.
I get so caught up in looking at old family photos and wondering what they were thinking, what was happening in their lives, and even what they'd eaten for breakfast. Their lives completely intrigue me.
Like this photo of my Daddy's family when he was a young boy.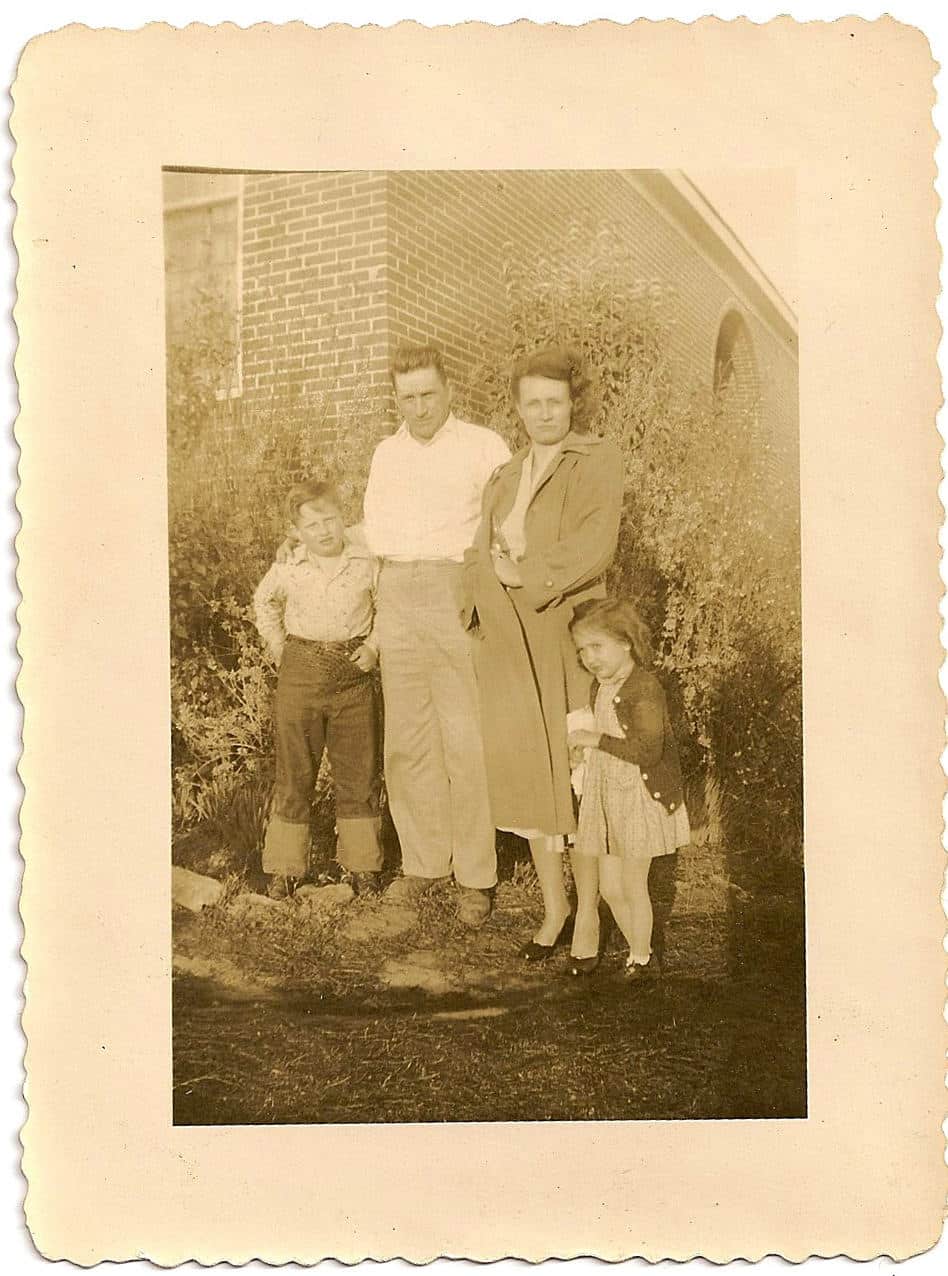 The actual story from my aunt is that my Grandmother had just bought Daddy a new pair of jeans for school and he couldn't wait to wear them, even though she hadn't hemmed them.
It made me wonder what the discussion was about wearing those jeans. Was it similar to when my Mama told me not to wear my new turtleneck we'd bought for the fall on my first day of school while the temperature was still in the 90's? Was it like it would be at my house when my son wants to wear something I don't want him to wear and he is most determined to wear it or burst? Was my Grandmother thinking more about what my Daddy really wanted at the moment instead of caring about how it looked? Was she cringing just a little bit inside at the thought of my Daddy having those jeans rolled up to his knees and wondering what people would think – especially when she realized a photograph was being taken?
The photo wouldn't have nearly as much intrigue had it not been for my Daddy's jeans. I catch myself going back to this photo over and over just studying all the little details and wondering what they were thinking. Why were they where they were? Who took the photograph? When did my Daddy's jeans actually get hemmed?
As we looked through the pictures we laughed and talked about how Granddaddy couldn't stand to have his picture taken.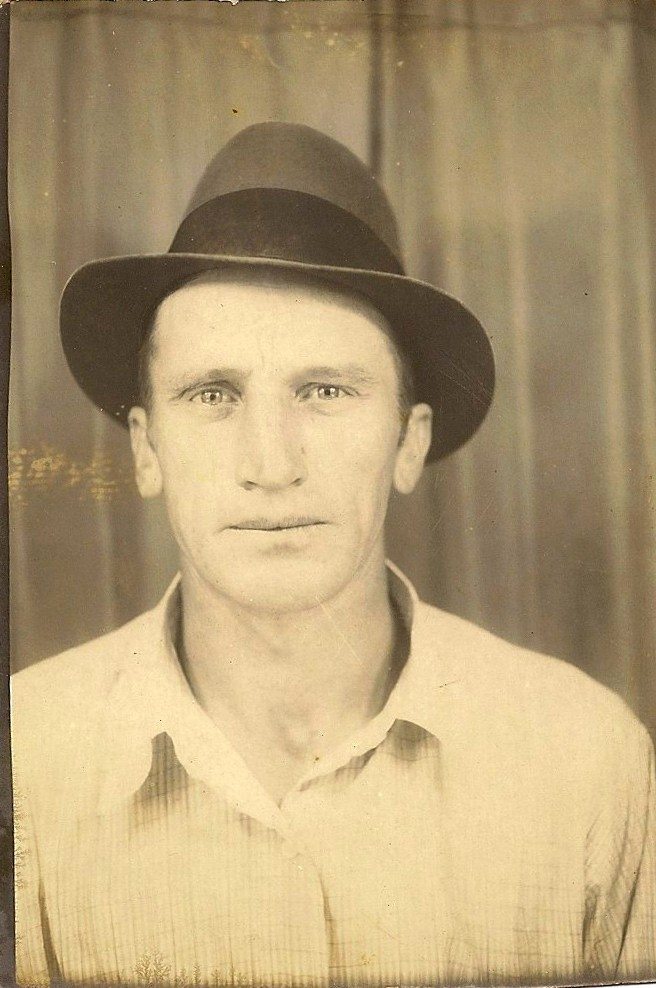 It was just a known fact that whenever someone would pull out their the camera on Christmas or birthdays or family get-togethers, Granddaddy would quickly disappear. If he didn't disappear, he'd cover his face with a box top from a Christmas present, his hat, his hand, or something to block his face being in the picture.
Now, when I was a little girl, that just bugged me.
I would hear my Daddy telling him, "Daddy, we just want one good picture and then you can go." Granddaddy would just laugh and say, "I don't do pictures."
And if you did happen to catch him in a mood where he'd let you snap a picture of him, a smile wouldn't be what you captured. A smirk, maybe. But never a smile.
I always wondered why he didn't like to have his photo taken. I made up elaborate stories in my mind that he had been a gangster earlier in his life and didn't want to be recognized. Why in the world that was the drama I invented, I have no clue. But Grandmother would tell stories of how they met and I always made Granddaddy to be just a bit more mysterious than he actually was.
Grandmother was the only daughter of six children, her mother had passed away when she was a young girl, leaving her the one responsible for the household for her family. Grandmother cleaned, cooked and cared for her father and brothers and acted as a mother figure to her brothers even after her father remarried.
One afternoon, as she stood outside with a few of her brothers, a man rode up to them on a large, white horse. She said his gravely voice and piercing eyes made her immediately fall in love with him and as she told me growing up, "the rest is our life."
Who would have guessed that my sweet, no-nonsense Grandmother was such a romantic – or that my Granddaddy was such a heartthrob.
Thirteen years her senior, they made a handsome couple. Granddaddy with his nose shifted from who knows what and Grandmother with a voice as delicate and gentle as her spirit. She cared for him with a dogged-determination for him to have everything he needed. I firmly believe that because of her, he lived two weeks shy of his 99th birthday.
Photo after photo that we looked at of Grandmother's showed my grandparents without a smile, if the photo included him at all.
And then I remembered.
This.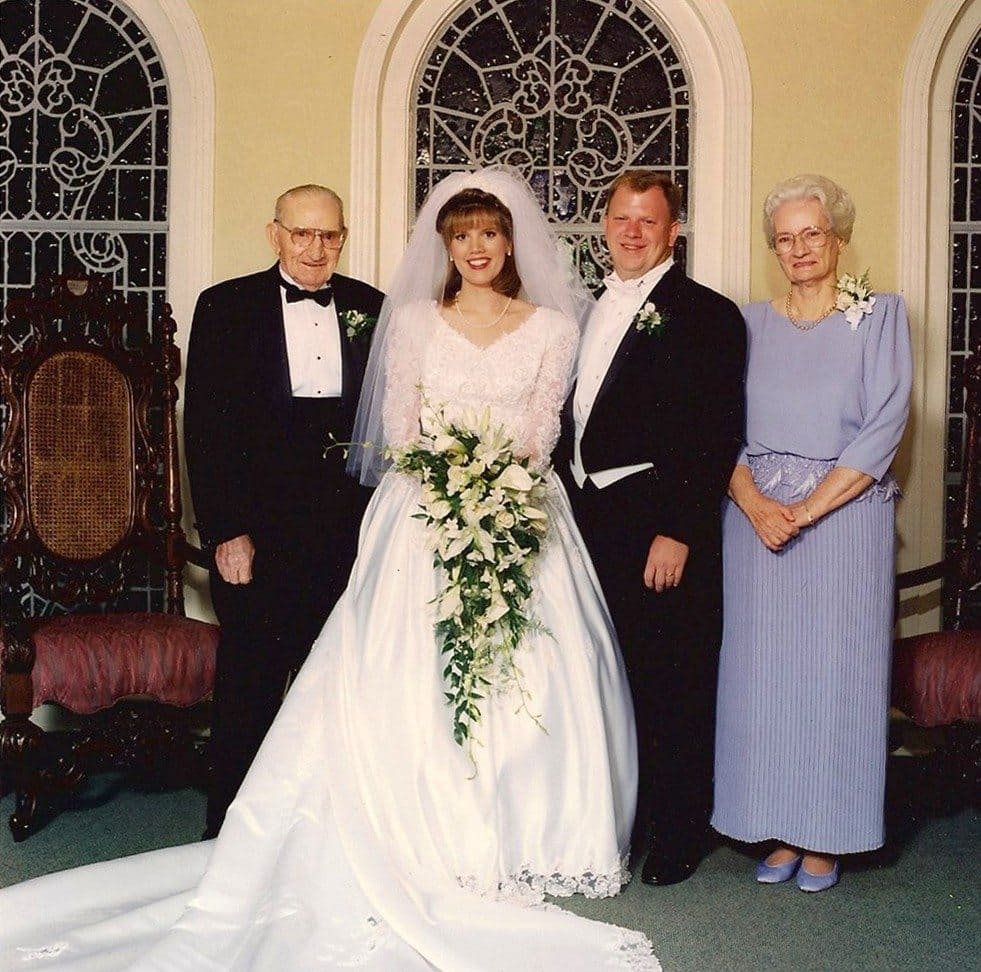 And I cried.