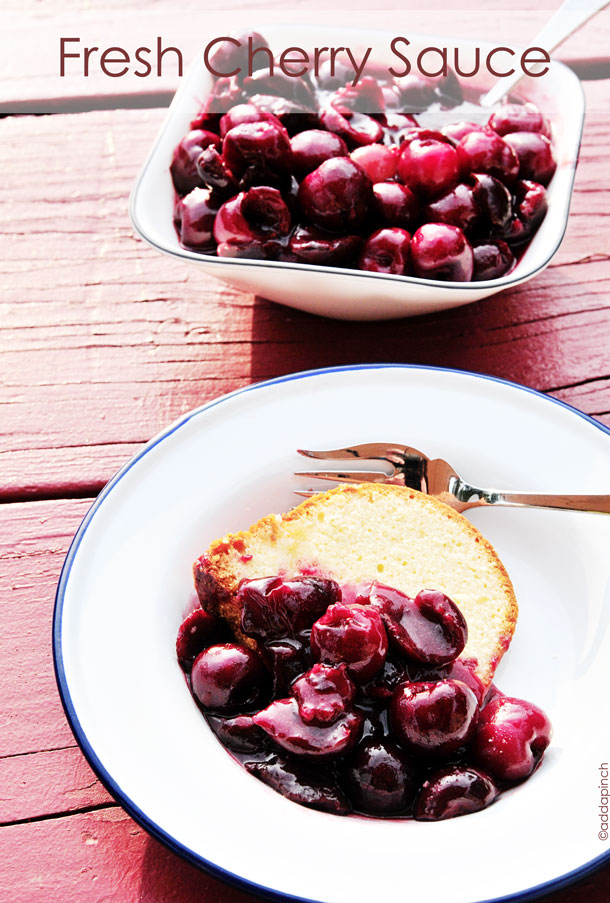 Fresh Cherry Sauce. This recipe is ready in just a few minutes and tastes out of this world!
I've haven't been able to get enough cherries lately since we left Georgia on our RV trip. I still can find peaches in nearby stores, but the cherries have just been calling my name. Of course, it could have something to do with all of the delicious desserts we've had in Williamsburg and then again in DC.
And since we're in the RV, I knew just what I wanted to make to go along with the cream cheese pound cake I baked the other afternoon. This fresh cherry sauce. Oh my gosh, just the thought of it had my mouth watering.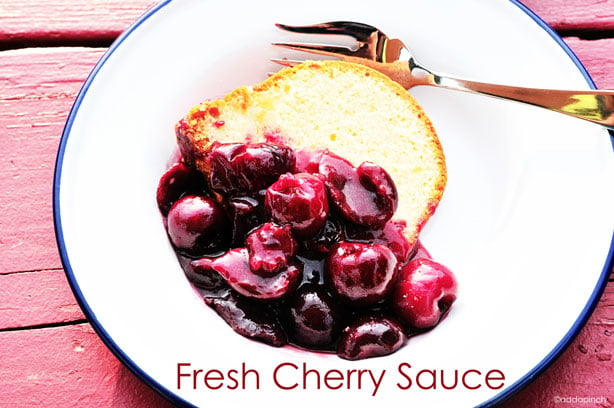 This sauce is amazing with everything from yogurt in the morning, pork chops or ham for supper, and (YES!) dessert! It is delicious over ice cream and absolutely perfect with pound cake. I think it would just be great right by itself, to be honest.
If you enjoy canning, it sure would make a nice present for the holidays, too.
Okay, enough about how wonderful it is. You just need to make it for yourself and see what I mean. You'll be singing the praises of cherry farmers all over the land. I promise.
Here's my Fresh Cherry Sauce Recipe.
Fresh Cherry Sauce Recipe | Add a Pinch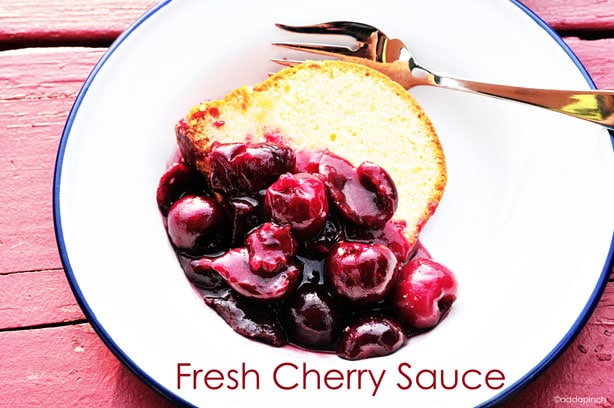 Fresh Cherry Sauce is perfect with both savory and sweet dishes.
Ingredients
2

cups

cherries

pitted

2

tablespoons

water

2

tablespoons

butter

2

tablespoons

sugar

2

teaspoons

cornstarch
Instructions
Add pitted, stemmed cherries to a medium saucepan over medium heat. Add all other ingredients and bring to a boil for about three minutes. Stir occasionally, reduce heat to low and allow to simmer for about two to three more minutes.

Remove from heat and serve warm or store in an airtight container until ready to serve. Then, warm slightly before serving.
Enjoy!
Robyn xoxo