Grandmother's Date Nut Roll Recipe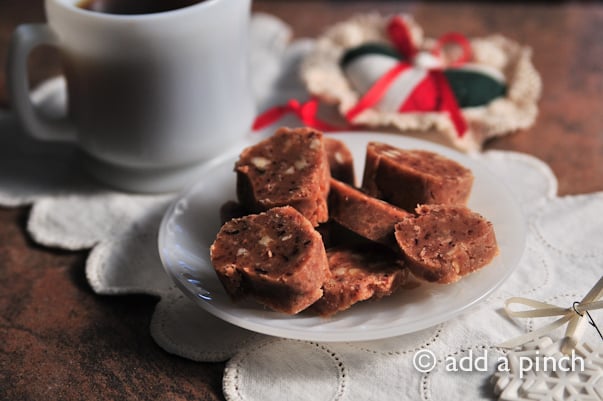 Every year for Christmas, my Grandmother Verdie would spend a day in the kitchen making family-favorite candy recipes that had been given to her from my Granddaddy's aunt.
As Grandmother would test to see if her candy was ready by dropping bits into a bowl of water to see if it had reached just the right stage, she'd tell us of favorite Christmases when she was a child. She'd tear up and tell us of the year her family had nothing for Christmas, yet the kindness of friends, family and even strangers supplied even more than she could have prayed for that year. She'd continue on to tell us of funny Christmas stories from her childhood and later when she grew up and had a family of her own.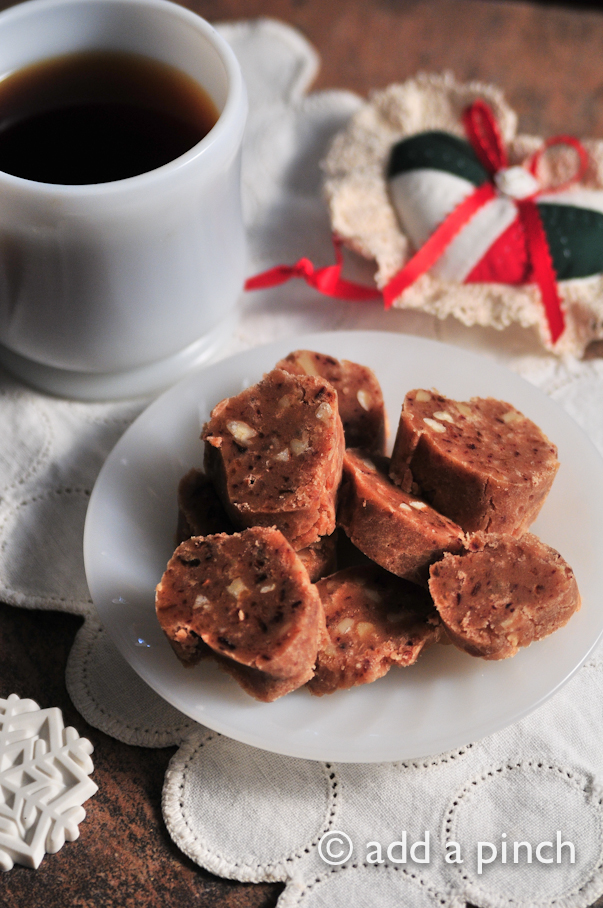 So this year as I am in the kitchen with my Mama and Little Buddy baking and making candies to share with family and friends, I can't help but think of my Grandmother and even my Great-Great Aunt  Lorene whom I never had the opportunity to meet. I think of the strangers who blessed my Grandmother's family that one special Christmas and for so many years after.
But mostly, I think of my Daddy whose favorite Christmas candy was this Date Nut Roll that Grandmother made each year and I am thankful for the life he lived.
I wish you each a very Merry Christmas and pray you have many blessing in the New Year.

Grandmother's Date Nut Roll Recipe
Date Nut Roll Candy is a traditional, Southern candy served during the holidays. This recipe is easy to follow and a family-favorite!
Author: Robyn Stone | Add a Pinch
Serves: 12
Ingredients
3 cups granulated sugar
¾ cup whole milk
1 cup butter (2 sticks)
8 - 10 ounces dried dates, chopped
1 cup chopped pecans
1 teaspoon vanilla
Instructions
Line four baking sheets with parchment paper.
Stir milk, sugar and ½ cup (1 stick) of butter together in a heavy bottom pan over medium high heat. Add dates. Stir constantly while cooking until the temperature reaches 235 on a candy thermometer or when drops of the mixture into a bowl of cold water reach a soft ball stage.
Remove from heat and add ½ cup (1 stick) of butter and vanilla. Beat until starts to thicken and add chopped pecans.
Divide onto four baking sheets lined with parchment paper. Carefully spread across parchment paper to form a roll. Roll smoothly and cool completely before slicing.

Merry Christmas!

Love,
Robyn xo