Grilled Pork Loin with Peppers and Onions makes a quick and easy dish perfect for weeknight or weekend meals!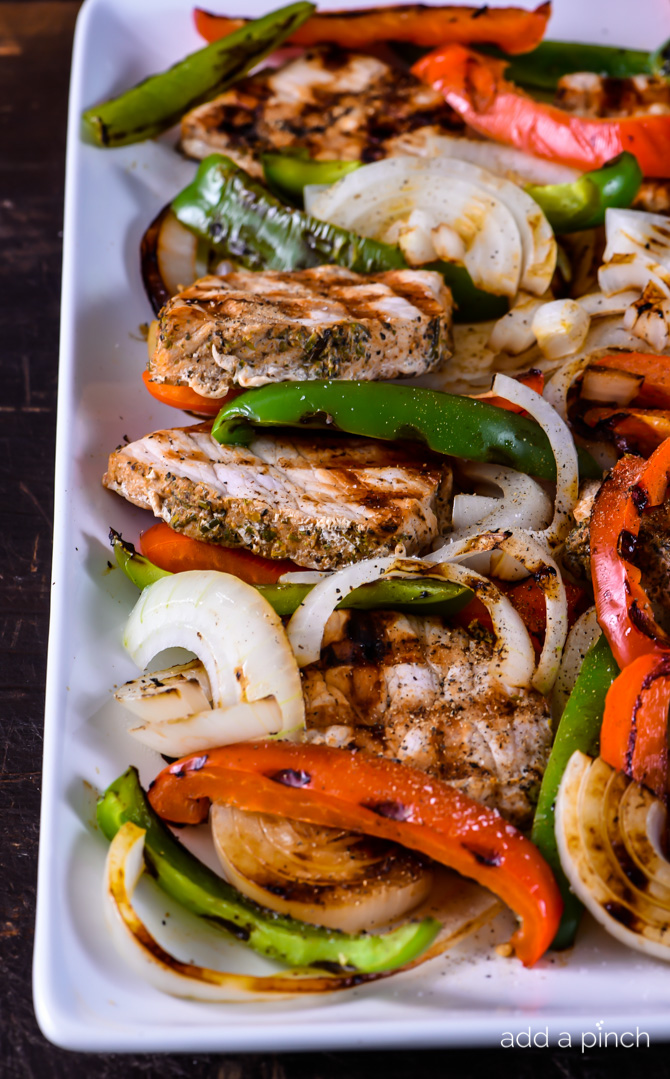 With the lazy days of summer rolling into the more hectic weeknights that go along with back to school and weekends filled to the brim, it is nice to have a recipe that is simple and always delicious! This grilled pork loin with pepper and onions is one of those dishes that is a quick and easy weeknight favorite, but is also just perfect for easy weekend entertaining!
What could be better than that?!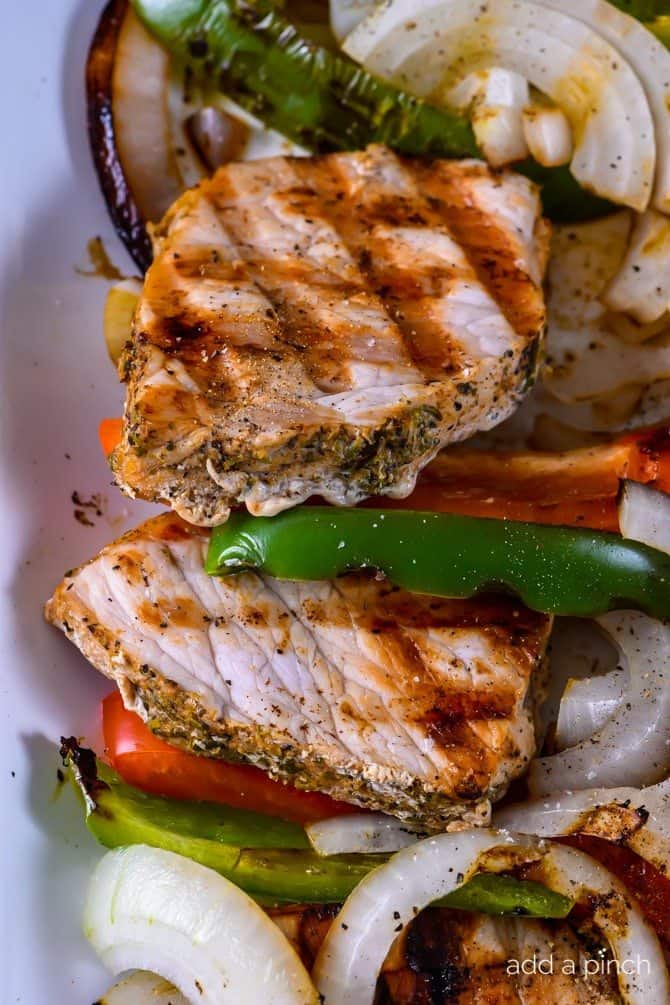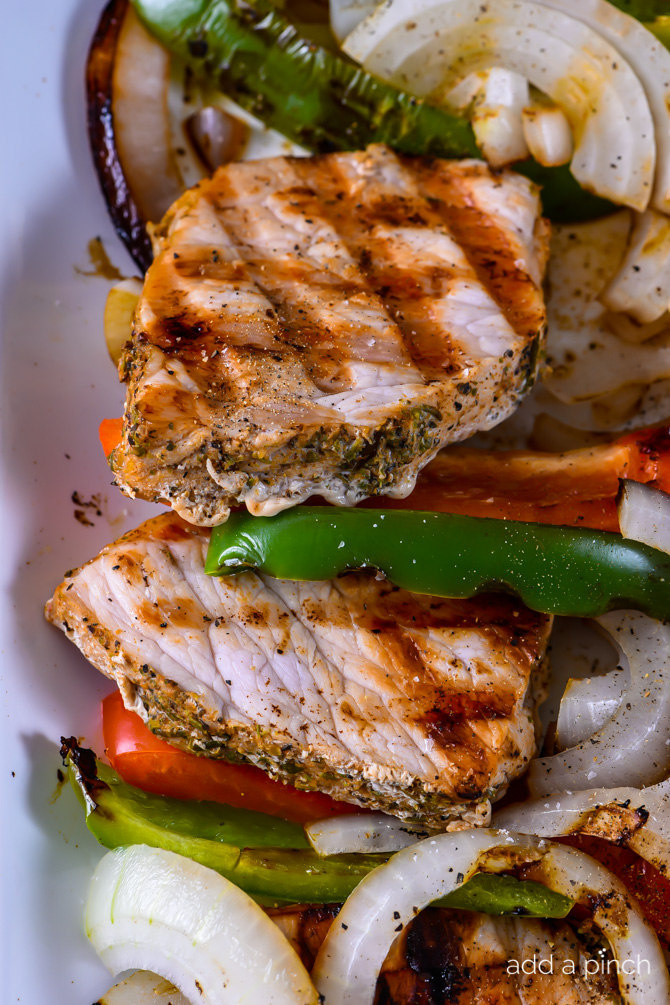 For this recipe, I used pork sirloin that I marinated overnight with olive oil and herbs. I then sliced the pork sirloin into about 1-inch thick slices to help it cook more quickly.
Since the pork had already been marinated, after I sliced it, I just had to toss it and the peppers and onions I'd sliced onto the grill and cook on one side for a few minutes and then turn it to cook on the other. All in all, it took about 12 minutes to cook and was tender and flavorful without any fuss!
I know with Labor Day weekend, tailgating, and all the fun fall festivities, this is one of those recipes that my family will turn to time and again!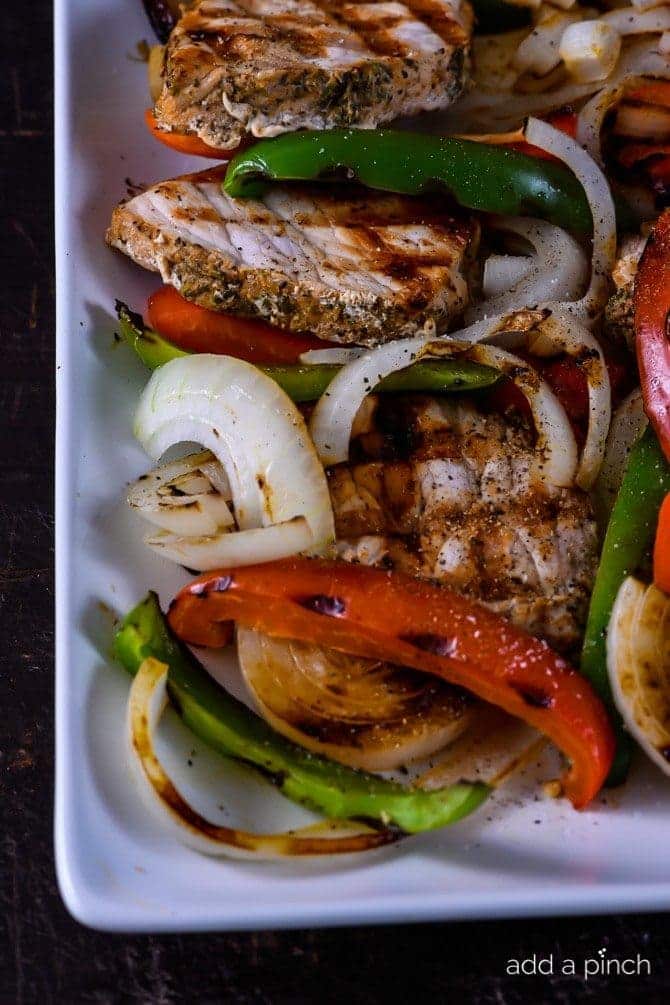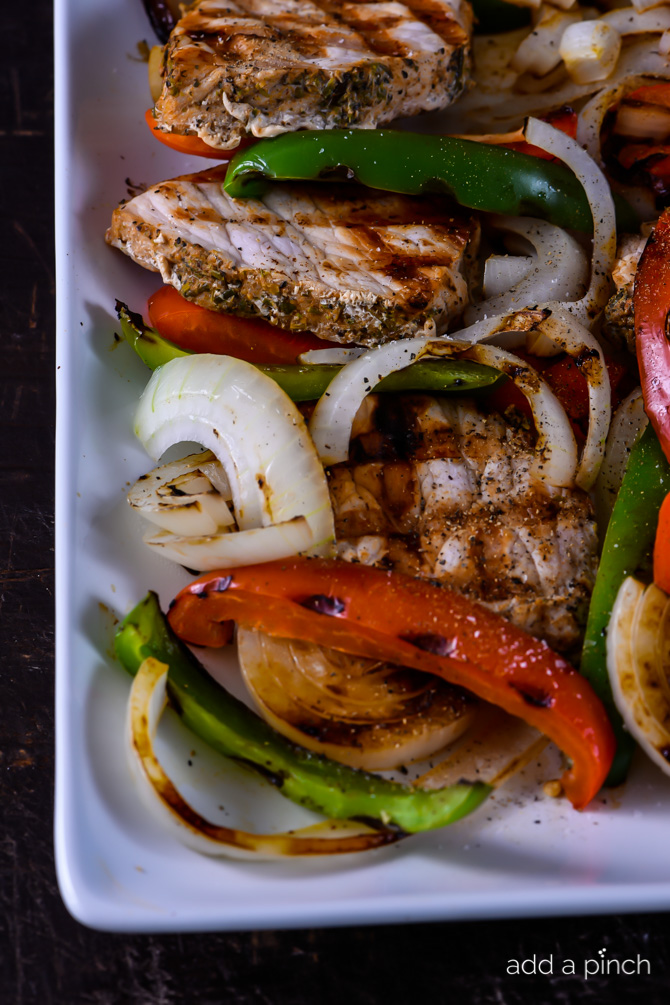 Here's my quick and easy Grilled Pork Sirloin with Peppers and Onions recipe. I just know you are going to love it, too!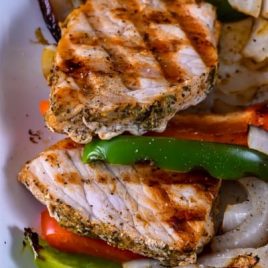 Grilled Pork Sirloin with Peppers and Onions Recipe
Grilled Pork sirloin with Peppers and Onions makes a quick and easy dish perfect for weeknight or weekend meals!
Ingredients
Olive oil

2

cloves

garlic

minced

2

tablespoons

chopped fresh parsley

1

Pork Sirloin

cut into 1 inch slices

1

green pepper

sliced

1

red onion

sliced

1

large onion

sliced

salt and pepper

to taste
Instructions
Combine 1 tablespoon olive oil, minced garlic, and chopped parsley in a small bowl. Rub over the pork sirloin, cover with plastic wrap and store in the refrigerator to marinate for at least one hour to overnight.

Preheat grill to 425º F. Arrange pork sirloin slices, peppers and onions on the grill or in a grill pan brushed with olive oil to prevent sticking. Grill pork loin about 5 minutes on each side and then flip to cook about 5 minutes on the other side. Remove from grill and allow to rest about 3 to 5 minutes before serving.
Enjoy!
Robyn xo
Disclosure: I am excited to work with Smithfield to bring you delicious recipes using their fresh pork products. Smithfield's pre-marinated pork comes in pork tenderloin, loin filet and pork sirloin and you should be able to find it at your local grocery store. As always, opinions are my own.