Learn how to clean makeup brushes in minutes with just a few steps and a DIY brush cleanser that has just a few simple ingredients! Such an easy way to make this part of your beauty routine.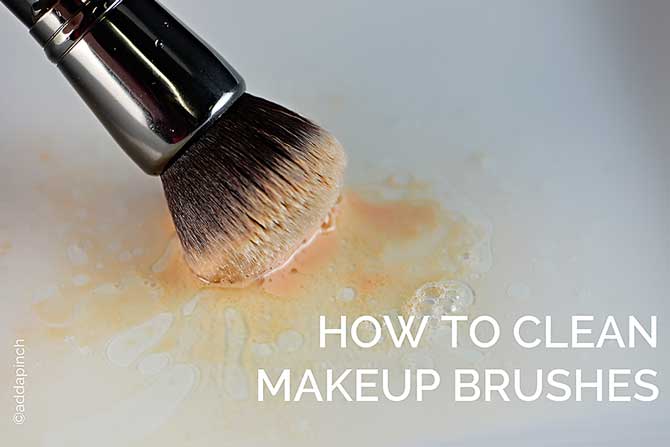 It's important to clean makeup brushes and tools regularly because not only are they usually an investment, they come in contact with your skin. I've read about what disgusting germs and bacteria can grow in dirty makeup brushes. Those are germs I definitely don't want touching my face! And it really doesn't take a lot of time with this easy method to clean makeup brushes.
How To Clean Makeup Brushes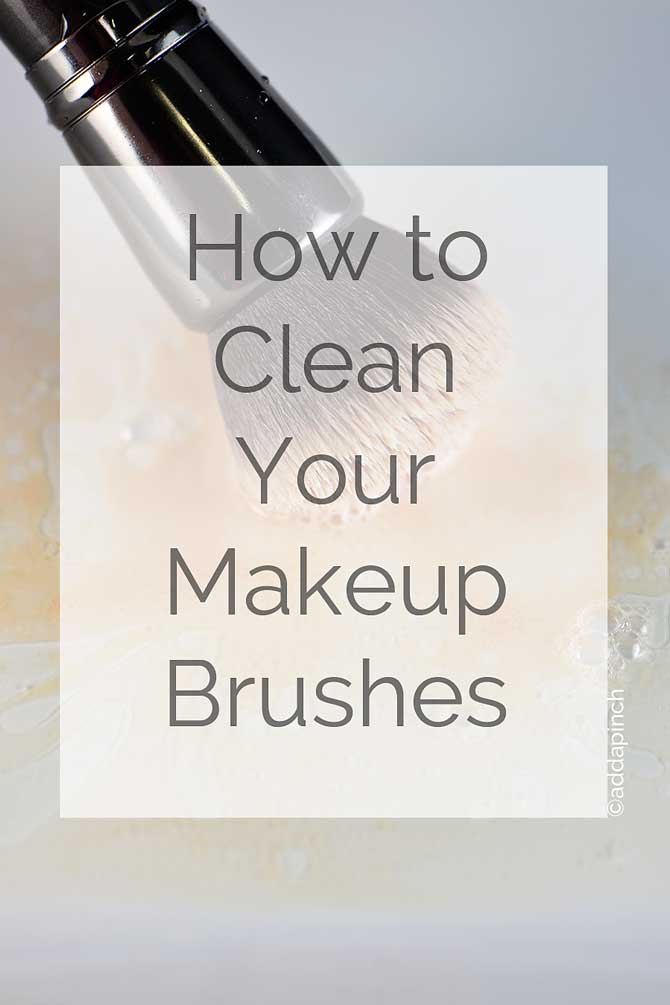 There are many brush cleansers available on the market, but I want to share an easy DIY makeup brush cleanser that you can make at home! It's really simple – I promise! And there is really some sense of satisfaction watching all of that old makeup rinse out of your brushes and seeing them look so squeaky clean and new!
DIY Makeup Brush Cleanser
You'll Need:
2 parts soap: Dr. Bronner's Hemp/Tea Tree Castille Soap OR Antibacterial Dish Soap
1.5 parts oil: Grape Seed Oil OR Extra Virgin Olive Oil
Dinner Plate
Clean Paper Towels
Couple of Clean Bath or Hand Towels – Fold them at a "ramp" style angle (45 degrees or so – this angle doesn't have to be exact)
Steps to Clean Your Makeup Brushes
Mix.
Pour 2 parts soap to 1.5 parts oil onto the plate. If you have light colored bristles, you may want to use the grape seed oil as it is lighter in color than the olive oil. Using oil helps to keep the bristles conditioned so that they don't become brittle or dry.
Wash.
Wet the bristles of your makeup brushes with lukewarm water. Do not use hot water as it may damage your brushes. Try to avoid getting the handles soaked, especially if they are wood. Dip bristles into the soap/oil mixture on the plate and gently massage the bristles in the palm of your hand, forming a lather to remove makeup from the bristles of your brushes.
Rinse.
Rinse thoroughly with cool water while swirling the bristles in your hand. Do so until water runs clear as you gently squeeze the bristles. Make certain to rinse until there are no traces of the soap mixture left on the brushes. Squeeze the bristles gently with your paper towel to dry the excess water. Make sure to re-form the bristles to their intended shape, if needed.
Dry.
Place your cleaned brushes onto your clean towel with the bristle ends pointed down. You do not want water running back up into the handle as it will loosen the glue holding your bristles together and ultimately damage your makeup brushes. Allow brushes to air dry. I usually allow my brushes to dry overnight.
Frequency
I try to clean all my brushes and tools at least a couple of times per month and my foundation brushes daily or after each application of a liquid foundation. Likewise, when I use my eyeliner brush, I clean it after each use. Since it's used so close to my eyes, I definitely want it clean!
I hope you enjoy making your own makeup brush cleanser! And as you are getting in the routine of cleaning your brushes, you may want to read about how to Spring Clean Your Beauty Routine too!
Robyn xo