Upside Down Cakes are such simple and classic desserts. Get this recipe for a beautiful nectarine upside down cake that you are sure to love.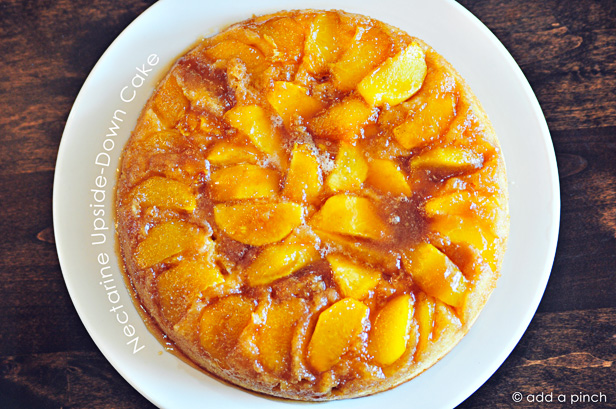 Life sometimes happens in waves. Periods where you learn of so many family and friends who are sick, who have suffered a loss, who just need a pick me up.
Then, the wave seems to swell again taking us all high on a crest full of graduations, marriages, births, and other major happy events.
I allow myself to get so caught up in my own wave riding that I sometimes don't think to raise my head and notice those around me that may be holding on just as tightly to their boards as they can, just praying for the seas to calm for a moment.
Yesterday, after I dropped Little Buddy off for Lego camp, I stopped by the grocery store to pick up a few things that we needed – the usual of milk, oatmeal, and fruit that we seem to go through the quickest.
As I rounded the corner, I saw a dear family friend whose husband is suffering from cancer. I asked how they were doing, which immediately brought tears to her eyes. Her reply, "we're hanging on and trying to make the most of every day."
So much emotion in that one simple sentence. It was filled to the rim and overflowing.
After giving my friend a tight hug and telling her we were praying for them both, we each quietly continued on our journey – me to the oatmeal and her to the checkout counter.
As I reached the produce section, I noticed wet dots across my shirt and felt the warmth of tears streaming down my face.
Who was I to simply walk away?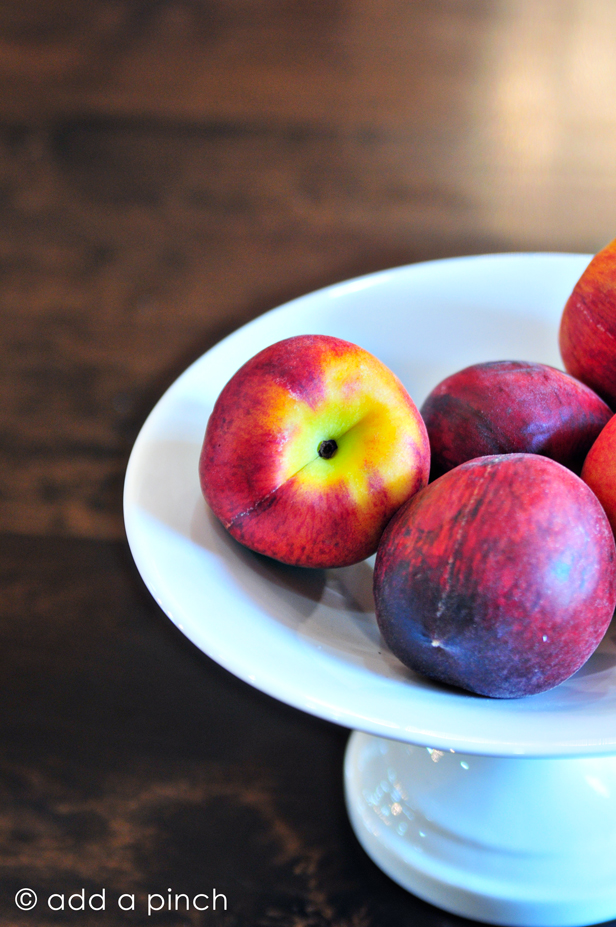 I first smelled the nectarines before my eyes would even uncloud from the tears enough for me to see them. Bright, tender, and one of his favorite fruits, I remembered.
Picking through the display, I found five of the prettiest nectarines and carefully placed them in my cart. I knew I might not be able to cure their hurt, but I could definitely show them I cared in the most basic, loving way that I knew.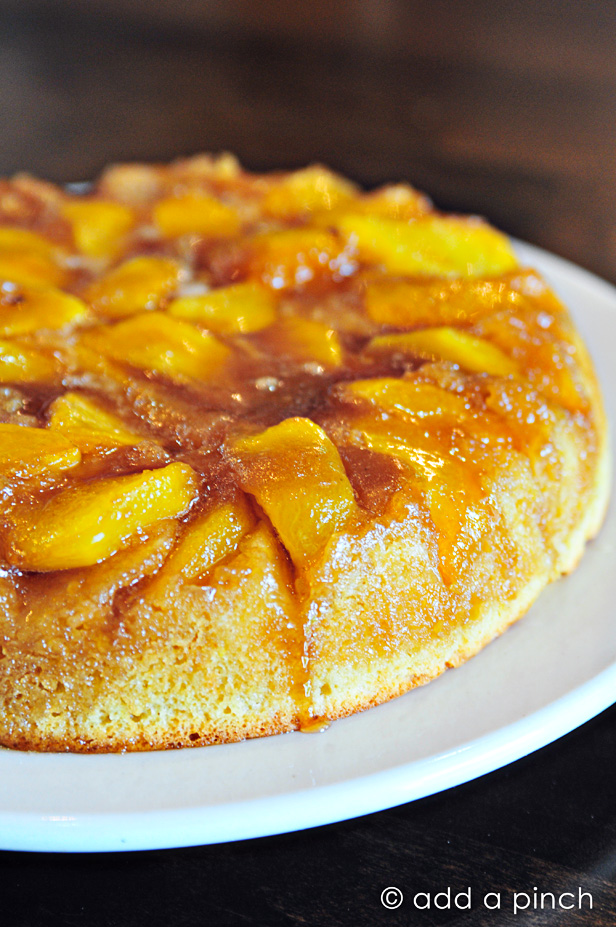 As I delivered it to their home later in the afternoon, I realized that I received more in the making than I could have possibly ever given.
Here's the recipe for my Nectarine Upside Down Cake: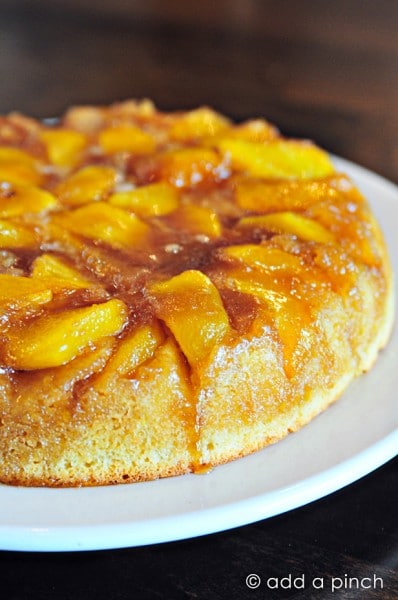 Nectarine Upside Down Cake Recipe
Upside Down Cakes are such simple and classic desserts. Get this recipe for a beautiful nectarine upside down cake that you are sure to love.
Ingredients
8

tablespoons

butter

,

melted

1/2

cup

brown sugar

5

nectarines

,

peeled and sliced into 1 1/2 inch thick wedges

1

cup

buttermilk

2

large

eggs

1

cup

sugar

2

cups

all-purpose flour

1

teaspoon

baking soda

1/2

teaspoon

kosher salt
Instructions
Preheat oven to 350º.

Pour 1/2 of melted butter into cast iron skillet or round cake pan.

Swirl pan until bottom and sides are well-coated with butter to prevent cake from sticking.

Sprinkle brown sugar evenly over the melted butter in the skillet or cake pan.

Place nectarine slices on top of the brown sugar.

In a separate bowl, combine buttermilk, the remainder of your melted butter, eggs, sugar, flour, baking soda, and salt.

Whisk together until well-combined.

Pour evenly over the nectarine and brown sugar layer in the skillet or cake pan.

Place in the oven and bake for approximately 45 minutes to 1 hour or until toothpick or skewer inserted in the center comes our clean. You can follow my tips for how to tell when your cake is done.

Allow to stand for about 5-10 minutes before transferring to a cake stand.

When ready to transfer, place cake stand on top of skillet then carefully flip to where the nectarine upside down cake comes out onto the cake stand.
Nutrition
Calories:
289
kcal
|
Carbohydrates:
48
g
|
Protein:
5
g
|
Fat:
9
g
|
Saturated Fat:
5
g
|
Polyunsaturated Fat:
1
g
|
Monounsaturated Fat:
2
g
|
Trans Fat:
0.3
g
|
Cholesterol:
53
mg
|
Sodium:
292
mg
|
Potassium:
153
mg
|
Fiber:
1
g
|
Sugar:
31
g
|
Vitamin A:
508
IU
|
Vitamin C:
2
mg
|
Calcium:
42
mg
|
Iron:
1
mg
Nutrition information is automatically calculated, so should only be used as an approximation.
Upside Down Cakes are easy to prepare and make wonderful desserts to serve for simple weeknight meals, special occasions, and when camping or tailgating.
A versatile recipe, you can easily substitute other stone fruits such as peaches, apricots, or even plums for this recipe. I also enjoy using apples, pears, and have even been known to use quince when we lived in our first house that had a quince tree just bursting with fruit each year.
Using favorite fruits as they are in season makes this a perfect recipe to keep handy.